Back in April,
Jensen Lewis
and I
collaborated on a piece
breaking down what ailed
Danny Salazar
in the month of April. Cleveland finally decided enough was enough in mid-May and demoted him to Triple-A, where he remained until he was recalled on July 22. With a win over the Rangers on Friday night, Salazar has now made three starts since his recall.
Are we now seeing a new Salazar, the old Salazar, or just a three-game streak against some weak-hitting lineups? In order to make that decision, let's revisit the critiques from the April article.
Was it a velocity issue?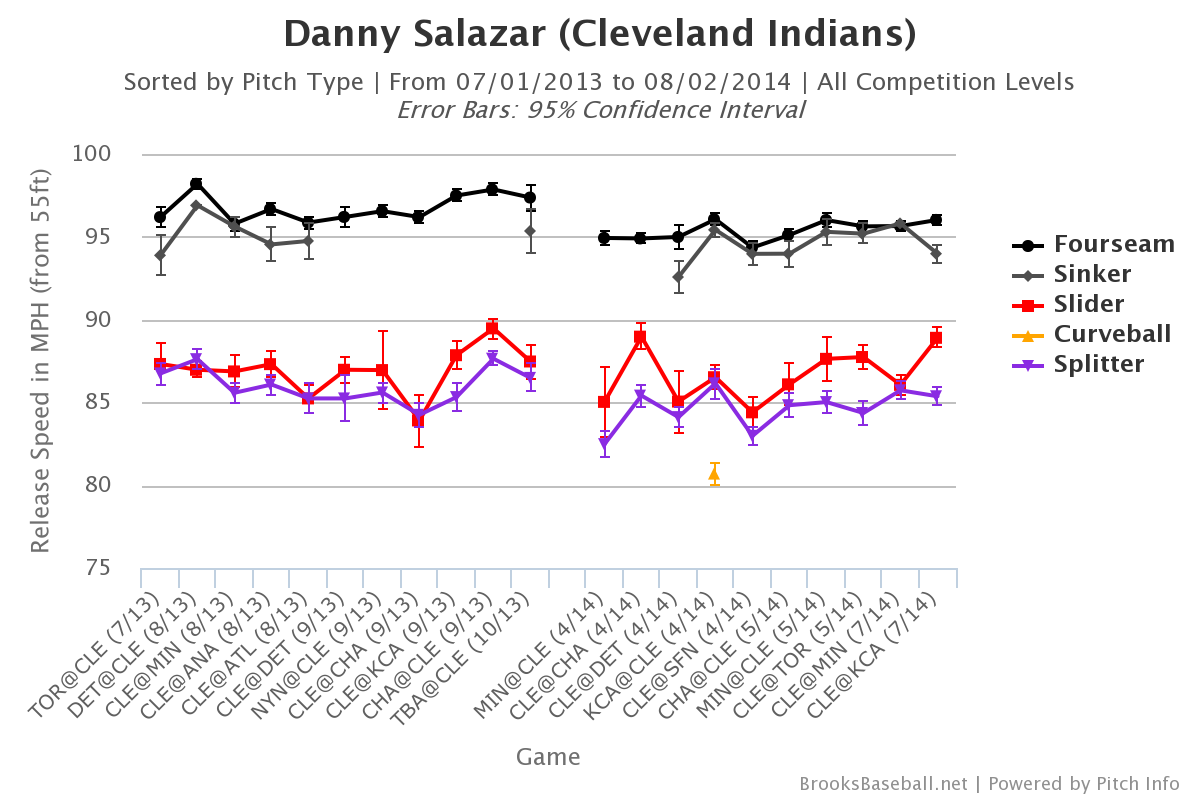 Salazar is not throwing his fastball as hard as he was late in 2013, but his velocity since his recall last month is up from where it was in late April. Any concerns about a hidden injury are thus, as much as they can be with pitchers these days, is unwarranted.
Was it a mechanical issue?
The April piece noted that Salazar was throwing from a higher arm slot and had shifted his starting position on the mound a bit. The pitch f/x data shows that Salazar has returned to the release points from 2013. The first image represents his release point and arm slot. Any change on the second image represents a pitcher that has shifted his starting position on the pitching rubber.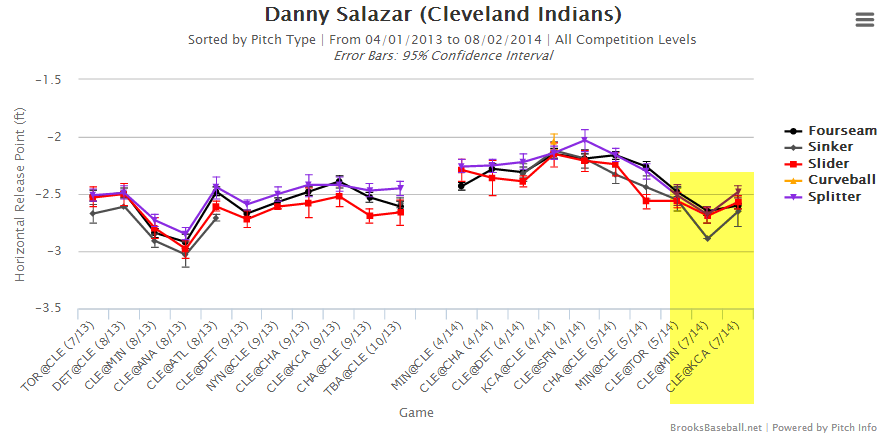 One of the other changes the Indians pushed on Salazar was to have him slow down his delivery. Pitching coach Mickey Callaway has noticed that Salazar gets quick with his delivery when he struggles, which accelerates other fail points in any delivery. If a pitcher opens up his front shoulder too quickly, the arm has to play catch-up and that leads to elevated pitches in the zone – something that plagued Salazar earlier in the season.
Before his demotion, a majority of the fastballs that Salazar threw were up in the zone, and many were in the arm-side location of the zone.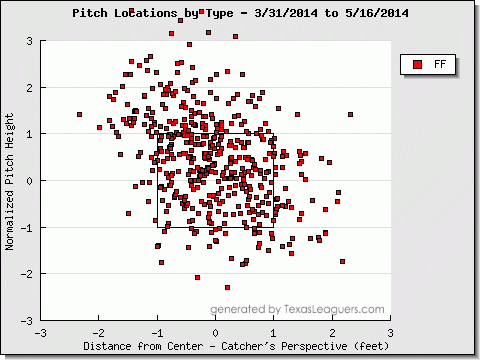 Now, compare that first image to the fastball locations since his recall.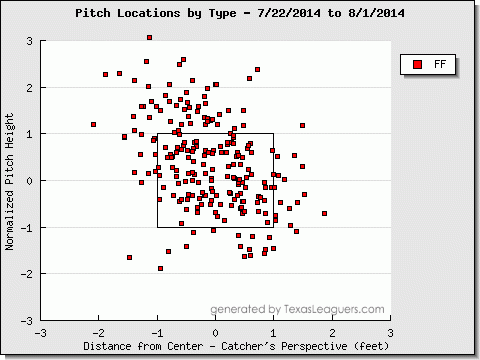 Was it a sequencing issue?
This was the area I was most critical of Salazar when first evaluating him
back in 2013
. He was a two-pitch pitcher, depending on the handedness of the batter, and when he fell behind in the count, it was all fastball all of the time.
When Cleveland demoted Salazar in May,
they instructed him
to work on his secondary pitches. In terms of overall usage, nothing has changed. He is, however, using his slider a bit more these days.
| | | |
| --- | --- | --- |
| Pitch | Pre-Demotion | Since Recall |
| Fastball | 76% | 76% |
| Changeup | 14% | 11% |
| Slider | 10% | 13% |
His pitch mixture against batters based on handedness has also changed a bit.
| | | | | |
| --- | --- | --- | --- | --- |
| Pitch | Vs RH Pre | Vs RH Recall | Vs LH Pre | Vs LH Recall |
| Fastball | 76% | 80% | 77% | 73% |
| Changeup | 10% | 7% | 18% | 16% |
| Slider | 14% | 14% | 5% | 11% |
The biggest issue for Salazar has been when he falls behind in the count, he has lacked the confidence to use his secondary pitches and would primarily throw fastballs. It got so bad before his demotion that batters hit .643/.686/1.107 against him when ahead in the count because they knew what was coming (fastball) and where it was coming (elevated in the zone).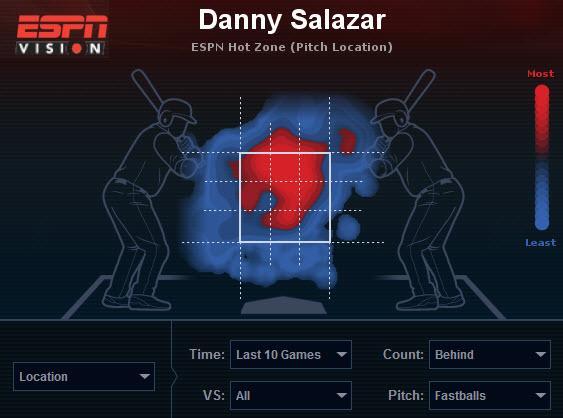 Over the past couple of starts, Salazar has become less predictable in terms of where he is throwing his fastball when down in the count.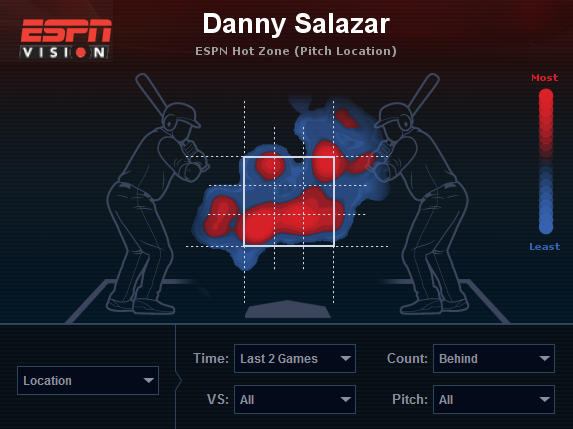 Not only does the heat map back that up, but so do the statistics. Since his recall, batters are hitting .182/.333/.182 when they are ahead in the count against Salazar, which is a tremendous decline from the beating they gave him earlier in this season. Salazar is still fastball heavy when behind in the count, but is now locating the pitch down in the zone where batters are less likely to swing away ahead in the count. Batters are swinging less frequently (50% vs 33%) at Salazar's fastball when they are up in the count because he is not as predictable and the ones that are swinging have mostly hit flyballs that have fallen well short of the glory land.
Salazar is showing more command of his fastball these days, which is essential given the fact he throws the pitch so frequently.
| | | |
| --- | --- | --- |
| SPLIT | PRE-DEMOTION | SINCE PROMOTION |
| % thrown for strikes | 62% | 66% |
| % put in play | 36% | 34% |
| % thrown in the zone | 49% | 53% |
| % pulled + up the middle | 67% | 51% |
| Opponents SLG% | 89% | 50% |
In short, the early returns on Salazar look promising since his recall. He is getting better results off his moneymaker, and is not as predictable in terms of location when he's down in the count. Joe Maddon is fond of saying batters can protect one half of the zone – outside or in or up and down – but not both. In the past, Salazar made it easy for them because he lived in one portion of the zone with his primary pitch, because he struggled to command it while repeating his delivery. Now, with a return to what made him successful mechanically and showing off the product of two months in the minors working on fastball command and building confidence in his secondary pitches, batters are no longer teeing off against him as he falls behind.
The fact that Kansas City, Minnesota, and Texas are all in the bottom half of the league over the past month in terms of offensive production cannot be overlooked, but a change in process is the main culprit to the positive change in outcomes for
Danny Salazar
.