For most of the season, my weekly piece has focused on breaking down one particular hitter or pitcher. This week, I'm throwing a vulcan changeup at that process and looking at multiple players that have made news or an impression one way or another in August. Here are my musings for August.

The EdWing is Flapping Large!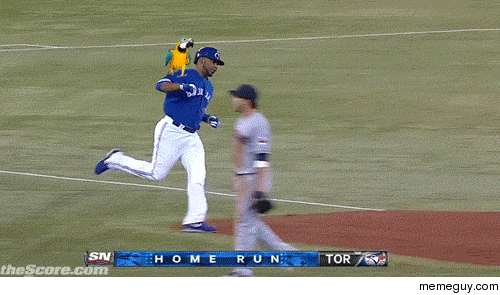 There has been a lot of that this month as
Edwin Encarnacion
is now one home run shy of hitting at least 30 home runs for a fourth consecutive season. Earlier this season, Encarnacion struggled with injuries and his numbers were down, but as play began this past Sunday, his triple slash line was nearly identical with his 2014 line and his power numbers are nearly there with another month to play.
| | | | | | | | |
| --- | --- | --- | --- | --- | --- | --- | --- |
| YEAR | PA | BA | OBP | SLG | HR | RBI | R |
| 2014 | 542 | .268 | .354 | .547 | 34 | 98 | 75 |
| 2015 | 497 | .269 | .358 | .538 | 29 | 90 | 73 |
Encarnacion is one of seven players to have at least 10 home runs this month, joining his teammates
Jose Bautista
and
Josh Donaldson
as well as
Nelson Cruz
,
Carlos Gonzalez
and both Khris and
Chris Davis
. Encarnacion was a first-round pick in many drafts this season and is performing like one overall even if he got off to a slow start. Speaking of power ...

I was Dead Wrong About Nelson Cruz


Overdrafted - Nelson Cruz (ADP 58) - From the beginning of the season until the end of May 2014, Cruz batted .315/.383/.675 with 20 home runs and 52 RBI over 230 plate appearances. From that point onward, he batted .249/.308/.451 with 20 home runs and 56 runs driven in over 448 plate appearances. Now, he moves from a park that inflates right-handed power to one that works against it. He's not repeating 40 homers, and even 30 looks like a pipedream in Safeco. He doesn't steal bases any longer, and his 2013 line of 27 homers, 76 RBI, and a .266 average is more repeatable than his monster year in Baltimore. People are paying closer to the 2014 price than they are the 2013 price.

Those were
my words back in mid-February
. Today, only
Josh Donaldson
and
Paul Goldschmidt
have been more valuable to fantasy players in standard 12-team 5x5 mixed leagues according to our
Dollar Value Generator
. I disliked Cruz for 2015 as much as
I liked him
for 2014, but he's made me look like quite the fool by having an even better year than he did last season. As one looks into some of Cruz's indicators, it's tough to overlook the 30-percent home run-to-flyball ratio this season as it is a career high for him in a season where he is hitting a career-low 36 percent flyballs. The amount of hard contact he has made this season is right in line with last year as well, much like many of his other indicators.
| | | | | | |
| --- | --- | --- | --- | --- | --- |
| YEAR | OOZ SWING% | ZONE SWING% | OOZ CONTACT% | ZONE CONTACT% | HARD HIT% |
| 2014 | 34 | 71 | 59 | 84 | 36 |
| 2015 | 34 | 70 | 62 | 81 | 36 |
Heading into 2016, the HR/FB ratio has to come back down to his career norm, which would have made my February prediction look right. For now, he can continue to rub it in my face for giving up on him a year early after being
one of his biggest backers
before his major league career began.

I was Right on Mike Zunino

In
early May
, I said Zunino was heading down the
J.P. Arencibia
path to irrelevance because he only hit mistake pitches and had to rob Peter to pay Paul at the plate. Before 2015, pitchers got him out with non-fastballs and then in 2015, as he tried to hit non-fastballs, they were dominating him with fastballs that he couldn't catch up to. Zunino will remain in the big leagues because he has improved defensively, but what once looked like a promising fantasy option at catcher is barely even a second catcher option in AL leagues. Zunino was demoted to Triple-A a few days ago. The 11 home runs are negated by the .174 batting average and his fantasy value for the season is $0, and that Arencibia comparison
is holding up
rather well.

Joe Kelly is the AL Pitcher of the Month

No, this isn't a piece for "The Onion."
Joe Kelly
made six starts in August and won all six and did so with a 2.68 ERA. Yes, the same
Joe Kelly
who was 2-6 with a 5.94 ERA and a 1.51 WHIP heading into August did that. How does that happen?
A big part of the success Kelly has had in August centers around not allowing home runs. He gave up 11 in 83 innings heading into the month, but allowed only three in 37 innings in August. He is also getting ahead more quickly, getting more first-pitch called strikes and is getting batters to expand their zones late in the count. In August, he cut back on his straight-as-an-arrow fastball and has thrown more changeups and sliders while locating pitches down in the zone. The Cy Young predictions he made for himself aren't happening, but August has certainly been impressive and shows a change in process that could lead to better results in September and in 2016.

Francisco Lindor is More than Just a Glove

It was widely considered that Lindor was brought up by Cleveland because his defense was ready to be in the big leagues two years ago even if his bat was not. In August, only
Michael Brantley
(.420) and
Edwin Encarnacion
(.392) have a higher batting average than the .386 Lindor has posted. He hit .284 in Triple-A before his promotion, and through the end of July, had a rather empty .265/.301/.389 line over 175 plate appearances. In August, that line has bumped up to a robust .386/.425/.515 in 121 plate appearances with nine extra-base hits. In 54 fewer plate appearances, he's one extra-base hit shy of equaling his total from June and July and has already equaled his walk total.

I Don't Know What to Make Of Stephen Piscotty, But I Like it:

Simply put, he hits. He's raked at a .344/.373/.615 clip in August in little more than 100 plate appearances. He's put up that line while walking four times and striking out 23 times, but he's also produced 15 extra-base hits and has driven in 19 runs with his bat. You take the good with the bad, you take them both and there you have the fact of life that Piscotty hits the ball very hard. He showed better plate discipline in the minor leagues, so we can chalk up these early misgivings as adjusting to a big bump up in the competition.
Jason Heyward
is a free agent after this season, and if Piscotty can continue to show this kind of pop, the right-field job could be his full-time in 2016.

Good Pitching Gone Bad

Jeff Samardzija
has did everything to disprove that walk years make for good pitching years. While
Joe Kelly
won each of his six starts in August, The Shark lost each of his in glorious fashion. No pitcher had a worse ERA than the 8.82 Samardzija put up as he struggled to keep the ball in the park. Even when he wasn't allowing home runs, a .368 BABIP and a 60.0 LOB% is a hell of a way to go through life as a starting pitcher.
Misery loves company and stalwarts such as
Felix Hernandez
and
Max Scherzer
were right there with Samardzija. Each was a top-25 pitcher, and as fantasy owners were counting on their studs down the stretch, these two have been August duds. Hernandez has won three games, but has done so with a 6.60 ERA and a ridiculously high .379 BABIP while Scherzer went winless with a 6.43 ERA for the disappointing Nationals. The Mariners skipped Hernandez's scheduled Monday start against Houston, and since the team is again out of contention, it might take it easy on its ace down the stretch.
We're in the final stretch, and while none of my fantasy teams nor my Rays are going to win any titles, I'm still very excited to see what September has in store for us!