This article is part of our Handicapping the NBA series.
With a maximum of only three games left in the NBA season, it's time to start looking ahead to 2021-22. The DraftKings Sportsbook recently posted MVP odds for next season, with Luka Doncic leading the way at +400.
Let's take a look at the top contenders and some longshots to consider betting before the market adjusts.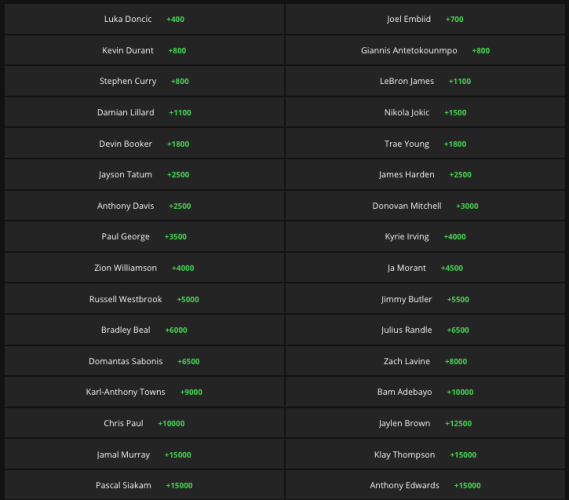 Luka Doncic (4/1): The opening favorite for the second straight season, Doncic is on track to be near the top of this list for the next decade. A slow start to last season sapped some of Doncic's momentum, but another strong playoff showing – even with a Round 1 exit – was a stern reminder that he's still one of the most complete offensive players in the NBA.
Statistically, Doncic has already been so good that he may not have a ton of room to improve, so his MVP case may rest on the Mavs' team success. If Doncic can stay healthy and guide Dallas to a top-five seed in what should be an even more competitive Western Conference, he's a lock to keep his name in the MVP conversation.

Joel Embiid (7/1): The big man was neck-and-neck with Nikola Jokic in the MVP race until a knee injury cost him 10 straight games just after the All-Star break. Embiid still managed to finish second in the voting, but the injury marred what was easily his best season since debuting in 2016-17. Unfortunately for Embiid, injuries will always be part of the narrative surrounding his career, and a partially torn meniscus suffered during the playoffs only adds more reason for concern.
When healthy, Embiid can look like the best two-way player in the league on any given night, but when it comes to MVP he's probably a stay-away for me at 7/1. The field will be deeper next season, and while I fully expect Embiid to have another dominant year, that number doesn't reflect the fact that he's a much bigger injury risk than some of the comparable stars listed below him.

Kevin Durant (8/1): Durant was my dark-horse MVP pick last season, and while injuries took him out of the race by the All-Star break, I stand by my position. Durant looked as good as ever in 2020-21, showing no ill-effects from the Achilles tear that kept him out for the entire 2019-20 campaign. If we could turn off injuries and guarantee everyone plays 82 healthy games, Durant would be my MVP pick. However, chances are the Nets will again be cautious with his workload in 2021-22.
In an age when most stars aren't pushing to play 82 games, that's not a major concern for me. But on the other hand, Durant's recent history of lower-body injuries is a concern – if he tweaks that hamstring and misses three weeks, that could be enough to knock him out of contention.

Giannis Antetokounmpo (8/1): Giannis took a break from winning MVPs this season, but realistically he never had much of a chance to take home a third consecutive award. The combination of poor free throw shooting and the Bucks taking a step back during the regular season caused Giannis to lose some momentum, but he's firmly recaptured it after returning from a knee injury to put up a pair of 40-10 games in the NBA Finals.
Obviously, the Bucks winning the title would set the stage for a barrage of Giannis love that would carry over into next season. But even if they fall short, he's done more than enough in these playoffs to set himself up for a run at a third MVP in four years. At 8/1, Giannis is one of my favorite bets on the board.
Tier 2 Contenders

LeBron James (11/1): This is lower down the board than James is used to sitting. He entered last season at 7/1 and was very much in the mix before an ankle injury cost him multiple weeks. Throughout his career, James has been an ironman to an almost unrivaled degree, but he's missed significant time due to injury in two of the last three years. On top of that, he'll turn 37 in December.
The case for James is that both injuries were bad-luck scenarios – in 2018-19 he slipped on a wet spot; this season, his ankle was rolled into – but they're injuries nonetheless, and at some point his superhuman healing ability is going to slow down. James also has some narrative value on his side – many feel he's still "owed" an MVP or two from the previous decade – but the league's upper crust is filled with so many elite players that it's difficult to imagine James out-performing Doncic, Durant, Antetokounmpo, Nikola Jokic or even Stephen Curry from a purely statistical standpoint. At the end of the day, if James stays healthy he'll be in the race by default, but he's finally reached the point in his career when he can't be simply penciled in for 75+ games.

Damian Lillard (11/1): On one hand, I really like Lillard as a dark-horse, second-tier candidate. But on the other, his odds aren't that favorable (he was 22/1 entering last season), and we're still not sure where he'll be playing next season. If Lillard remains in Portland, it's hard to imagine that team taking the kind of leap forward that would be necessary for him to truly contend for the MVP.
But if he were to be shipped to, say, Philadelphia or Boston and help lead one of those teams to a 60-win season, then you can see how the narrative would begin to take shape. At this juncture, I wouldn't recommend betting Lillard, but regardless of team context he's one of the safer options in terms of durability and statistical floor.

Nikola Jokic (15/1): Jokic entered last season at 30/1, but considering he never gets hurt and was the runaway MVP in 2020-21, getting him at 15/1 still feels like a pretty strong value. As always, repeating as MVP will be an uphill battle, but with Jamal Murray set to miss most of next season, Jokic may have no choice but to put the Nuggets on his back.
Production-wise, Jokic carries very few concerns – the question is whether Murray's absence will set Denver back enough to keep Jokic from challenging for a repeat. Plus, for as dominant as Jokic was last season, it's fair to say he was aided by the likes of James, Durant, Embiid, James Harden and Kawhi Leonard all missing time. But durability is a skill in the NBA – especially when it comes to winning awards – and right now Jokic is the league's most durable superstar.
Other Notables

Devin Booker (18/1): Booker has ascended closer to superstardom in the playoffs, but this number feels like it's capitalizing on the moment. If Chris Paul returns, the Suns should again challenge for a top seed in the West, but Booker is yet to prove that he can turn in the kind of wire-to-wire ultra-elite regular season necessary to contend for an MVP.

Trae Young (18/1): Another postseason breakout, Young has the Hawks positioned to contend for deep postseason runs for the foreseeable future. I still wouldn't bet Young at 18/1, but he's managed to flip the good stats/bad team narrative and will enter next season with considerable momentum. With that said, Young remains one of the NBA's worst positional defenders, so in order to win the award he'd need to have an offensive season for the ages.

James Harden (25/1): Harden has an MVP in his trophy case, and a handful of top-three finishes, but playing alongside Kyrie Irving and, especially, Kevin Durant will make it nearly impossible for him to add another. Realistically, the only path for Harden is an injury to Durant or Irving that would force him to revert back to the do-it-all mandate that carried him to the award in 2017-18.

Paul George (35/1): If Kawhi Leonard misses most of the regular season, there's at least a somewhat-conceivable path for George. But it would require him to reach heights that we haven't seen on a consistent basis for his entire career.

Zion Williamson (40/1): Williamson will always generate some buzz because he's a young, exciting player who everyone wants to succeed, but the Pelicans need to make major strides – from a winning basketball games perspective – for Zion to be a realistic candidate. I'd take the over on 0.5 MVP awards for his career, but it feels like he's still at least a year or two away from truly contending.