This article is part of our NBA Blog series.
Week 13 Rebound & Rant: Video Edition!
Please tell me you watched the Thunder beat the Heat Wednesday night? Durant's thoroughly complete effort: ball-handling, passing, aggressive defense (especially on LeBron), rebounding and obvious scoring skills were just sick. Sick! Honestly, I have no idea how coaches are supposed to defensively scheme for him. His jumper is dead-on, his ball-handling is point-guard-worthy and he can drive to the hole at will.
Of course, in the world of fantasy hoops, only the lucky 6-8% that own him really care. So let's move on! It was a wacky two weeks in the world of basketball and social media, so be warned: I went a little nuts with the videos.
FLOTUS To The Hole…AND 1!
Speaking of the Heat, while I hate them (as do the majority of serious NBA fans), you have to put emotion aside when building your team. Fantasy-wise, I keep staring at their box scores once a week thinking "there must be someone here beyond James, Wade and Bosh that is worth owning". Yet my answer is always "Nope, nobody". I got a couple of glory years out of Chris Andersen during his hey-days in Denver, but now you must be in a VERY deep league to need seven points, five boards and one block per game. We need more leagues to have "righteous tattoos" as a category. Mario Chalmers? OK, he's serviceable (Yahoo ranking of 82, Season Average). He could definitely play on my squad, Heat-hate be damned. There is always something to be said for 5+ assists and 1.2 treys per game from 46% FG shooting. His assists and field goal percentage are up nicely from last year. Clearly he's listening to his coach, the First Lady and the Big Three and finally eating right:
Memphis is Heating Up
Did you notice that Memphis just won four in a row and nine of their last ten? That streak included an impressive back-to-back away-and-then-home sweep of Houston. If you don't have an awkward man-crush on Marc Gasol, something is wrong with you, playah. And as mentioned in the prior R&R, Courtney Lee is getting a nice run as the starting shooting guard. Over the last ten games he's averaging 14 points a game from 56% shooting. If you are points hungry, grab him. Sure, Tony Allen could return soon, but why would Coach Joerger mess with this winning chemistry?
Strategy Isn't That Hard
As we are now at the half-way point of the NBA season, it is time to start seriously thinking about STRATEGY. I know, it's not a fun word. With only one month gone in the season, it was OK back in November to write off your utter lack of rebounds as an aberration. But by now, on the cusp of the All-Star break, patterns are clearly established.
What drives me nuts is when league members refuse to understand logic like "you have no rebounds, I have no assists, let's swap a power forward for a point guard". But you gotta keep pounding the logic and now is the time to do it. As an example, Dwight Howard has finally realized "hey, I've got a lot of money, but now fans think I'm a disloyal jerk". So he creatively used a little strategic thinking and called the folks at Sesame Street. Smart move. Send this video to league mates who are not understanding your very clear trade logic:
T-Wolves Bruise Brothers
Speaking of righteous tats, what's up with the health of Nikola Pekovic? Did you know he makes almost as much as Kevin Love? Big Pek has bursitis in his right ankle, which is a bummer, because he was having a stellar season (18 points, 9 boards, though only half a block per game). Looks like he's out until around February 10th. The bursitis hasn't stopped the T-Wolves PR department from pushing the muscular tattooed center for the All-Star game. Check out the ridunkulous "Bruise Brothers" package the PR group sent NBA coaches recently: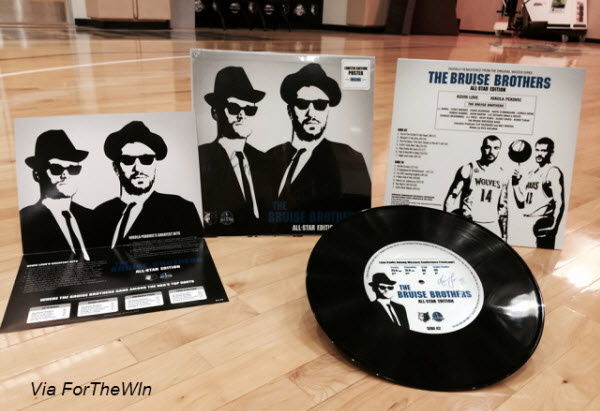 Yep, that is an awesome Blues Brothers parody. Allegedly the album has music on it. If you've never seen The Blues Brothers , you are soulless. Stop what you are doing and watch it on Amazon Prime right now. Then buy some Elmore James.
While we are giving the T-Wolves some attention, I'd be remiss to not point out the awesome Starter jacket Love is sporting in his recent Taco Bell ad…
Feeling Bad for Chicago
Speaking of The Blues Brothers and all things wonderful about Chicago, you gotta feel sad about the Bulls this season. They were nicely poised to challenge Miami and Indiana when Rose, as you know, suffered another knee injury. Then management (wisely) dealt Luol Deng before he walked away as a free agent. From a fantasy perspective, the current line-up does have some opportunities. D.J. Augustin, cut early this year by Toronto, is a high-potential Daily Fantasy play against the right match up. And his game is infinitely more entertaining than watching Kirk Hinrich excessively dribble all night.
Hopefully, saddened Bulls fans can take solace in this acting masterpiece from Joakim Noah and get-him-for-the-second-half rising star Jimmy Butler:
Now that Butler is healthy, and the Bulls are desperate for scoring, get him on your squad for well-rounded production through the second half of the season.
SIDE NOTE: Daily Gamers, have you seen the utterly amazing new Daily Fantasy Value Meter from RotoWire!?! It's ridunkulous. Check it out here. (It's OK, I won't be offended, leave the Rebound & Rant. But come back.)
30 Years of Impressive Leadership
This week marks the end of Commissioner David Stern's 30 year run as the true leader of the NBA. Love him or hate him, NBA revenue skyrocketed from $165 million annually to a projected $5.5 billion for 2013 during his 30 year reign. Since I'm going overboard with the videos, enjoy Stern's recent Late Night With David Letterman Top Ten appearance. It's the least you can do for the man who has so skillfully elevated the popularity of professional basketball.
Yep, That's About Right
Since I started with Kevin Durant, I'm going to end with Durant. The Atlanta Hawk twitter feed manager said it all, after Durant hit a clutch game winner over my man DeMarre Carroll to win it for the Thunder on Monday.
Not fair, Kevin Durant.

— Atlanta Hawks (@ATLHawks)

January 28, 2014
Free Agent Pick-Ups?
Jeremy Lamb (OKC ): Maybe an obvious pick. As expected, Lamb is starting to mature and demonstrate a nice ability to score off the bench, as demonstrated by his 18 point effort versus Miami on Wednesday.
Greivis Vasquez (Tor): If DeMar DeRozan's mysterious ankle injury worsens, Vasquez could be in line for a major minutes upgrade.
Alex Len (PHX ): Len is starting to look healthy. He just had a nice 22 minute, 10 rebound game against woeful Milwaukee Wednesday and is definitely worth a flier in keeper leagues.