This article is part of our FanDuel College Football series.
We have finally reached the weekend we've all been waiting for: Minnesota versus Penn State! In all seriousness, we have two clashes of undefeated teams going at it Saturday, and Alabama leads the expected points total among those four teams, sporting a 34.5 implied score. That ranks fourth on Saturday's slate behind Ohio State (54.0), Clemson (43.0) and Oklahoma (40.5). Ohio State (-42.0) and Clemson (-32.0) own the biggest spread marks on the slate by a longshot, while Georgia (-16.5) and Oklahoma (-14.5) round out the double-digit favorites.
Week 10 Review
QB
Dillon Gabriel, UCF

($9,400): 31.7
Max Duggan, TCU

($8,400): 25.9
Tommy DeVito, Syracuse

($7,100): 27.7
RB
Kenny Gainwell, Memphis

($10,300): 17.2
Xavier Jones, SMU

($9,700): 11.2
Bentavious Thompson, UCF

($7,000): 18.5
WR
Gabriel Davis, UCF

($9,600): 6.1
Trishton Jackson, Syracuse

($8,500): 30.8
Wan'Dale Robinson, Nebraska

($8,200): 11.0
Braydon Johnson, Oklahomas State

($6,200): 5.2
DFS Tools
Matchup Info
Link to matchup chart for sorting/research purposes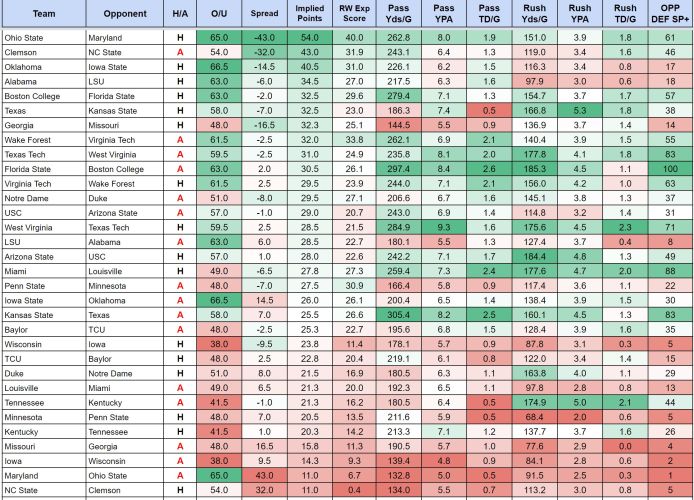 Note: RotoWire expected scores are generated by a mathematical equation excluding special teams and points directly off turnovers (from what I understand).
Week 11 Plays
Quarterback
Jamie Newman, Wake Forest

($10,400) at Virginia Tech
Newman is one of a whopping seven quarterbacks to check in north of $10,000 on Saturday's main slate, but his matchup is particularly tantalizing. The star signal-caller gets a defense surrendering more than (2.1 passing touchdowns per contest and 262.1 passing yards per game. Newman's adeptness to red zone passing should also play in his favor. The Hokies stiffen up against the run in the red zone, allowing just eight rushing scores through seven games, but they have been vulnerable to the pass, letting up 11 passing touchdowns over that same span (tied for 10th-most nationally). Newman has done most of his scoring damage from inside the 20 as well, tallying 11 passing scores through seven games played. The dual-threat signal-caller also has the wheels to make the opposition pay, not to mention a game script that likely requires four quarters of the entire playbook (2.5-point favorites).
Skylar Thompson, Kansas State

($9,400) at Texas
Picking anyone against Texas is an easy call, as the Longhorns allow the fourth-most FanDuel points to opposing quarterbacks (28.7), trailing only New Mexico, Virginia Tech (See: Jamie Newman) and Louisiana-Monroe. Not only have they allowed 20 passing scores through eight games, but they've also let the opposition's field generals run for 410 yards and four scores over that span (50-plus yards per game). Thompson will certainly aim to take advantage of that, coming off a 127-yard rushing performance last week against Kansas. He has run for total of eight scores and 234 yards between in the last three games. We can't discount him as a passer either. While he doesn't typically rack up huge air totals, he did top 200 yards twice -- versus Oklahoma and Baylor -- and Texas' pass defense has proven to be among the worst in college football, routinely allowing opposing passers to top 300 yards (slate-worst 305.5 passing yards allowed per game this season).
Austin Kendall, West Virginia

($7,600) vs. Texas Tech
In a pass-happy Big 12, Kendall has only faced two defenses thus far -- Texas (127) and NC State (91) that check in outside the top 90 in pass defense. That becomes three Saturday when Kendall squares off against a Red Raiders defense giving up 284.9 passing yards per game and a slate-high 9.3 yards per pass attempt. Kendall posted his best two fantasy showings of the season versus NC State (25.2) and Texas (31.0), and that includes five interceptions. Even if he turns the ball over a couple times Saturday, Kendall and the Mountaineers are likely headed for a shootout and his track record bodes well against bad defenses in those formats.
Running Back
AJ Dillon, Boston College

($9,900) vs. Florida State
In a battle of two woeful defenses, there may be plenty of options to choose from for this game, but Dillon looks to be the obvious choice. Florida State has allowed the second-most red zone trips of any team in the country, trailing only Kent State. While the touchdown percentage allowed (47.83) equates to only 22 touchdowns on those trips, that still ties them for 88th (fewest) in the country. Of those 22 scores, 14 of them have come on the ground, meaning opponents have tallied 14 red zone rushing scores through just nine games. That's where Dillion comes in. The powerful back leads the nation in red zone rush attempts (57) and red zone touchdowns (12), averaging 3.51 yards per carry from inside the 20. While the overall matchup doesn't appear as favorable, Florida State's weaknesses play right into Dillon's strengths.
Keaontay Ingram, Texas

($8,400) vs. Kansas State
Ingram's inclusion seems like an obvious choice against a Kansas State defense that has proven stingy against opposing quarterbacks but has allowed a slate-high 5.3 rushing yards per attempt. The Sooners didn't even attempt to take advantage of that last week with their backs, handing the ball to Trey Sermon and Kennedy Brooks a combined six times for 11 yards. Ingram's workload has proven fairly consistent, toting the rock at least 10 times in every game except for one. He's coming off a 16.7 FanDuel-point performance last week against a TCU defense that ranks 34th nationally against the run (128.4), which leaves room for an even larger showing this week.
Master Teague, Ohio State

($6,600) vs. Maryland
As John McKechnie astutely pointed out in his Start vs. Sit article this week, Teague is far from just an afterthought in the Buckeyes' backfield, owning a 24 percent carry share on the season. In a game where Ohio State is favored by 43 points, it could present an opportunity to get Teague and the rushing game some extended run in the second half. The sophomore is no slouch with the ball in his hand, averaging 6.8 yards per carry to go along with four rushing scores. In any game where he's reached pay dirt on the ground this season, Teague has scored at least 15.6 FanDuel points, and he squares off against a Maryland defense that has allotted the opposition 16 rushing scores on the year. When factoring in just conference games, Maryland has allowed 16 scores in just six games, which includes a one-sided victory over Rutgers.
Wide Receiver
Jerry Jeudy, Alabama

($9,300) vs. LSU
Although the matchup doesn't appear particularly favorable, LSU's defense has faced just two top-35 passing offenses all season. The other games on their schedule? The best is Utah State (36th), though most of the damage has come against conference and lesser opponents. After that, we have Georgia Southern (last), Vanderbilt (105), Northwestern St (FCS school), Mississippi State (106) and Auburn (91) weighing down the schedule. In the two games the opposing offenses were ranked in the top 35, Florida and Texas, the opposing quarterbacks combined to throw for 711 yards and seven touchdown passes. Good route running wideouts have also found it fairly easy to find openings in the defense, with Devin Duvernay collecting 12 passes for 154 yards and two scores and Van Jefferson racking up eight grabs for 73 yards and another two. Jeudy fits that bill perfectly for Alabama and checks in fifth among wideouts on the slate. Again, this hinges on Tagovailoa being available Saturday, but early indications on that front are positive.
Terrace Marshall Jr., LSU

($9,400) at Alabama
Alabama has escaped high-powered offense for most of the 2019 season thus far, but that stretch ends Saturday. The only power-five opposing offense that ranks in the top 50 in passing yards on Bama's schedule thus far is Texas A&M (263.6 passing yard per game, 38th nationally). Kellen Mond, who averages 246.0 passing yards per game on the year, threw for 264 and a pair of scores in that game. If the LSU offense can operate anyway near the level it has thus far against an untested Crimson Tide defensive 11, then there may be plenty of places to turn for production. Despite facing lackluster offenses thus far, Alabama's secondary has allowed 10 passing touchdowns on the year. Of those, six touchdowns have come in the red zone and the other four were from 21-39 yards out. The red zone is the sweet spot for Marshall, who has used his 6-foot-5 frame to record six touchdown receptions in the red zone. While he was targeted only three times in his first game back from injury versus Auburn, the bye week likely aided him to return to form in time for Saturday's showdown.
Jack Freudenthal, Wake Forest

($7,200) at Virginia Tech
A perfectly good option at the top of the Wake Forest pecking order exists in Sage Surratt, but I'm going to highlight Freudenthal as an option for those looking for a cheap part of Wake Forest's offense. Not only is the big tight end coming off a three-touchdown game, but he has tallied double digits in two of the last three games. Freudenthal's matchup can't get much beter Saturday either, taking on a Virginia Tech defense allowing 12.8 FanDuel points per game (third-most nationally) and five touchdowns in six games to opposing tight ends. Three of Freudenthal's four touchdowns this season have come in the red zone as well, which (as highlighted in the Newman section above) plays up against Virginia Tech's defense.
Sam James, West Virginia

($7,000) vs. Texas Tech
As Austin Kendall goes, so does James. In the two games -- Texas and NC State -- where the West Virginia offense has faced opposing defenses ranked outside the top 90, James has thrived with 26.7 and 15.6 fantasy points, accounting for his only two receiving touchdowns this season. He remains the favorite target of West Virginia's quarterbacks, sporting a 24.7 target share percentage over the last three games, and is the most reliable option in what is a banged up Mountaineers receiving corps. Given that knowledge, it wouldn't be shocking for an even heavier target count to head the way of James versus a Red Raiders defense that has allowed 305.3 passing yards per game and 15 passing touchdowns this season.
The author(s) of this article may play in daily fantasy contests including – but not limited to – games that they have provided recommendations or advice on in this article. In the course of playing in these games using their personal accounts, it's possible that they will use players in their lineups or other strategies that differ from the recommendations they have provided above. The recommendations in this article do not necessarily reflect the views of RotoWire. Chris Benzine plays in daily fantasy contests using the following accounts: FanDuel: Crispy272001, DraftKings: Crispy27.