CSKA at Efes
Date: 12/20
Time: 6:30 PM CET
Game Preview
The two teams that met in last year's championship game will square off for the first time this season, as reigning champion CSKA will head to Istanbul to take on Efes. The hosts are off to a better start this year, going 12-2 over the first 14 Rounds thanks to MVP-level performances from Shane Larkin and Vasilije Micic and a stellar supporting cast. The defending champs have been forced to play without Final Four MVP Will Clyburn for most of the season, and while they struggled for a few Rounds after he was injured, they have righted the ship, going 3-1 over their last four games – in no small part due to the scoring skills of Mike James. With championship-level squads and star players on both sides, all eyes will be on the Sinan Erdem Dome when Thursday's game tips off.
Injuries
CSKA Moscow
Will Clyburn - OUT - Knee
11/11 8:25 PM IST - Clyburn underwent surgery Monday to repair the torn ACL in his right knee, John Askounis of Eurohoops.net reports. The operation officially spells an end to Clyburn's season after the 29-year-old injured his knee during CSKA Moscow's Round 4 game in EuroLeague play. Clyburn will return to Moscow to continue his rehab and is expected to make a full recovery ahead of the 2020-21 season.
Mikhail Kulagin - OUT - Calf
12/12 3:15 AM IST - Kulagin (calf) will not play Thursday against Maccabi Tel Aviv, according to CSKA's official website. Kulagin has missed nearly two months as a result of his injury, and it remains to be seen when he will be ready to return to action.
Anadolu Efes
Bryant Dunston - OUT - Arm
12/10 5:43 AM IST - Head coach Ergin Ataman hopes Dunston (arms) will return to action at some point in the next 2-to-3 weeks, according to eurohoops.net. Ataman did not provide a target date for Dunston's return, but his comments essentially rule him out for Efes' Round 13 game and indicate he could miss either or both EuroLeague games on the schedule next week. Expect Tibor Pleiss and Sertac Sanli to continue splitting the work at the center spot until Dunston is back on the court.
CSKA Moscow Probable Starters
G - Mike James
G - Daniel Hackett
F - Nikita Kurbanov
F - Johannes Voigtmann
C - Kyle Hines
Anadolu Efes Probable Starters
G - Vasilije Micic
G - Rodrigue Beaubois
F - Krunoslav Simon
F - Chris Singleton
C - Tibor Pleiss
Top Picks
Shane Larkin (C), ANA - Larkin is coming off his lowest-scoring game of the season, but that should provide him plenty motivation to get back on track in Round 15. Larkin scored at least 20 points in the three games leading up to Round 14 – including a EuroLeague-record 49 points in Round 11 – and sits second in the league with an average of 20.8 ppg.
Mike James, MOS - Right behind Larkin among the league's leading scorers is James, who has been on a roll of late, averaging 23.3 points over the last three Rounds. Expect another big game from him as he squares off against CSKA's talented backcourt duo.
Vasilije Micic, ANA - Micic has been a bit overshadowed by Larkin this season, but he is having a superb season as well, sitting eighth in the league in scoring at 14.7 ppg, third in the league in assists at 6.3 per game, and tied for ninth in steals with 1.4 swipes per contest.
Tibor Pleiss, ANA - Efes has been without starting center Bryant Dunston since Round 8, but his loss has been mitigated by the play of fill-ins Pleiss and Sertac Sanli. Pleiss has stepped into Dunston's starting spot and has averaged 10.9 points, 4.9 rebounds, and 1.0 blocks during Dunston's absence.
Captaincy Options
Dream11 Team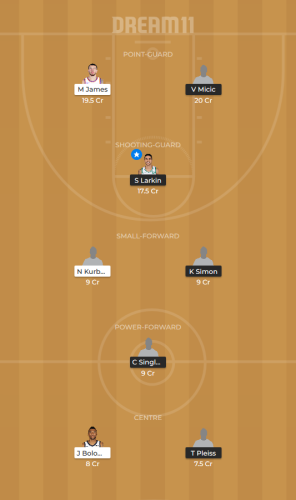 Grand League Combination
Larkin, James, Micic, Bolomboy
Small League Combination
Larkin, James, Micic, Pleiss
The author(s) of this article may play in daily fantasy contests including – but not limited to – games that they have provided recommendations or advice on in this article. In the course of playing in these games using their personal accounts, it's possible that they will use players in their lineups or other strategies that differ from the recommendations they have provided above. The recommendations in this article do not necessarily reflect the views of RotoWire. Kevin O'Brien plays in daily fantasy contests using the following accounts: FanDuel: kevob100, DraftKings: kevob100.