This article is part of our 2020 Training Camp Preview series.
Expanding upon our team preview collection from earlier this offseason, we're gearing up for an irregular August with a series of team-specific articles to get you up to speed for training camp. You can find the previous writeup on the Baltimore Ravens here.
State of the Franchise
The Ravens are coming off a dominant 14-2 season that ultimately fell short of expectations with an early playoff exit in January. One bit of a silver lining for the franchise amid all the uncertainty of the past few months is continuity. Not only is the team set at quarterback and in the secondary, but the architects of the offense (coordinator Greg Roman) and defense (coordinator Don 'Wink' Martindale) both reprise their roles.
That level of continuity could be more meaningful than ever in 2020, all things considered. Given how well Roman designed the attack in his first year as Baltimore's OC last year, losing him this offseason would have been a significant barrier to the offense reaching its potential.
Additionally, there's a sense of urgency. Most of Baltimore's best players, including Lamar Jackson, Ronnie Stanley and Marlon Humphrey, are still playing under rookie contracts. Winning a Super Bowl is difficult, and it gets harder when a large percentage of a team's salary cap is tied to a small number of players. The Ravens have the ingredients to make a run at a Super Bowl, but they'll have to overcome their recent postseason demons to make it there. The clock is ticking.
Job Battle
The ADP market doesn't tell us everything, but it gives us an idea of where the public stands on certain players and position battles. When it comes to Baltimore's top running back slot, the market is split. Mark Ingram checks in as RB28 with an ADP of 57.8 in drafts dating back to July 14, while rookie J.K. Dobbins is sitting as RB31 with an ADP just 10 spots behind Ingram. Miami is the only other team that has its top two running backs going within 10 picks of one another at this stage.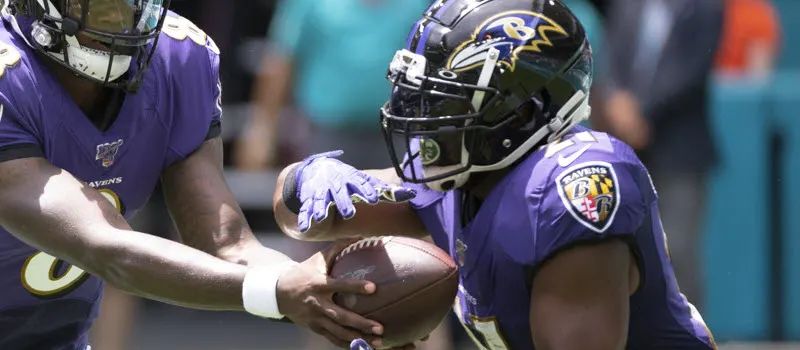 There are cases to be made for and against both Ingram and Dobbins. Ingram is the veteran who ran for over 1,000 yards at a clip of 5.0 YPC in 2019, but he also suffered a costly calf injury late in the season. Dobbins is an explosive runner with experience in option-heavy rushing attacks, but the lack of live reps with Lamar Jackson could lead to a learning curve.
This could end up as a frustrating committee where there isn't a clear-cut No. 1. Ingram is the favorite to start out of camp, but Dobbins is too talented to have a Justice Hill type of rookie year. One storyline to watch is Lamar Jackson's involvement in the run game because this is an offense that had almost 600 rushing plays in 2019. If Jackson's carries come down a bit to limit wear and tear, this is a system that could support 200 carries for both Ingram and Dobbins. For context, only 20 rushers reached that milestone in 2019.
Medical Tent
Brown impressed as a rookie despite having to work his way through rehab from a Lisfranc injury. He averaged 8.2 YPT and caught seven touchdowns on 77 targets but only played 54 percent of his team's offensive snaps. Brown underwent a follow-up surgery this offseason to remove the screw from his injured foot and has been working out at full speed this summer. Now healthy, Brown is primed to hit the ground running as Baltimore's top target at receiver this year. A full snap count should result in the Oklahoma product reaching a new level of production.
TE Mark Andrews
Andrews played in all but one game in 2019, but to say it was a fully healthy campaign would be a stretch. He played just 42 percent of the team's offensive snaps as ankle, knee and foot issues landed him on the injury report at different points. Andrews was effective when on the field, as his 10 touchdowns paced all tight ends despite ranking 39th at his position in snaps. Repeating his level of efficiency, particularly his astronomical touchdown rate, will be difficult. But a full snap count would help smooth over any efficiency regression and give Andrews a chance at posting back-to-back double-digit-touchdown seasons.
RB Mark Ingram
Ingram was crucial to Baltimore's rushing attack last season, but his ineffectiveness in the playoffs due to a calf injury exposed a lack of depth at the position. Now 30 and with added competition for carries in the form of rookie second-rounder J.K. Dobbins, will Baltimore be more cautious with Ingram's usage to keep him fresh for the end of the season? Time will tell, and any growing pains from Dobbins could help Ingram retain his alpha dog status in the team's backfield. That said, running backs don't age well, and Ingram's finish to last season could cause the Ravens to shy away from giving him a workhorse role again in 2020.