This article is part of our Team Previews series.
Baltimore Ravens

The Ravens proved that they can be a force after going 14-2, but two straight seasons ending in home playoff losses demonstrate that there are still hurdles to overcome in January. With a glut of talent playing on rookie contracts, there's pressure to win now while the current nucleus is intact.
Offseason Moves
Key Acquisitions
The proven veteran addresses a major pass-rushing need off the edge.
An explosive player who makes the rushing attack even more dangerous.
Adds speed and sure hands to the team's receiving corps.
A polished route runner with good hands who could work his way into a role.
Key Losses
A future Hall of Famer and tone-setter hangs 'em up, leaving a hole on the line.
The run stuffer cashed in after four strong years in Baltimore.
Was replaced by the ascending Chuck Clark after suffering an ACL injury.
Talented, but blocked on the depth chart and was flipped for a second-rounder.
A Look Under the Hood
Head Coach: John Harbaugh (Year 13)
Offensive Coordinator: Greg Roman (Year 2) - Option-based Pistol Offense
Defensive Coordinator: Don Martindale (Year 3) - 3-4 scheme
2020 Vegas Projected Wins: 11.5 (T-1st)
2019 Record: 14-2
2019 Points Scored: 531 (1st)
2019 Points Allowed: 282 (3rd)
2019 Point Differential: +249 (1st)
2019 Run-Play Rate: 54.1 percent (1st)
2019 Situation-Neutral Pace: 32.22 seconds per play (27th)
2019 Offensive Snaps: 1,064 (7th)
2019 PFF O-Line Ranking: No. 2
Projected 2020 Depth Chart
QB: Lamar Jackson / Robert Griffin
RB: Mark Ingram / J.K. Dobbins / Gus Edwards / Justice Hill
WR1: Marquise Brown / Chris Moore
WR2: Willie Snead / James Proche
WR3: Miles Boykin / Devin Duvernay
TE: Mark Andrews / Nick Boyle
O-Line: LT Ronnie Stanley / LG Bradley Bozeman / C Matt Skura / RG D.J. Fluker / RT Orlando Brown (RotoWire Rank: No. 6)
Kicker: Justin Tucker
Top Storylines
Dispelling the "Blueprint" Narrative
The Ravens' playoff loss to Tennessee left an impression that there's now a blueprint to beating them. The idea being that if an opponent can get Baltimore "off schedule" by forcing third-and-long situations while also building a lead, the team's reliance on the run will work against it and stall the offense.
It's a fair critique, but only to an extent. While it's true that Baltimore struggled when it fell behind and was put in unfavorable down-and-distances, that can be said for any team outside the Chiefs. Moreover, teams had trouble putting Baltimore in those tough spots to begin with. The Ravens played with a lead on 60.5 percent of their plays and only trailed 18.6 percent of the time.
So if the idea is that a team can "solve" the Ravens by putting them in unfavorable and unfamiliar situations, that checks out. But it's easier said than done, as evidenced by the Ravens leading over three times as often as they trailed in 2019.
Still, it all boils down to catching the Chiefs, who, in stark contrast to the Ravens, shined when faced with in-game adversity last season. Kansas City trailed by 10-plus points in every postseason game and ended up winning each of them by double digits. It's critical that the Ravens prove they can erase deficits because in January they can't bank on putting teams away by halftime.
Finding Balance on Defense
Baltimore had a process versus results problem when it came to its defensive philosophy last season. The team had the highest blitz rate in the league, but that generated just 37 sacks (21st).
The Ravens' blitz rate was so high because they couldn't generate much of a pass rush via their base defense outside of Matt Judon. When the blitz doesn't get home, it leaves the rest of the unit at a disadvantage. That's why adding Calais Campbell and Derek Wolfe this offseason was so important. Both will provide rushing help from the defensive end spot.
Meanwhile, young players such as Tyus Bowser and Jaylon Ferguson need to find their footing and contribute off the edge from their respective outside linebacker slots. If not, it could end up being more of the same story as 2019, one in which the secondary, while deep and talented, gets hung out to dry.
Fortunately, the Ravens also addressed their other defensive weakness – depth at linebacker – via the draft. They scooped up Patrick Queen in the first round and added Malik Harrison in the third, providing a needed infusion of youth and athleticism that was missing last year minus C.J. Mosley.
Patching up the linebacking corps and generating a pass rush without being over-reliant on the blitz should help the Ravens defense be more balanced and less vulnerable to chunk plays in 2020.
Getting More from the Receiving Corps
Part of the reason the Ravens struggled so much when they fell behind last year was a lack of weapons in the passing game. Tight end Mark Andrews and speedy wideout Marquise Brown are both exciting and ascending players who would have roles on any team, but Baltimore's group of pass catchers beyond them in 2019 was nonviable.
The Ravens were one of eight teams to have just one player with more than 600 receiving yards. Lamar Jackson still won an MVP award, but the team's lack of depth at wide receiver was exposed in January when Jackson had to lean on the likes of Seth Roberts and Willie Snead in a failed comeback effort against the Titans.
Snead is decent as a No. 4 option in a passing attack, but Baltimore needs to find an effective complementary piece to round out Jackson's arsenal. Miles Boykin could have a Year 2 breakout, but his rookie season was so poor that banking on such an outcome is overly optimistic.
Third-rounder Devin Duvernay figures to be the only offseason addition to challenge for targets right away in 2020, but there could be some rookie growing pains with the Texas product.
Whether it's Boykin, Duvernay or even an under-the-radar player like sixth-round choice James Proche, Baltimore needs an established third option in the passing game to keep opposing defenses honest.
Barometer
⬆️ Rising: WR Marquise Brown
An explosive player who wasn't fully healthy as a rookie, Brown is primed for a Year 2 breakout. Look for him to challenge for the team lead in every major receiving category now that he's more experienced and past his injury woes.
⬇️ Falling: RB Mark Ingram
Ingram is still an effective player, but the J.K. Dobbins pick is a statement that the team wants to rely less on him as a three-down back. It will be tough for the 30-year-old to replicate his 2019 production.
😴 Sleeper: WR Devin Duvernay
Miles Boykin was a flop as a rookie, and it wouldn't be shocking to see Duvernay overtake him as the team's No. 2 option at receiver before long. Duvernay has 4.39 speed and recorded an 81 percent catch rate as a senior in college.
🌟 Pivotal Player: Lamar Jackson
There were questions surrounding Jackson ahead of the 2019 campaign, as no one knew what Baltimore's offense would look like under him for a full season. He answered them with a historically dominant MVP effort. Building off that success will be key now that the rest of the league has had an offseason to dissect the team's Jackson-led attack.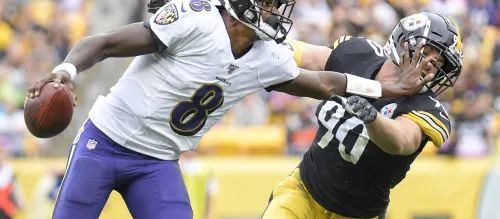 The class of the AFC North, Lamar Jackson's Ravens are seeking their first deep playoff run.