This article is part of our 2020 Training Camp Preview series.
Expanding upon our team preview collection from earlier this offseason, we're gearing up for an irregular August with a series of team-specific articles to get you up to speed for training camp. You can find the previous writeup on the Detroit Lions here.
State of the Franchise
Currently as healthy as any team in the league, the Lions enter training camp as a dark horse to win the NFC North. Whereas the incumbent division champion in Green Bay spent the offseason showing it isn't totally committed to winning in 2020, Minnesota has lost numerous playmakers on both sides of the ball, and Chicago is still putting out fires from the Mitchell Trubisky experiment.
Meanwhile, Detroit was averaging the second-most points per game league-wide last year in a new-look Darrell Bevell offense before Matthew Stafford went down Week 8 with a back injury. While Stafford's injury risk can't be ignored, the Lions might be the most likely team in the league to go from worst to first in its division should Stafford stay healthy and pick up where he left off.
Considering the offensive talent around Stafford has only improved since last season, and key defensive departures like Darius Slay and the aging Damon Harrison were mitigated by the additions of Jeff Okudah, Desmond Trufant and Jamie Collins, a Lions takeover may not be as unlikely as most people think.
Job Battle
Because one second-round running back didn't do the trick in 2018, the Lions doubled down this spring and now have two capable options in Kerryon Johnson and D'Andre Swift to lead the rushing attack in 2020. Whereas Johnson has been effective but combines experience with a displayed lack of durability, Swift has fresh legs but compounds no professional experience with a lesser amount of preparation time than most rookies get for Week 1 due to COVID-19.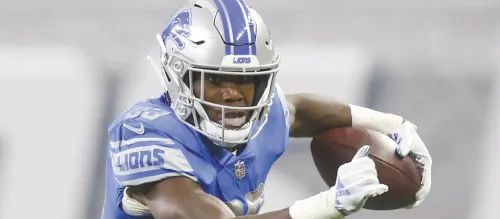 Late-July ADP suggests the fantasy community is nonetheless siding with Swift (RB27, 57.2 FFPC ADP) in advance of training camp anyway, but the lack of spring workouts can't be ignored, and the reality is that the rookie probably won't have enough time to beat out Johnson (RB42, 103.5 FFPC ADP) for a clear lead-back role in advance of Week 1.
While training camp is at least expected to start on time, the most likely outcome from the jump seems to be a near even split between Johnson and Swift. Should Johnson remain healthy and perform well, it's possible he could hold off Swift from carving out a majority share of the backfield at any point before the end of his rookie year.
Medical Tent
Stafford's 2019 season came to a close after he fractured bones in his back while diving for the end zone in a Nov. 3 game against the Raiders. While he reportedly received medical clearance as early as January, and some reports did suggest this latest back injury was a 'freak' incident, Stafford's general history of back issues suggests he carries more risk than other QBs do in 2020. However, it doesn't sound like Stafford will be under any limitations when training camp opens in late July.
While it was never confirmed whether Hockenson underwent surgery for the ankle injury he suffered last year, his requirement of a scooter last December seemed to indicate the tight end underwent a procedure at some point. However, Hockenson was seen on social media aggressively training with George Kittle this month, so it seems the recovery went well. Even if Hockenson is limited during the opening days of training camp, there doesn't seem to be any concern over his availability for Week 1.
WR Marvin Jones
The 30-year-old is coming off a second consecutive season that ended with him on injured reserve, this time due to an ankle injury. Like Hockenson, though, Jones has been seen on social media looking as healthy as reasonably possible. Also like Hockenson, it doesn't appear as if Jones will be hobbled in any way when practices start up this month. In two seasons with Kenny Golladay serving as the No. 1 wide receiver, Jones still has averaged nearly seven targets per game while scoring 14 touchdowns in 22 contests.