In the week-by-week system of daily fantasy football on DraftKings, finding weekly anomalies is the key to success. This can be achieved through selecting undervalued players because of an injury to a starting player, a better than average matchup against a specific defensive group/team, a matchup against a team that plays a faster pace than normal and/or an opponent that does not possess the ball well, which allows the opposition to run more plays and gives their players more chances to score fantasy points. All of these factors should be considered when selecting your players; however, for this article, we will be focusing on how to maximize your playersí opportunities to score fantasy points by being on the field.

Fantasy Football is a numbers game. You try to select a team that will accumulate more points than your fantasy competitors through gaining yards and scoring touchdowns. Your players cannot score fantasy points unless their teamís offense is on the field. The more plays for your player, the more opportunity to score fantasy points. The chart below looks at the total offensive and defensive plays each team accumulated through the 2013 NFL Season. These numbers will change in 2014 due to new personnel and coaches, but it will give us a good starting point for the 2014 season.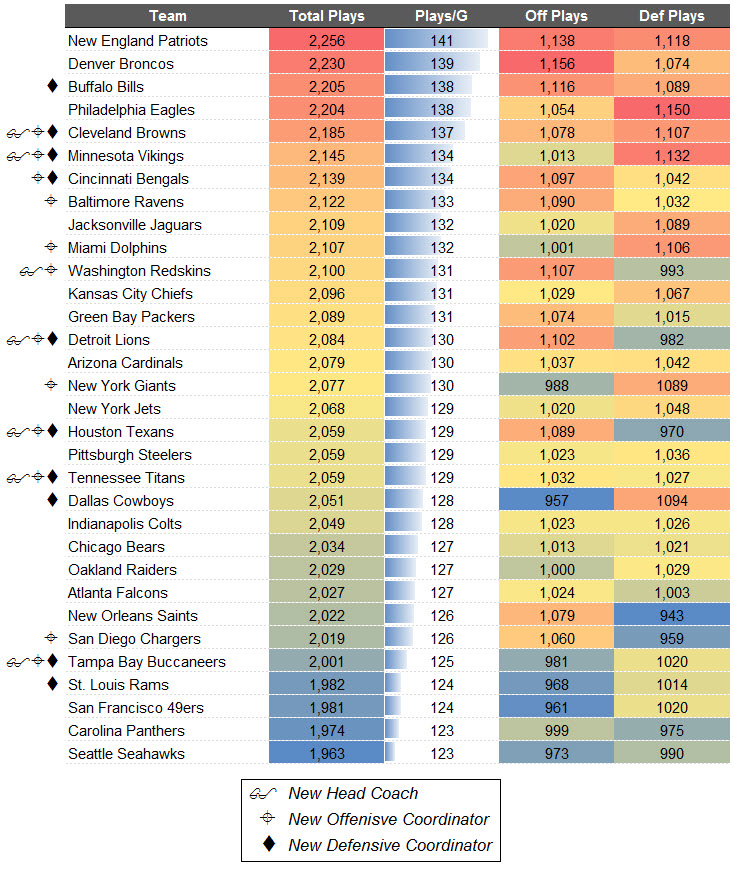 The number of plays that team concedes to their opposing offense during a given game is driven mainly by two factors: time of possession and pace of play, which are also related. The less time a team holds the ball on offense and the faster they get off their plays, the more time is available for the opposing offense to maintain possession and run more plays. The chart below shows the average time per offensive play and the teamís time of possession per game.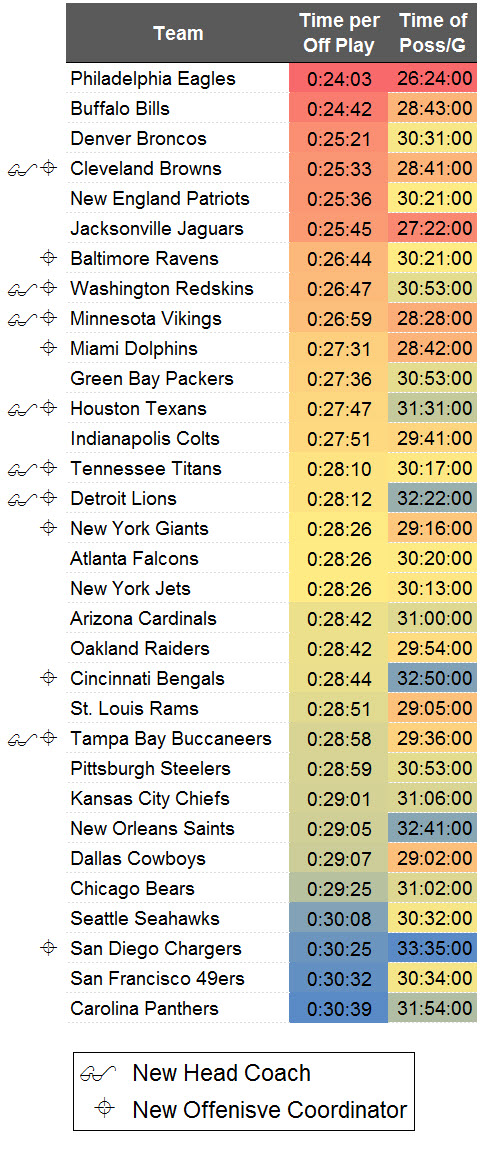 Opposition to Target

Philadelphia Eagles

Ever since Chip Kelly left the Pacific Northwest for the friendly confines of Philadelphia, everyone wondered if he would keep his up-tempo offensive style. How fast would the Eagles play? In his first year, Kelly did the expected and easily led the league in offensive pace. Also, the Eagles finished dead-last in time of possession (ToP). These two factors strongly suggest that you lean on the Eagles this year. If you like a player that is playing against them, use them heavily.

Bottom Line: The Eagles are the No. 1 team to target against this year. All offensive players should be targeted against the Eagles.

Denver Broncos

The Broncos have improved their defense during the offseason, but they will still play at a very fast pace (third fastest last year). Denver should be able to jump out to some early leads this year, so I am not recommending to target running backs against them. Quarterbacks, wide receivers, and tight ends are different story, though. Go heavy on passers and pass catchers when they are playing against the Broncos.

Bottom Line: Teams will be playing a lot of catch-up against this offensive juggernaut and that means they will be airing it out. Quarterbacks, wide receivers, and tight ends should be targeted against the Broncos.

Jacksonville Jaguars

In 2013, the Jaguars finished sixth in pace of play and second to last in time of procession. The Jags were a terrible team last year and in 2014 they should be even worse. They added Toby Gerhart in the offseason to be their feature back, a couple rookie wide receivers and a rookie quarterback. I do not see any of those additions improving their ability to get first downs and maintain their time of possession. I see a lot of three-and-outs, early deficits, and desperate comeback attempts for the Jags in 2014.

Bottom Line: The Jaguars will be terrible on offense this year, maybe too terrible. Teams should be able to jump out to early leads against this team and may look to pound the ball for a couple of quarters. I suggest using opposing running backs against them.

Other Teams to Target: Buffalo Bills, Cleveland Browns, New England Patriots and Miami Dolphins

Opposition NOT to Target

These should be pretty universally understood, so Iím not going to go into too much explanation. There are certain teams that you do not want to have players going against in weekly contests on DraftKings. These three teams all placed in the last four for pace of play and all have strong defenses and running games that allowed them to maintain possession, slow down games and finish in the bottom three for total plays during 2013. Do not target players that are playing against the San Francisco 49ers, Carolina Panthers or Seattle Seahawks.


The author(s) of this article may play in daily fantasy contests including – but not limited to – games that they have provided recommendations or advice on in this article. In the course of playing in these games using their personal accounts, it's possible that they will use players in their lineups or other strategies that differ from the recommendations they have provided above. The recommendations in this article do not necessarily reflect the views of RotoWire.