As we move through the second half of June, it's time for another look around the league.

Detroit - Maybe Joaquin Benoit will go all Rafael Betancourt on us in his age-35 season and emerge as the Tigers' best option to close out games and finish the season as the primary ninth-inning option. Since 2010, Benoit has a 4.36 K/BB to support a 2.59 ERA and 0.972 WHIP. Home runs have been the biggest issue for him (27 allowed in 222.1 innings during that span), but Benoit's control is good enough to offset that damage over the long haul and his lack of unfavorable splits makes him the most skilled option of the team's current crop of relievers.

Meanwhile at Triple-A, December-March closer Bruce Rondon been dominant despite an increasing walk rate (6.7, 10.9 and 17.2% over the first three months) thanks to a 36.2% strikeout rate for the season. Rondon ranks fifth in the International League (min 25 IP) in that category, while boasting an excellent 52.8% groundball rate. Even if manager Jim Leyland isn't comfortable using Rondon to close in the big leagues, he should be in the mix for a high-leverage role sooner rather than later with the big club. Jose Valverde was designated for assignment Friday, but Al Alburquerque received the call back to Detroit instead of Rondon.

Cleveland - Ubaldo Jimenez does to my eyes what Toby Keith does to my ears. I can accept that 2012 is an outlier in the wrong direction, but his 2011 and 2013 numbers look like the baseline for his volatile skill set. Jimenez is Edinson Volquez with sink.

Kansas City - It's a shame that Eric Hosmer and Mike Moustakas haven't been able to figure things out at the plate and maybe new hitting coach George Brett is part of the solution. Billy Butler's step back, Jeff Francoeur (the name just speaks for itself at this point), a backslide from Alcides Escobar and no true solution at second base have also been problematic and have left the Royals to squander a great year from the pitching staff thus far.

The Royals' starters - thanks largely to James Shields and Ervin Santana, rank second only to Detroit in starter ERA (3.64) in the American League entering play Friday. In addition to the strong results, the starters have also enabled the bullpen to log the fewest innings in MLB this season (175.1) while leading both leagues with a 2.82 ERA. Santana's price may still lag behind his actual value for many owners. With a career-low 3.9% walk rate (career 7.4) and a career-high 46.7% groundball rate, Santana is minimizing the damage of the long ball and has become more efficient on the mound by averaging a career-best 14.5 pitches per inning.

Minnesota - A full offseason to go through his usual workouts, improved health and a very strong spring training (process trumping results) was enough for my interest in a discounted Justin Morneau to return in March. Over the past calendar year, Morneau has hit .288/.347/.411 with a .328 wOBA, 12 homers, 86 RBI and 69 runs scored in 150 games (640 plate appearances). By comparison, that's the same number of home runs as James Loney during that span and an overall line nearly identical to Yonder Alonso. It's a "buy lowest" opportunity, but what level can Morneau bounce back to?

St. Louis - According to Baseball Prospectus, the Cardinals have a 97.2% chance of making the playoffs entering play on June 21st. The low-leverage, use sparingly bullpen role never made sense for Carlos Martinez, so it was hardly surprising that he was sent back down in late May to work as a starter again. Martinez has a 21:9 K:BB, 2.45 ERA and 1.87 GO/AO (no homers allowed) over five starts at Triple-A Memphis in the Pacific Coast League. It's easy to wonder if Martinez might leapfrog Michael Wacha as a potential replacement for Tyler Lyons (14 earned runs allowed on 22 hits in his last three starts) should the Cards decide to make a change in the rotation.

Cincinnati - Tony Cingrani made his big league debut April 18, an event that likely became known in the Reds' clubhouse at some point prior to Mike Leake's April 17 outing against the Phillies. In the 12 starts since it became clear that Cingrani was entering the picture with the big club, Leake has a 56:13 K:BB (76.2 innings), 2.00 ERA and five home runs allowed while opposing hitters have slashed .256/.297/.351 against him (Leake has effectively turned opposing hitters into Reds No. 2 man Zack Cozart - .244/.273/.384). In terms of pitch selection, Leake has leaned more on his curveball than his slider, while using his changeup more often than he did last season. Considering the damage opposing hitters did against the slider last season (.255 ISO), the adjustment makes sense.

For Leake, the skills growth seems to be in the quality of the contact he's allowing rather than a significantly reduced rate of contact. There is a slight uptick in his groundball rate, but otherwise there is little to suggest that he has become a radically different pitcher. (tables via BrooksBaseball.net)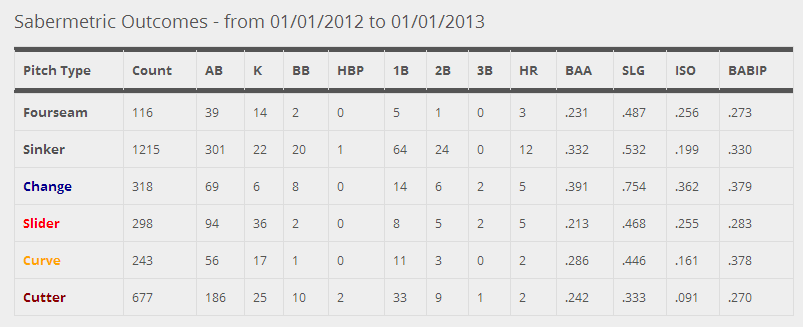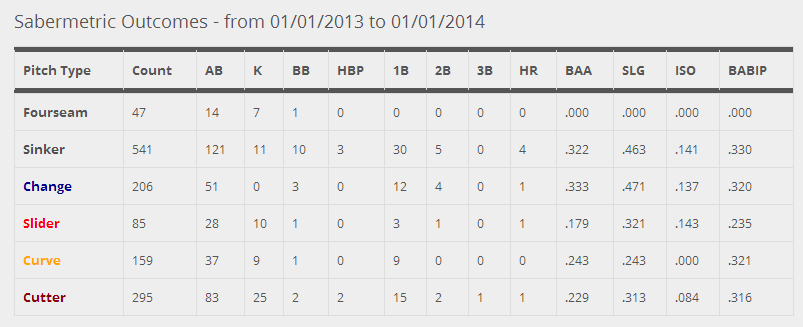 The answer may simply be deception. Leake's release point has been more consistent in the first half of 2013 than it was throughout 2012. Without overpowering stuff, keeping hitters off balance and reducing the quality of their collective contact is vital.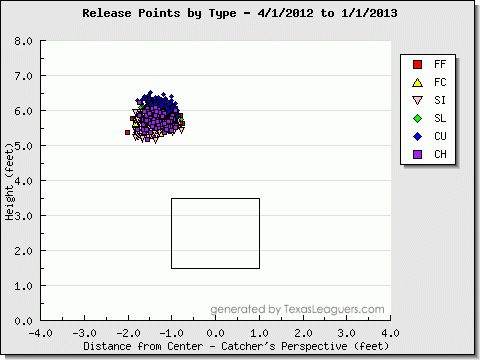 With Leake providing consistently strong performances every fifth day, Cingrani's path back to the rotation may simply be an injury to one of the Reds' current starters.

Pittsburgh - Over the past calendar year, Francisco Liriano leads all pitchers (min. 100 IP) with a 14.0% swinging-strike rate. During that span, he's carried a better strikeout percentage (25.6%) than Felix Hernandez (25.1), Chris Sale (24.8) and Madison Bumgarner (24.8) among others. Free passes are still the issue, however, as he's walking batters at a greater rate (11.0%) than Tim Lincecum (10.5), C.J. Wilson (10.2) and Gio Gonzalez (9.6). Beware of the 82.2% LOB mark (career 70.5%), and the durability concerns persist given his extensive injury history and that his deal with the Pirates fell from two years and $12.75 million to one year and $1 million plus incentives after he broke his non-throwing arm in the offseason.

Chicago - Is Jeff Samardzija simply Max Scherzer on a bad team? The quality of his season is somewhat lost in the Cubs' rebuilding effort.

Milwaukee - Jonathan Lucroy was scuffling throughout April, but has turned things around over his 31 games while hitting .314/.361/.504 with four homers and 22 RBI during that span. Even with an absence due to a broken hand suffered in an unusual hotel room accident last season, Lucroy managed to deliver an .881 OPS. With a high contact rate, excellent run environment in his home park, and heavy workload, Lucroy should be viewed as a top-10 catcher and could easily outproduce the likes of Ryan Doumit, Mike Napoli and Matt Wieters going forward.

Oakland - Yoenis Cespedes is playing through a hamstring injury, and the recent results seem to reflect that as he is 8-for-44 with a 3:15 BB:K and two homers over the past two weeks. If the home runs (13 in 258 plate appearances) are any indication, the early-season thumb injury is not much of a factor at this point, but his lack of success as a basestealer (2-for-7) and spike in his strikeout rate (from 18.9 to 24.0% this season) are a concern. A similar ailment last June limited Cespedes for approximately two weeks before he surged to a .311/.376/.533 line after the All-Star break including 14 of his 23 home runs and 10 of his 16 stolen bases.

Last season, Cespedes had a .128 BABIP on flyballs (which of course does not include home runs) and a .306 BABIP on groundballs. His rates have fluctuated with a drop from a 40.5% groundball rate to 33.5% this season along with a spike from a 39.9% flyball rate to 52.0%. His plate discipline profile (including outside-the-zone swing percentage, overall swing rate and contact percentage) are largely unchanged.

Texas - Is Yu Darvish the first pitcher off the board if you are drafting today?

Anaheim - Since June 20 last season, Josh Hamilton is hitting .230/.297/.446 with 31 homers, 95 runs and 89 RBI, but his 2013 season has failed to match that diminished line thus far.

Thanks to an increase in his groundball and infield flyball rates and a decline in his line drive rate, Hamilton's BABIP has bottomed out at .242 this season, nearly 80 points below last season's .320 mark and 85 points lower than his career .327 mark. A closer look at his home run data in recent seasons also suggests a significant loss of power (and/or bat speed): (Data below via Hit Tracker)

2013 - Avg. True Distance: 398.2 ft, Avg. Speed Off Bat: 100.9 mph
2012 - Avg. True Distance: 415.8 ft, Avg. Speed Off Bat: 105.9 mph
2011 - Avg. True Distance: 410.5 ft, Avg. Speed Off Bat: 107.2 mph
2010 - Avg. True Distance: 421.1 ft, Avg. Speed Off Bat: 106.5 mph

Previously, I considered him a trade target for owners in need of lightning in a bottle to salvage their season, but Hamilton's 2013 is shaping up to be Dan Uggla's 2012 or Adam Dunn's 2011.

Seattle - For everything going wrong in Seattle, the Mariners have to be pleased with the development of Taijuan Walker this season. After a 12-strikeout performance Thursday night against Mobile, Walker is carrying a 71:16 K:BB with 45 hits allowed over 62 innings in his last 10 starts. Walker has not issued more than two free passes in a start since April 25 and has turned in a dominant 33:3 K:BB over four starts in June. The only question now seems to be whether Tacoma or Seattle will be his next stop, as he's now logged 210.2 innings at Double-A Jackson since the start of last season. While this column was being written, Walker was promoted to Triple-A Tacoma on Friday afternoon.

Houston - Jordan Lyles, who will be the subject of Jason Collette's next piece on the site, has turned in a surprisingly productive 10 starts including a 46:16 K:BB, 3.22 ERA and 1.28 WHIP. Oddly enough, he struggled at Triple-A Oklahoma City after getting hammered throughout Grapefruit League play, but Lyles' pedigree alone as a supplemental pick in 2008 makes the turnaround intriguing.

Arizona - While Aaron Hill is making progress in his rehab assignment at Triple-A Reno, the discount has to be steep for me to trade for him given the nature of his injury. It's no secret that hand, wrist and thumb injuries have a tendency to linger by hampering a player's ability to hit for power. Even if Hill is ready for activation next week, it may take a significant amount of time for the pop to fully return.

San Francisco - Angel Pagan went from possibly needing surgery on his hamstring, to attempting to play through it and getting carted off the field in his rehab assignment Thursday. He was already disappointing this season with a 6-for-10 mark on the basepaths in 46 games, and now a lengthy absence seems imminent.

Colorado - Roy Oswalt pounded the strike zone with fastballs in his return to the big leagues Thursday night, showing better velocity (93.4 mph) with the offering than we have seen over his limited time on the mound over the last two seasons. Troy Renck of the Denver Post has a more detailed breakdown of the outing. Oswalt will face the Red Sox at Fenway in his next appearance Wednesday before a home start at Coors Field against the Dodgers on July 2 and a road date at Arizona on July 7. The uptick in velocity in somewhat intriguing, but the landing spot is hardly ideal and expecting him to match his 2011 ratios (3.69 ERA, 1.34 WHIP) may be wishcasting.

San Diego - Kyle Blanks has always possessed excellent power, but his improving strikeout rate (22.3%) might be one indicator of a potential breakout if he can avoid the injury bug. Yonder Alonso's eventual return could squeeze Blanks' playing time, but his alternate path to at-bats could come in the form of an injury to Carlos Quentin or a trade at the deadline.

Los Angeles - What offer(s) have you received/given for Yasiel Puig? Throw your expected ROS line for him in the comments below. On a related note, this deal went through in Tout Wars (15-team mixed, OBP instead of AVG) earlier this week:

Puig, A.J. Burnett and Edward Mujica + $4 FAAB ($100 budget) for Gio Gonzalez and Troy Tulowitzki.

Boston - Something to keep in mind if you're looking to take on ratio risk while acquiring strikeouts. Felix Doubront has a better K/9 (9.0) than Tim Lincecum (8.8) as well as a better ERA (4.38 to 4.57) and HR/9 (0.7 to 0.9).

New York - Zolio Almonte and Thomas Neal have seen time in the middle third of the Yankees' lineup this week. That is all.

Baltimore - How many hitters would you take ahead of Chris Davis if you were drafting today? I topped out at three: Mike Trout, Miguel Cabrera and Carlos Gonzalez.

Tampa Bay - From the "Target Skills, Not Roles" file: Alex Torres has a 24:5 K:BB in 18.1 innings working out of the Rays' bullpen. As a starter with Durham this season, Torres seemed to figure something out in terms of control as he cut his walk rate in half to 4.1 BB/9 while continuing to miss bats at an elite clip (12.0 K/9).

Toronto - If the market overcorrects (it often does) over the winter, Melky Cabrera might end up on a few of my teams again next season, but the Rogers Centre turf can only make his nagging hamstring injuries worse. Over the last 30 days, Cabrera is hitting .270/.325/.360 with two homers, 12 RBI and 14 runs scored. Most of his value will come from the latter two categories, but he remains a DL candidate (perhaps when the All-Star break gets closer) if the Jays hope to get him back to 100 percent this season.

Atlanta - B.J. Upton has struck out just three times in his last 24 at-bats (6-for-24, two homers, five RBI and two steals) entering play Friday night. Don't blink.

Washington - Danny Espinosa is approaching "Save Ferris" territory. Activated from the disabled list and optioned to Triple-A Syracuse, Espinosa is 3-for-25 with an RBI (all singles) and a 4:17 BB:K with the Chiefs. Why not have him undergo surgery to repair his torn rotator cuff now in an effort to get him healthy for 2014?

Philadelphia - Three games below .500 entering play Friday night, the Phillies have a 5.6% chance of making the playoffs. Is a fire sale on the horizon? Ordinarily, that would leave us with young players to target who have a chance at an expanded role, but the Phillies' farm system has little to get excited about beyond Jesse Biddle (who seems highly unlikely to see the big leagues before this time next summer) in the upper levels, although Maikel Franco was recently promoted to Double-A as a 20-year-old and could offer more long-term upside than Cody Asche, who would benefit from the departure of Michael Young if Ruben Amaro Jr. can pass along the Old Maid card before July 31.

New York - Even though Kevin Gausman and Michael Wacha have made me look stupid (the former much more than the latter), Zack Wheeler is going to get a nice chunk of my FAAB budget in leagues where he's available this weekend. Las Vegas is a particularly awful place to pitch, aside from the hitter-friendly PCL implications. Both Gausman and Wacha flew through their respective minor league systems to debut less than a year after being drafted - which might ultimately be the lesson learned here - while Wheeler has been progressing through his development one level at a time over the last four seasons after being selected sixth overall by the Giants in 2009.

Miami - I don't think people are fully comprehending how good Jose Fernandez is, especially for a 20-year-old with 138.1 professional innings under his belt prior to opening the year in Miami and skipping Double-A and Triple-A entirely. In many ways, his rookie campaign could shape up much like that of Mat Latos' first full season with the Padres (184.2 innings, 189:50 K:BB) in 2010. Through some combination of shorter starts and a possible early shutdown, the Marlins will likely keep Fernandez between 170-180 innings this season.