This article is part of our NBA Daily Recap series.
Welcome to the first edition of the RotoWire NBA Daily Rundown!
Five days per week (Monday through Friday), this article will serve as a comprehensive recap of the previous night's NBA action, taking you through all of the biggest performances, notable box scores, injury updates and any other fantasy-relevant headlines from around the league.
Tuesday night brought us an exciting, five-game slate headlined by a Lakers' overtime win and the Knicks blowing out the Sixers at Madison Square Garden. So without further ado, let's dive in:
Nightly Notables
The Joker Leaves Early
The Nuggets had a major scare when the reigning MVP, Nikola Jokic, went down with a knee injury in the second quarter against the Jazz. Thankfully, the dominant big man looks like he will be OK as he tested out the knee during halftime and was eventually diagnosed with only a contusion.
What could be most frustrating about Jokic's early departure was that he was amidst a masterful performance against reigning Defensive Player of the Year Rudy Gobert. Before leaving the game, Jokic finished with 24 points (8-9 FG, 3-3 3Pt, 5-7 FT) to go with six rebounds and six assists in just 15 minutes of action.
The Jazz ended up winning the matchup 122-110 while Gobert turned in another impressive double-double. Gobert finished with 23 points (7-8 FG, 9-16 FT), 16 rebounds and a block in 33 minutes. The 29-year-old is off to an incredible start throughout his first three games of the season, averaging 18.7 points and 19.0 rebounds per game.
AD and Russ Lead LeBron-Less-Lakers in OT
With LeBron James out with ankle soreness, Russell Westbrook and Anthony Davis both showed out in The King's absence. Westbrook scored 33 points (15-27 FG, 1-4 3Pt, 2-4 FT) to go with 10 rebounds, eight assists and three steals while Davis finished with 35 points (15-31 FG, 0-4 3Pt, 5-6 FT), 17 rebounds, four assists and four blocks. The All-Star duo looked fresh as they finished strong at the rim numerous times and combined for 10 of the Lakers' 11 overtime points. If James is forced to miss more time – the Lakers play on a back-to-back Wednesday at OKC – both Westbrook and Davis would obviously gain short-term fantasy value.

Davis gave Lakers fans and fantasy managers alike a major scare late in the fourth quarter when he landed awkwardly while going for a rebound and grabbed at his right knee in obvious pain. But, as is often the case with Davis, he shook off what initially looked to be a serious injury and remained in the game. "We'll see how it feels tomorrow," Davis said postgame.

The Spurs fell short in overtime, but it was truly an impressive showing from Dejounte Murray. The rangy guard put up his first triple-double of the season, finishing with 21 points (9-24 FG, 2-4 3Pt, 1-4 FT), 12 rebounds and a career-high 15 assists in 40 minutes. Murray has had an excellent start to the year, averaging 15.3 points, 9.0 rebounds 9.0 assists and 2.3 steals in 35.1 minutes per game.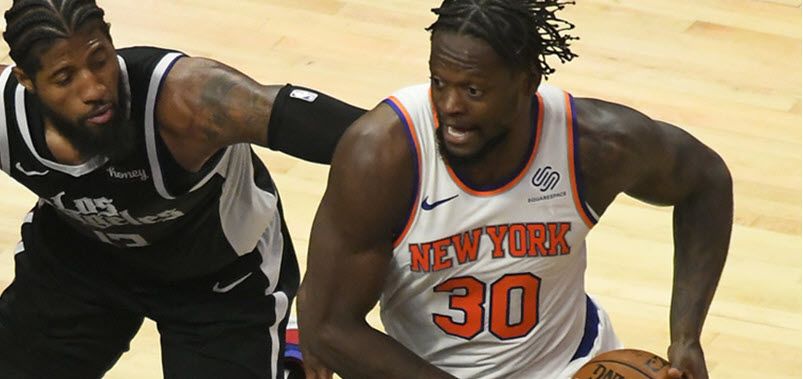 Knicks Bounce Back at Home
After a surprising loss to the Magic on Sunday, the Knicks took down the 76ers 112-99 Tuesday night. It was a solid team effort for the Knicks with four out of the team's five starters reaching double figures. Kemba Walker led the way, scoring a season-high 19 points (7-15 FG, 5-11 3Pt) to go with five assists and three rebounds in 28 minutes. Walker is averaging 12.5 points to go with 3.0 assists per game while averaging 3.3 triples per game as well.
Julius Randle stuffed the stat sheet once again with 16 points, 11 rebounds and seven assists in 36 minutes. The 2021 Most Improved Player has shown no signs of slowing down, averaging 25.5 points, 11.3 rebounds and 6.5 assists per game in 37.7 minutes of action. On a per-game basis, Randle ranks as the ninth-best player in nine-cat leagues.
With (still) no Ben Simmons, the 76ers have now fallen to 2-2. Despite the loss, Tobias Harris continued to play well for Philadelphia. The veteran forward neared a triple-double, scoring 23 points (10-18, 2-6 3Pt, 1-1 FT) while grabbing nine rebounds and nine assists. Harris is averaging 20.0 points per game this season to go with what would be career-highs in both rebounds (9.3) and assists (5.0) per game.
Steph Leads Warriors to 4-0 Start
Stephen Curry was up to his usual sharpshooting antics, scoring 23 points (6-14 FG, 4-9 3Pt, 7-7 FT) to go with six rebounds and four assists in Golden State's 106-98 win over the Thunder. The Warriors actually played from behind throughout a good portion of the game, but Steph and company proved to be too much for an Oklahoma City team that ranks second-last in offensive rating, 27th in defensive rating and dead last in NET rating in the earlygoing.
Andrew Wiggins finished second in scoring for the Warriors with 20 points (9-17 FG, 0-5 3Pt, 3-5 FT) while also picking up four rebounds, four assists and three steals in the win. On an off night for Jordan Poole (0-7 3Pt), Damion Lee's 20 points (8-14 FG, 4-7 3Pt) paced the Golden State bench. Lee's season averages of 14.3 points and 26.7 minutes both lead all Warriors' reserves.
Despite the losing effort, Shai Gilgeous-Alexander shined in defeat. The Canadian guard scored 30 points (11-19 FG, 4-5 3Pt, 4-5 FT) to go with one rebound, four assists and a steal in 36 minutes. After a slow first few games of the year, Gilgegous-Alexander is averaging 29.5 points over his last two outings. It's clear the 23-year-old is capable of putting up elite fantasy stats, but doing so at a consistent clip – and avoiding too many blowout scenarios – will ultimately determine his ceiling.
Quick Hitters
Luka Doncic was deep in his bag of tricks against the Rockets, finishing with 26 points (10-25 FG, 1-6 3Pt, 5-5 FT), 14 rebounds and seven assists in 34 minutes. The young star made countless no-look passes and finished numerous circus-shot layups in Dallas' 116-106 win over Houston.

With the 5-of-5 night at the line, Doncic is now 12-of-14 (85.7%) on the season after closing 2020-21 at just 73.0 percent. That figure will be worth monitoring over the next few weeks.
Rookie Report
Tuesday's Best and Worst
Stud of the Night: Anthony Davis – 35 points (15-31 FG, 0-4 3Pt, 5-6 FT), 17 rebounds, four assists, four blocks and two turnovers in 42 minutes
Dud of the night: Joel Embiid – 14 points (2-7 FG, 0-2 3Pt, 10-11 FT), six rebounds, three assists, one block, one steal and five turnovers in 30 minutes.
Rookie of the Night: Jeremiah Robinson-Earl – 12 points (5-8 FG, 2-4 3Pt), five rebounds, one assist, one steal and three turnovers in 27 minutes.
Looking Ahead to Wednesday Night
Eastern Conference juggernauts, the Miami Heat and Brooklyn Nets, face off for the first time this season.
We have an elite battle of Western Conference point guards as Ja Morant and the Grizzlies travel to take on Damian Lillard and the Trail Blazers.
Long-time friends Jayson Tatum and Bradley Beal take each other on as the Wizards come into Boston to face the Celtics.
The author(s) of this article may play in daily fantasy contests including – but not limited to – games that they have provided recommendations or advice on in this article. In the course of playing in these games using their personal accounts, it's possible that they will use players in their lineups or other strategies that differ from the recommendations they have provided above. The recommendations in this article do not necessarily reflect the views of RotoWire.