Week Three Thrilling Thoughts

Now is the time to overreact. We're only about 12 games into the season, but little problems seem like VERY BIG PROBLEMS. Al Jefferson owners know what I'm talking about. His ankle injury seems like the dawn of the apocalypse in a center-starved league.

As coaches are already starting to make lineup changes, let's get at it.

McLemore Starting? Deal Him.
Everyone knew coach Malone would need to experiment with lineup changes on this talent-challenged Kings team. After six games, Malone decided the time is now to start rookie Ben McLemore. Fantasy-wise, though, this might actually be bad for owners betting on a Rookie of the Year run for McLemore. In three starts, McLemore has seemed over-matched and averaged just 22 minutes, 4.7 points and 2.0 assists. Every league has an owner obsessed with rookies. Tell him/her about McLemore starting and see if you can steal someone dull like Jimmy Butler or Isaiah Thomas. (Assuming you're not in a keeper league).

McBob McBig with Big Al?
In his first seven years, Josh McRoberts seemed to live on the waiver wire. This year, lots of folks grabbed him after a hot start, but he's been really erratic. How erratic? On the good side, he's had games of 19 points, six rebounds and seven assists; 13 points, five rebounds and four assists; and 13 points, six rebounds and five assists, with 9 threes over those good games. But the bad? Yikes, games of five points, two rebounds and three assists; two points, one rebound and one assist; and zero points, four rebounds and eight assists. To me, the difference is Al Jefferson, who played during two of McBob's strong games. When McBob has Big Al next to him, the floor opens up and McRoberts can hit threes. Stick with him and see how he does when Al stays healthy.

Inside Stuff Returns, Country Surprised to Miss Ahmad Rashad
Have you seen the return of Inside Stuff on NBA TV? Why can't Grant Hill stand still? He's making Kristen Ledlow look like a polished Katie Couric. Hey, back in the day, were you a Willow Bay or Summer Sanders fan?

Houston Point Guard Change A Good One
There were signs over the summer that Jeremy Lin's hold on the starting point guard position was being threatened by Patrick Beverley, a modest 25-year-old second-round draft pick who played only 41 games last year, his first in the NBA. Beverley played solid D and hit 38 percent of his threes as a rookie. With Howard, Harden and Parsons in the starting lineup, there are not enough shot attempts available for Lin's creative play. But that's certainly not true of the Rockets' thin bench squad, where Lin's ability to create from nothing is much more appreciated. Even with Beverley's seven starts this season, Lin is still getting more minutes. Frankly, this seems like a good move for everyone.

Pierre the Pelican Just Ain't Right
Oh, that thing is ugly. Two AM and everyone else left the bar ugly. Think I'm overreacting? Look below.

They either need to redesign the mascot, or change their name to New Orleans Satanic Storks. It's like Hugo the Hornet and Tweety Bird were genetically spliced together, and this is the result.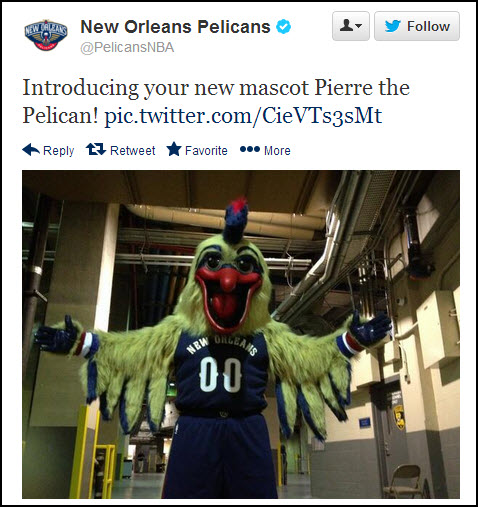 Kobe Is Lurking
All those productive Lakers sure look tempting on the fantasy waiver wire. I've been riding Steve Blake like he's a drunk mule in the RotoWire keeper league. The Black Mamba is looking at a mid-December (my guess) return, which probably spells doom for Jodie Meeks and Nick Young. With Kobe owning the pill, Blake's assists probably return to the four-per-game range of last year and not the 7.3 he's enjoying now. But Jordan Hill should remain solid as the starting power forward. He's a hustle guy, so the rebounds should stay steady, as well as the put backs. Chris Kaman is on a serious minutes decline.

BLAKE UPDATE (11/20) - Now there is talk of Steve Nash retiring, further validating Blake's value. I'm changing my ROS assist forecast for the ex-Terp to 5.5 per game.

BONUS TRIVIA QUESTION: Any Terps fans out there? Who thought Steve Blake would have a longer NBA career than Juan Dixon? Today's actual question: How many career NBA games do Dixon and Blake (still active) have as of 11/19/2013?

Paging Anthony Bennett
Bennett allegedly plays power forward. So how can it be that he's only had four free-throw attempts in nine games? Mix it up, young fella! Worse, he's only made four field goals all season. Shoulder woes are clearly slowing him down. But Bennett is also exhibit 1,001 why not to get overly excited about rookies in non-keeper leagues. Even Anthony Davis had a rocky rookie season.

Really, Utah is the Worst?
With all these teams Riggin' for Wiggins, you are telling me the 1-11 Utah Jazz are the worst team in the NBA? Their young core just seems too good to play this poorly. This really speaks to the need for strong point guard play. I keep trying to trade for Hayward, but am having no success. Hayward's assists will go down when Trey Burke returns. Look for Milwaukee and Sacramento to pass them in the race to the basement.

Free Agent Pickups?

Louis Williams (ATL): Williams is back after a long absence. He can help with points and three-pointers once he gets his legs back.

Patrick Beverley (HOU): See above. Beverley is starting and could see nice upside in steals, threes and assists with the increased minutes.

Steve Blake (LAL): Frankly, you should already own him, but somehow, he's still at only 51 percent ownership in Yahoo leagues. Enjoy the ride until Black Mamba returns. But with Nash out indefinitely, and maybe retiring, Blake should continue to see big minutes. (Blake has 78 percent ownership in ESPN Leagues, 75 percent in CBS.)

Jordan Hill (LAL): Also "see above". He's only owned in 55 percent of Yahoo leagues.

Shelvin Mack (ATL): Mack is today's Deep League Special. Mack came off the bench Saturday to vulture 12 assists and 12 points, plus two threes. He's fighting Louis Williams and Dennis Schroder for minutes, but productive point guards are always worth a flier.

BONUS TRIVIA QUESTION ANSWER: Juan Dixon played 436 NBA games. Steve Blake has played 688 games and counting.