Kobe Bryant's comeback from a ruptured Achilles' tendon hit the worst kind of snag during Tuesday's game in Memphis. During the first half, Bryant suffered what he thought was a minor hyperextension of his knee. He played through the injury in the second half, finishing with 21 points, five rebounds and four assists in 31 minutes and told reporters he expected to be available for Friday's game against the T-Wolves. Yeah, not so much.

Further examination revealed a much more serious problem. Bryant had fractured the tibial plateau – the upper end of the shin bone, where it meets the knee joint – in his left knee.

That means he played the second half of Tuesday's game with a broken leg. That guy's pain tolerance is, like, X-Men level.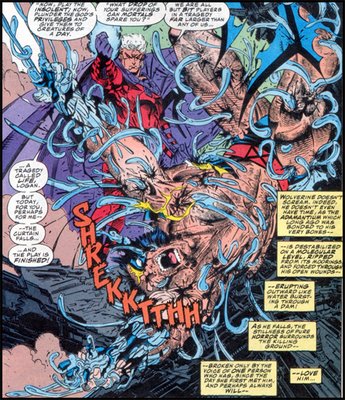 This latest injury will have major repercussions for the Lakers' backcourt rotation. With Steve Nash (general soreness), Steve Blake (elbow) and Jordan Farmar (hamstring) all sidelined, Bryant was serving as the Lakers' nominal point guard. Next in line for that job are two players that hardly fit the prototype for a coach Mike D'Antoni floor general, Xavier Henry (10% owned) and Nick Young (38%). Look for both players to get significant boosts in playing time and – ideally – assists in the short term. The Lakers also signed ex-Phoenix Sun Kendall Marshall, who had been playing for the Sixers' D-League affiliate since being cut loose by the Wizards after the Marcin Gortat trade.

But the smartest fantasy play might be Farmar, who should be back in about a week, and who actually does have the skill set to run D'Antoni's offense. Farmar is available in most leagues (just 7% owned) and has put up good numbers this year when given an opportunity. Assuming he does come back as expected, he could be looking at a solid month as lead guard before any of the other contenders are available.

Picks for the Week

All percent-owned stats are from Yahoo!

Trey Burke (75%) – Despite missing the first few weeks of the season, Utah's first-year point is emerging as a very strong Rookie of the Year candidate.

Danny Granger (51%) – He's expected to make his season debut on December 20.

Reggie Jackson (36%) – Jackson has really emerged this season as the closest thing OKC has had to James Harden since the original. He's averaging 14.4 points, 3.8 rebounds, 3.0 assists, and 1.0 three-pointers made off the bench over his last five games.

Iman Shumpert (15%) – The once-promising guard has been awful this season, really struggling with his shot. But with both Raymond Felton and Pablo Prigioni sidelined, Shumpert may get an extended look as point guard, which could give him a much-needed boost.

D.J. Augustin (7%) – As expected, Augustin is putting up solid numbers for the injury-wracked Bulls. He's averaged over 12 points and seven assists in his last three games, thanks in part to Kirk Hinrich's absence (back), and should continue to be a decent play in deeper leagues even after Hinrich returns.

Tony Snell (1%) – Jimmy Butler re-injured his ankle during Thursday's loss to the Thunder, which could move rookie wing Snell back into coach Tom Thibodeau's starting five for the time being.

Giannis Antetokounmpo (1%) – The Bucks' talented but very raw wing got his first NBA start this week – and scoring 10 points (2-3 FG, 6-7 FT) to go along with seven rebounds, two assists, two steals and a block while defending Carmelo Anthony. Those numbers probably aren't representative of what we'll see in the immediate future – bear in mind, he's the youngest player in the league, and those stats were accumulated in a double-overtime game while both OJ Mayo and Caron Butler were unavailable. But coach Larry Drew reportedly plans to keep the rookie in the starting lineup going forward.