This article is part of our FanDuel College Football series.
After a mediocre Week 3 showing from a daily perspective, some picks produced major points in Week 4. With that contest in the rear view mirror, we move on to Week 5 and find UCF leading the way with 54.3 implied points as a 43.5-point favorite over UConn. Alabama checks in second with 49.3 implied points. Clemson (43.5) and Ohio State (41.5) round out the teams with 40-plus expected points. Basically, we have the usual suspects checking in atop the board, but the highest over-under on the slate brings two off-the-radar teams to the forefront. Wake Forest and Boston College sport the highest over-under at 69, with both squads ranking in the top eight in terms of implied points. Ohio State and Nebraska check in second on the list at 66.0 and UCF-UConn rounds out the 60-plus over-unders at 65.0.
GIF Time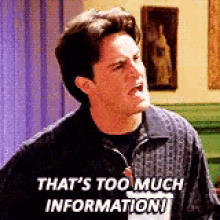 Week 4 Review
QB
Joe Burrow, LSU

($10,200): 37.9
Adrian Martinez, Nebraska

($9,400): 32.9
GPP Pick: Malik Cunningham, Louisville

($7,600): 22.9
RB
D'Andre Swift, Georgia

: 17.5
Salvon Ahmed, Washington

: Ruled out pregame, replacement Richard Newton scored 20.6 points
Value Play, Javian Hawkins, Louisville

: 5.2
WR
Ja'Marr Chase, LSU

($7,900): 51.9
Devin Duvernay, Texas

($9,200): 22.8
GPP Play: Ricky Smalling, Illinois

($7,700): 6.6
Bonus GPP Play: Dillon Stoner, Oklahoma State

($6,000): 8.5
Biggest Regret: Not recommending JD Spielman as a pair with Adrian Martinez. I wound up using him in most of my lineups over Smalling at just $100 more and he produced 17.5 points.
DFS Tools
Matchup Info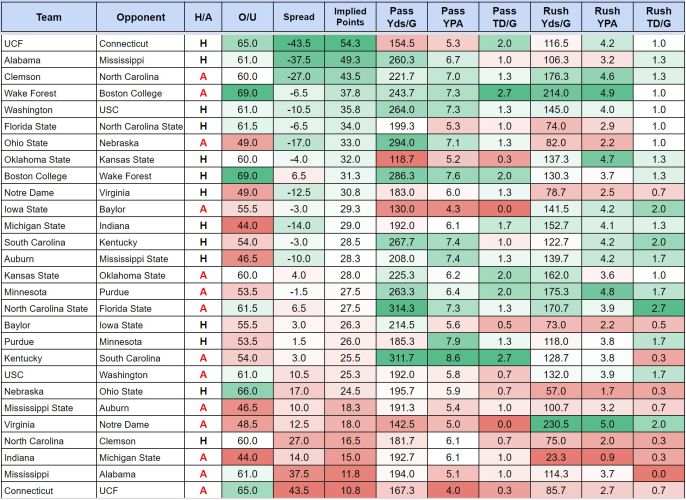 Week 5 Plays
Quarterback
Jamie Newman, Wake Forest

($10,300) at Boston College

Newman has accounted for no fewer than three touchdowns in a game and is coming off a five-touchdown effort against Elon last Saturday. His 32.3 average FanDuel points check in fifth on the slate at quarterback, so it shouldn't come as a surprise that his price is elevated as much as it is. Boston College also presents the most quarterback-friendly matchup on the slate. The Eagles are allowing the eighth-most yards per pass attempt (7.3) and tied a slate-high mark with 2.7 passing touchdowns allowed per game. Those logs include games against an FCS Richmond team that attempted just nine passes and three mediocre to subpar passing offenses. Wake Forest enters averaging 330 passing yards per game and 9.4 yards per attempt and I don't anticipate the Eagles' defense standing up to the test. It also doesn't hurt that Newman provides a good amount of production on the ground and
Dillon Gabriel, UCF

($9,100) vs. Connecticut
Gabriel is a quarterback I have recommended on many occasions early in the season and it's worked out well for the most part. After a week off, I'm returning to the well, with UCF entering as 43.5-point favorites. The 154.5 passing yards per game and 5.3 yards per attempt may scare people off Gabriel ownership, but UConn allowed seven combined passing touchdowns in the last two weeks to Indiana and Illinois quarterbacks, and neither Illinois nor Indiana possesses the offensive firepower of the Knights. A Week 1 game against FCS Wagner also helps paint a false picture of Connecticut's defensive metrics. The Vegas line here, where Central Florida is projected to score over 50 points, is the only stat you need from the Connecticut defense.
GPP Play: Tanner Morgan, Minnesota

($8,100) at Purdue

Morgan has quietly amassed six touchdown passes through three games this season, including three in the team's last game versus Georgia Southern. If the team's early-season showings have proven anything, it's that there are major question marks for the Gophers on the defensive side of the ball. Minnesota has allowed no fewer than 21 points in a game, and that came against FCS South Dakota State. Fresno State and Georgia Southern each went over 30 points and the Boilermakers have a much more prolific offense than any of those if Elijah Sindelar is cleared to play. If that's the case, Morgan makes for a good GPP play against a Purdue defense that has been vulnerable to the pass this season.
Others to consider: Tua Tagovailoa, Alabama

($10,600), Elijah Sindelar (questionable for Week 5), Purdue

($10,400), Anthony Brown, Boston College

($9,000), Sawyer Smith, Kentucky ($7,700)
Running Back
Chuba Hubbard, Oklahoma State

($10,500) vs. Kansas State

It's hard to deny that Hubbard is among the best running backs in the country to this point considering he has no fewer than two rushing touchdowns and has topped 100 rushing yards in all three games this season. Kansas State's 137.3 rushing yards allowed per game (56th nationally) is the product of a bit of smoke and mirrors when you consider two of the team's opponents, Nicholls State and Bowling Green, fell behind by large margins and essentially had to abandon the run. The opposition is averaging 4.7 yards per rush attempt this season and Hubbard's 6.2 yards per carry rank well above the average back. Despite being unranked, the Cowboys are four-point favorites over the Wildcats and should give Hubbard plenty of chances considering Kansas State sports some of the best pass defense numbers on the slate.
Travis Etienne, Clemson

($9,500) at North Carolina

To start things off, the expected game script for the 27-point favorite Clemson Tigers works completely in the favor of Etienne. His $9,500 price tag is likely the cheapest you will find him all season, which comes after he rushed only 11 times last week against Charlotte. Etienne's drop in yards per carry is slightly concerning, but not enough for me to doubt the Clemson offense, especially in a conference game where the Tigers' starters should need to continue into the second half. The Tar Heels have also corralled opposing passers to a point, so I wouldn't be shocked to see a much larger volume on the ground for Etienne this week.
Value Play: Kenneth Walker III, Wake Forest

($7,000) at Boston College

Cade Carney began the season as the undisputed lead back fro the Demon Deacons, but an injury forced him to the sidelines for a pair of games. While he returned to the mix last week, Walker had already established himself as a factor in the backfield and he rushed nine times for 91 yards, leading the team with 91 rushing yards and a score on just nine carries last week. The matchup couldn't be much better either. Boston College has surrendered 4.9 yards per carry on the ground this season and 214 rushing yards per contest. Even if Walker doesn't see the full volume Saturday, his 10.0 yards per attempt thus far suggest he doesn't need it to reach a value at his current price tag. The volume may be the only concern here, but I'd still be confident enough to use him in cash games.
Other to consider: Wayne Taulapapa, Virginia

($8,200), JaTarvious Whitlow, Auburn

($8,800), Zonovan Knight, NC State ($6,800)
Wide Receiver
Gabriel Davis, UCF

($9,100) vs. Connecticut
There are some concerns with the UConn pass defense allowing just 5.3 yards per attempt and 154.5 passing yards per game, the Huskies have still allowed two passing touchdowns per contest on average, including seven combined in the last two games against Big Ten opponents in Illinois and Indiana. UCF likely has more talent in its receiving corps than either of those previous opponents, and Davis is best-equipped to find the end zone, notching five touchdowns in four games thus far. The $9,100 price tag is more than affordable and should provide plenty of value Saturday.
Lynn Bowden, Kentucky ($8,500)

at South Carolina

While I don't trust the Kentucky pass offense as a whole, Bowden is about as reliable as it gets at the wide receiver position. His 40.6 percent target share leads the nation and his raw target count of 52 ties Warren Jackson of Colorado State for the second-most in the nation. The junior wideout posted his biggest outing of the season last week against Mississippi State, going over 100 receiving yards for the first time this season. The only downside to Bowden's game is a lack of scoring through four contests. He's found pay dirt just once in the first four games, but Saturday's matchup could fix that as well. Not only do the Gamecocks allow a slate-high 8.9 passing yards per attempt and the second-most passing yards per game (311.7), but they also are tied for the most passing touchdowns allowed per game (2.7). Bowden is a threat to earn enough value even if he doesn't reach the end zone, but the touchdown potential is certainly a bonus.
Scotty Washington, Wake Forest

($8,300) at Boston College
While teammate Sage Surratt has posted more consistent lines during the first four weeks of the season, the difference isn't sizable enough to warrant the $1,500 price difference. Washington actually led the team last week in targets last week against Elon and posted the better line with 9/141/2. The senior wideout is averaging just one fewer target per game than Surratt and has reached the end zone just as many times (5). Considering Boston College gets fairly stingy at just 1.82 yards per carry in the red zone, the Demon Deacons may be forced to take to the air to reach pay dirt when they get there, and Washington's 6-foot-5 frame could pay dividends in that area.
GPP Play: Wan'Dale Robinson, Nebraska

($7,200) vs. Ohio State
Robinson was minimally involved in the offense during the first three weeks of the season, but he was forced into more touches last week after Maurice Washington was sidelined due to injury. While Washington is slated to play Saturday, Robinson displayed why he needs more than the five or six touches per game he saw by going off for 168 all-around yards and three touchdowns on 27 touches. It's unlikely he'll repeat that volume, but his price tag is still low enough that it may be worth taking a shot despite the Huskers being considerable underdogs.
Others to consider: Jerry Jeudy, Alabama

($10,100), Rashod Bateman, Minnesota

($8,400), GPP: Kobay White, Boston College

($7,200), Anthony Schwartz, Auburn

($6,900)
The author(s) of this article may play in daily fantasy contests including – but not limited to – games that they have provided recommendations or advice on in this article. In the course of playing in these games using their personal accounts, it's possible that they will use players in their lineups or other strategies that differ from the recommendations they have provided above. The recommendations in this article do not necessarily reflect the views of RotoWire. Chris Benzine plays in daily fantasy contests using the following accounts: FanDuel: Crispy272001, DraftKings: Crispy27.