ASVEL at Baskonia
Date: 2/6
Time: 9:00 pm CET
Game Preview
ASVEL, the French champions, travel to Spain for a Round 24 matchup against Baskonia. Things should get interesting, as both teams are within striking distance of the eighth playoff spot.
The visitors are 9-14 despite being outscored by opponents by 157 points on the season. They lack a go-to player on the offensive end, with Adreian Payne – who has played in just 10 games – currently the only player on the roster averaging double figures, and barely so at 10.3 ppg. Despite that, they still feature a balanced attack, with four other players – David Lighty, Livio Jean-Charles, Tonye Jekiri and Jordan Taylor – averaging in excess of eight points per contest. Theo Maledon, an 18-year-old point guard on track to be a lottery pick in the NBA Draft, has played a more important role of late and alone brings some some excitement to the table.
Baskonia, on the other hand, is anchored by veteran star Tornike Shengelia, who is averaging 15.8 ppg and has been the one constant on his club's roster this year. Top point guards Pierria Henry (face) and Luca Vildoza (shoulder) remain sidelined, and in their place Shavon Shields, Nik Stauskas and newly-acquired Zoran Dragic and Semaj Christon all figure to play key roles alongside Shengelia.
Last time these teams met, in Round 5, ASVEL pulled out a thrilling 66-63 victory behind 16 points and 11 rebounds from Tonye Jekiri. Both teams have struggled of late and will be looking for a win to keep pace in the playoff chase.
Injuries
LDLC ASVEL
Edwin Jackson - OUT - Undisclosed
2/6 12:19 AM IST - Jackson will not play Thursday against Baskonia, according to ASVEL's official website. It's not clear why Jackson will be held out Thursday, but he will not take the court in Round 24. He has played a reduced role since returning from a knee injury in Round 21, scoring just five total points and averaging 13 minutes over three games.
Charles Kahudi - OUT - Ankle
1/20 3:05 AM IST - Kahudi will miss the next month of action due to recurring pain in his ankle, according to ASVEL's official website. Kahudi's injury prevented him from taking the court in Round 20, and it will now cost him several more contests. If all goes well with his recovery, he will have a chance to return to action before February comes to a close. David Lighty started last game in Kahudi's place and is the favorite to remain in that spot until Kahudi is ready to return.
Amine Noua - OUT - Ankle
2/6 12:21 AM IST - Noua (ankle) will not play Thursday against Baskonia, according to ASVEL's official website. Noua's injury prevented him from playing in ASVEL's last two EuroLeague games, and it will do the same in Round 24.
Kirolbet Baskonia
Patricio Garino - OUT - Knee
11/24 12:28 AM IST - Garino has been diagnosed with a torn ACL in his right knee. Garino left Friday's game and was sent to the hospital. It's been determined that he tore his ACL and that surgery is needed.
Jayson Granger - OUT - Achilles
10/1 3:36 AM IST - Granger will miss six months with a torn Achilles tendon, according to euroleague.net. Granger was injured in Baskonia's Spanish League opener, and will face a lengthy recover period after undergoing surgery. Assuming his recovery goes as planned, he should be able to rejoin Baskonia at some point during the second half of their season.
Pierria Henry - OUT - Face
1/29 9:59 PM IST - Henry will miss 3-to-4 weeks after undergoing surgery for a broken cheekbone, according El Correo. Henry's return timeline rules him out at least until Baskonia's Round 25 matchup with Zalgiris on Feb. 20. His injury leaves his club extremely thin at the point guard position, and Baskonia will likely lean on some combination of new addition Semaj Christon, Sergi Garcia, and possibly another player or two to fill the void.
Luca Vildoza - OUT - Shoulder
2/2 12:15 AM IST - Vildoza will undergo surgery on his injured shoulder next week and is expected be out three more months, according to eurohoops.net. Vildoza and Baskonia had been hoping to avoid surgery, but his shoulder did show the necessary improvement, and it was ultimately decided to send him under the knife. Vildoza's recovery timeline effectively rules him out for the season, unless Baskonia really heats up and lands a spot in the Final Four.
LDLC ASVEL Probable Starters
G - Jordan Taylor
G - Theo Maledon
F - Charles Galliou
F - Livio Jean-Charles
C - Tonye Jekiri
Kirolbet Baskonia Probable Starters
G - Semaj Christon
G - Matt Janning
F - Shavon Shields
F - Tornike Shengelia
C - Micheal Eric
Top Picks
Tornike Shengelia, BAS - Shengelia will be the best player on the court, and his performance will go a long way in determining whether or not Baskonia comes away with a victory. On the year, he's averaging 15.8 points, 5.6 rebounds, 2.7 assists, and 1.2 threes per game.
Tonye Jekiri, ASV - Jekiri could have his hands full with Shengelia, but he has been a steadfast presence inside the paint this season. He's averaging 8.9 points, 7.6 rebounds, and 1.4 assists and scored in double figures in back-to-back Rounds after falling short of that in the previous 10 games.
Shavon Shields, BAS - Shields played a bit of a reduced role early on, but he has been a key part of the offense for a few months now. He has reached double digits in four consecutive games and is averaging 15.3 points in that span.
Adreian Payne, ASV - While Payne has missed more than half the games this season and tends to play off the bench, he is a force to be reckoned with when on the court. Across 10 games, he's posting averages of 10.3 points, 4.1 rebounds, and 1.3 threes per contest.
Captaincy Options
Dream 11 Team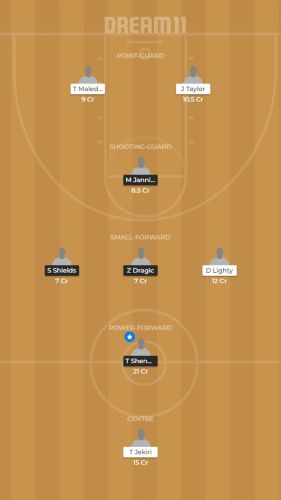 Grand league combination:
Shengelia, Lighty, Maledon, Dragic
Small league combination:
Shengelia, Lighty, Jean-Charles, Taylor
The author(s) of this article may play in daily fantasy contests including – but not limited to – games that they have provided recommendations or advice on in this article. In the course of playing in these games using their personal accounts, it's possible that they will use players in their lineups or other strategies that differ from the recommendations they have provided above. The recommendations in this article do not necessarily reflect the views of RotoWire.