This article is part of our Team Previews series.
Cleveland Browns

In Kevin Stefanski, the Browns now have their fourth head coach in three seasons. That much churn is never good for a young QB. That said, Stefanski and offensive coordinator Alex Van Pelt are expected to run a more coherent offense for Baker Mayfield, who took a step back in 2019 after a promising rookie season.
Offseason Moves
Key Acquisitions
Represents a good schematic fit for his new team.
Kevin Stefanski's first addition fits the system he deployed in Minnesota.
Has history with his new coach, who inherits shaken starter Baker Mayfield.
Part of an O-line upgrade to improve the NFL's 22nd ranked offense.
The new coaching staff isn't tied to incumbent tight end David Njoku.
Key Losses
The team wasn't prepared to pay its steadiest defender.
Money became an obstacle as missed games due to injury piled up.
The Browns saved salary while adding tight ends in free agency and the draft.
A Look Under the Hood
Head Coach: Kevin Stefanski (Year 1)
Offensive Coordinator: Alex Van Pelt (Year 1) - West Coast (wide/outside zone)
Defensive Coordinator: Joe Woods (Year 1) - 4-3 scheme
2020 Vegas Projected Wins: 8.5 (T-14th)
2019 Record: 6-10
2019 Points Scored: 335 (22nd)
2019 Points Allowed: 393 (20th)
2019 Point Differential: -58 (22nd)
2019 Run-Play Rate: 40.4 percent (15th)
2019 Situation-Neutral Pace: 32.23 seconds per play (28th)
2019 Offensive Snaps: 973 (26th)
2019 PFF O-Line Ranking: No. 23
Projected 2020 Depth Chart
QB: Baker Mayfield / Case Keenum
RB: Nick Chubb / Kareem Hunt / Dontrell Hilliard / D'Ernest Johnson
FB: Andy Janovich
WR1: Odell Beckham / Damion Ratley / Donovan Peoples-Jones
WR2: Jarvis Landry / Rashard Higgins / KhaDarel Hodge
TE1: Austin Hooper / Pharaoh Brown
TE2: David Njoku / Harrison Bryant
O-Line: LT Jedrick Wills / LG Joel Bitonio / C JC Tretter / RG Wyatt Teller / RT Jack Conklin (RotoWire Rank: No. 24)
Kicker: Austin Seibert
Top Storylines
Is Mayfield the Right Man?
The short-term answer is yes. In 2019, when preseason hype swelled around the Browns, Baker Mayfield regressed after a strong finish to his rookie season. The team had issues other than Mayfield, but it was the quarterback's play and an inability to overcome a less-than-adequate offensive line that was the root cause of a six-win season. Heightened pressure and broken pockets led to poor decision-making and 21 interceptions, the second-highest total in the NFL.
New coach Kevin Stefanski wasn't around when Mayfield was drafted, so he doesn't have capital invested in him, but the top of Cleveland's quarterback depth chart remains the same. Some eyebrows were raised when the team added Case Keenum, who worked with and excelled under Stefanski in Minnesota, but Mayfield's the No. 1.
The Browns also added Alex Van Pelt as their new offensive coordinator, Mayfield's third in three seasons. Van Pelt immediately went to work on changing Mayfield's footwork. The signal-caller also plans to shed weight after bulking up in 2019. Part of the reason for addressing Mayfield's footwork and conditioning is to better position him to play under center, as there will be a greater reliance on play-action fakes, quick-timing throws and the running game in 2020. This year's passing attack isn't going to look like the wideout-dominant version we saw in 2019.
Beckham at a Crossroads
The word "tumultuous" describes both Odell Beckham's first season in Cleveland and the Browns as a whole in 2019. To the good, Beckham had more than 1,000 receiving yards for the fifth time in six seasons. But other than infrequent moments of brilliance, he and quarterback Baker Mayfield never developed great chemistry.
Beckham had career lows in yards per game and catch percentage while scoring just four touchdowns. RotoWire ranked him fourth at wideout entering the season, and Beckham finished 32nd in WR fantasy scoring. Injuries were a factor, and the 27-year-old had hip and groin injuries before undergoing abdominal surgery in January. On the plus side, he's reportedly on schedule in his recovery.
On top of his injury woes, Beckham made headlines for all the wrong reasons. He was cited three times by the NFL for uniform violations, then became a trending topic when he reportedly told opponents to "come get me" during games. Trade rumors persisted through the offseason until chief strategy officer Paul DePodesta said OBJ was among the core around which the Browns want to build.
With less chaotic coaching, the Browns feel they can turn around Mayfield, which should naturally benefit Beckham. We once again may see the receiver that averaged 8.8 touchdowns per season and 92.8 yards per game over his five years with the Giants.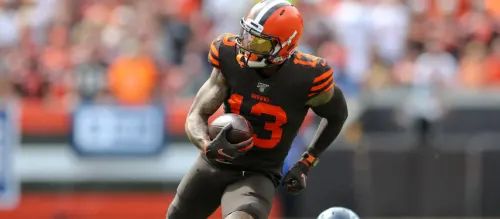 Odell Beckham is looking to hearken back to his dominating self from 2014-16.
Stefanski's Impact
After a rudderless year under coach Freddie Kitchens, the Browns hired Kevin Stefanski, who guided the Vikings offense in 2019. Minnesota, which ranked eighth in scoring, was one of three teams that ran more than it passed. With Cleveland, Stefanski will benefit from the presence of Nick Chubb, who finished second in rushing yards in 2019 and averaged five yards per crack. Much of the Browns' malaise last season stemmed from the passing game, so it has to be tempting for Stefanski to stress what worked for the team.
The 37-year-old coach's immediate moves suggest a correction to the 58:42 pass-to-run ratio of 2019. Cleveland added RT Jack Conklin, TE Austin Hooper and FB Andy Janovich the week after Stefanski came on board before selecting offensive tackle Jedrick Wills with the 10th overall pick in the draft. Stefanski deployed a lot of "12" personnel (one RB, two TE) for Minnesota, which ranked sixth in rushing. Viking fullback – and 2019 Pro Bowler – C.J. Hamm was second in snap counts among fullbacks. The 2020 Browns look like a carbon copy of Minnesota's recipe in 2019.
The team also signed Case Keenum, who had his best season under Stefanski. That's insurance should quarterback Baker Mayfield's funk linger. Offensive coordinator Alex Van Pelt is working on (fixing?) Mayfield, but expect a heavier dose of Chubb and the tight ends in 2020.
Barometer
⬆️ Rising: RB Kareem Hunt
The Browns are thin at wide receiver beyond the top two. A full season of Kareem Hunt, who caught 37 of 44 targets in eight games last season as a de facto No. 3 pass catcher, could lead to career-high receiving numbers for the running back.
⬇️ Falling: TE David Njoku
While Kevin Stefanski utilizes tight ends more than most, Njoku now has to fend off two newcomers at his position. The team picked up his fifth-year option, so it seems as though the 2017 first-rounder is in their plans, but he'll fight for targets.
😴 Sleeper: TE Harrison Bryant
Bryant, who won the John Mackey Award as the nation's top college tight end in 2019, joins a system that emphasizes his position. He's a three-level receiver who led all TEs with 65 catches for 1,004 yards (15.4 YPC) last year.
🌟 Pivotal Player: Nick Chubb
Typically, quarterbacks are the most important player on a team, but most of the acquisitions made by new coach Kevin Stefanski and GM Andrew Berry suggest a run-oriented offense in 2020. That means Nick Chubb will be busy. Baker Mayfield's regression last year portends less gunslinging and more smashmouth behind a rejiggered offensive line.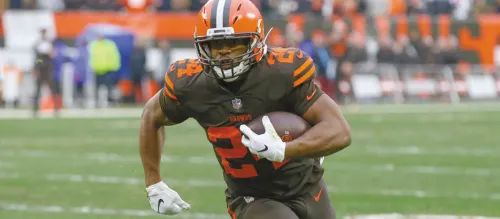 Nick Chubb does it all, despite yielding work to vets and pass-catching backs through two seasons.