This article is part of our Team Previews series.
San Francisco 49ers

The 49ers replaced the few key pieces they lost from their NFC champion squad with assets from the NFL Draft. While they failed to make any big-splash acquisitions during free agency, the makeup of the team remains essentially the same, putting San Francisco in a position to be a contender again in 2020.
Offseason Moves
Key Acquisitions
An athletic receiver with YAC potential who could shine off the bat.
Bull-rushing, three-technique tackle will plug into a talented D-line.
The fleet-of-foot veteran possesses special-teams experience.
All-Pro will be asked to protect Jimmy Garoppolo's blind side.
Key Losses
Arguably the best at his position in football, but he was traded due to cap issues.
Reliable wide receiver wasn't retained despite success in his brief stint.
Depth at RB allowed the team to flip him for draft capital.
Stalwart left tackle decides to hang 'em up.
A Look Under the Hood
Head Coach: Kyle Shanahan (Year 4)
Offensive Coordinator: None - West Coast (wide/outside zone)
Defensive Coordinator: Robert Saleh (Year 4) - 4-3 scheme
2020 Vegas Projected Wins: 10.5 (T-3rd)
2019 Record: 13-3
2019 Points Scored: 479 (2nd)
2019 Points Allowed: 310 (8th)
2019 Point Differential: +169 (3rd)
2019 Run-Play Rate: 51.4 percent (2nd)
2019 Situation-Neutral Pace: 31.36 seconds per play (20th)
2019 Offensive Snaps: 1,012 (T-19th)
2019 PFF O-Line Ranking: No. 14
Projected 2020 Depth Chart
QB: Jimmy Garoppolo / Nick Mullens / C.J. Beathard
RB: Raheem Mostert / Tevin Coleman / Jerick McKinnon / Jeff Wilson
FB: Kyle Juszczyk
WR1: Deebo Samuel / Dante Pettis
WR2: Kendrick Bourne / Jalen Hurd
WR3: Brandon Aiyuk / Trent Taylor / Richie James
TE: George Kittle / Ross Dwelley
O-Line: LT Trent Williams / LG Laken Tomlinson / C Weston Richburg / RG Daniel Brunskill / RT Mike McGlinchey (RotoWire Rank: No. 12)
Kicker: Robbie Gould
Top Storylines
Will There Be a Super Bowl Hangover?
We hear the term "Super Bowl hangover" thrown around often because it's taxing to not only reach the big game, but also to maintain that elite level of play the next season in a league of parity such as the NFL. Only eight teams have successfully returned to the Super Bowl the year after reaching it either as a winner or loser. Coach Kyle Shanahan was confident in his squad's ability to bounce back, citing a lot of players coming back in a post-defeat interview.
The 49ers suffered two significant losses – defensive tackle DeForest Buckner was dealt to Indy and left tackle Joe Staley retired – but they used the 13th overall pick on Javon Kinlaw to replace the former and dealt a fifth-round selection to Washington to acquire Trent Williams, who will succeed the latter. While the club didn't retain rental wideout Emmanuel Sanders, management feels confident in replacing the veteran with Brandon Aiyuk, another 2020 first-round pick.
With those three key departures accounted for, the rest of the roster looks nearly identical to the one that was a quarter away from an NFL championship. This is a well-coached team with a young core – its leading passer, receiver and rusher combine for less than five years of starting experience – and a dominant defense, making the 49ers a favorite in the NFC to start the 2020 campaign.
How Will the Backfield Shake Up?
The 49ers pounded opponents to the tune of 144.1 rushing yards per game in 2019, finishing behind only the Ravens. The team truly took a committee approach to its backfield, not boasting any big star names to kick off the campaign.
In chronological order, Matt Breida, Tevin Coleman and Raheem Mostert took their turns being the lead back at various points of the season, with the latter shining the brightest in the playoffs. Breida was shipped to Miami in the offseason, but the team is hopeful one or both of holdovers Jerick McKinnon and Coleman – free-agent acquisitions from 2018 and 2019, respectively – give the club a similar dynamic, three-horse stable to start the year.
Mostert's historic postseason deservedly leaves him as the favorite to be the Week 1 starter, but Shanahan proved that he prefers to deploy a two-back game plan. Despite there being a "starter" in every game last season, the remainder of the committee combined for double-digit touches in 10 out of 16 regular-season contests.
So while Mostert will be the option fantasy owners covet to begin 2020, it's important to note that he's unlikely to see the lion's share of touches on a weekly basis. Even in a shared role, Mostert, Coleman and McKinnon all carry upside as versatile backs in a proven zone-run scheme.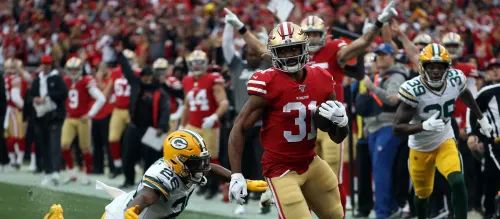 One wonders whether Raheem Mostert will have a repeat of his dominating late-season stretch in 2020.
Did the 49ers Add Enough Receiving Help?
San Francisco finished a respectable 13th in passing yards per game (237.0) during the regular season, but tight end George Kittle did most of the heavy lifting and outclassed all other receivers in production. Rookie wideout Deebo Samuel was a revelation and the best outside receiver, but Dante Pettis' fall from grace in his sophomore season and Marquise Goodwin's steep decline left the team thin on the outside.
The need for production from the wide receiver position was so glaring that the team leveraged second- and third-round picks to acquire accomplished veteran Emmanuel Sanders midseason. But with Sanders gone via free agency, that need grew even larger this offseason.
After the front office failed to acquire a proven outside threat prior to the draft, GM John Lynch is hoping the selection of Arizona State product Brandon Aiyuk at 25th overall will be enough to take the pressure off of Kittle and give Jimmy Garoppolo another option opposite Samuel.
How Aiyuk develops and produces will be under scrutiny from fans and critics because the 49ers had the chance to select higher-rated wideouts Jerry Jeudy or CeeDee Lamb with the 13th overall pick – acquired in the DeForest Buckner trade – but opted to draft a defensive lineman as their first selection for the fifth time in six seasons.
Barometer
⬆️ Rising: WR Deebo Samuel
Samuel racked up 961 yards from scrimmage and six scores in his rookie season. With a year of experience under his belt, he'll have an opportunity to be the team's top pass catcher not named George Kittle.
⬇️ Falling: WR Dante Pettis
Pettis showed flashes of excellence at the tail end of his rookie campaign in 2018, but the coaching staff questioned his motivation early in camp last year, and he never was able to get anything rolling.
😴 Sleeper: WR Jalen Hurd
Hurd spent his entire rookie year on IR but looks to begin the 2020 season with a clean bill of health. At 6-4 and with the skills of a running back, the receiver brings an interesting set of tools to the table.
🌟 Pivotal Player: George Kittle
Kittle wasn't as dominant last season as he was during his breakout 2018 campaign, but the star tight end still finished top five in receptions (85), receiving yards (1,053) and touchdowns (five) at his position. The 49ers didn't bolster their receiving corps much, so expect Kittle to remain the focal point of the team's aerial attack.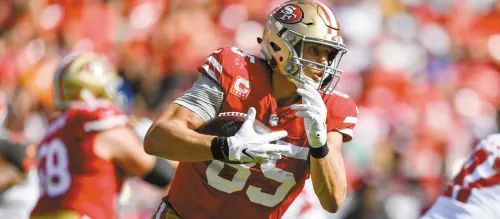 Using his combination of strength and speed, George Kittle doesn't hesitate to punish opponents.