This article is part of our 2020 Training Camp Preview series.
Expanding upon our team preview collection from earlier this offseason, we're gearing up for an irregular August with a series of team-specific articles to get you up to speed for training camp. You can find the previous writeup on the New York Giants here.
State of the Franchise
After a disappointing 2019, the Giants largely had a quiet offseason, shoring up obvious offensive line deficiencies in the draft and returning virtually all of their key skill players on offense. On defense, they drafted top safety Xavier McKinney and signed cornerback James Bradberry and two linebackers (Blake Martinez and Kyler Fackrell). Last year's first-round cornerback Deandre Baker is facing charges for an off-field incident in May and could be cut, but otherwise, the defense is mostly healthy and should improve over last year's dismal showing (25th).
While the defense isn't expected to be anything special, the offense has plausible upside. Second-year quarterback Daniel Jones showed he could make all the throws but needs to cut down on turnovers, something that the improved offensive line anchored by fourth-overall pick Andrew Thomas should help (though veteran tackle Nate Solder decided to opt out). Moreover, Jones played with injuries/absences to most of his skill players – Sterling Shepard (concussion), Golden Tate (suspension), Saquon Barkley (ankle) and Evan Engram (foot) all missed games. Heading into training camp, all four are healthy again, and second-year speedster Darius Slayton returns for a bigger role.
Job Battle
There are no fantasy-relevant job battles on the Giants. The receivers – Darius Slayton, Golden Tate, Sterling Shepard and tight end Evan Engram – will vie for target share, but all four are guaranteed prominent roles so long as they stay healthy. Saquon Barkley is the unquestioned three-down back, and if healthy he'll squeeze out any relevance from his backups. Dion Lewis is around for pass-catching duties out of the backfield should Barkley need a breather, and were Barkley actually to miss time, it would probably be a timeshare between Lewis and Wayne Gallman. But neither back would be immune from competition from players currently on the roster or available via free agency.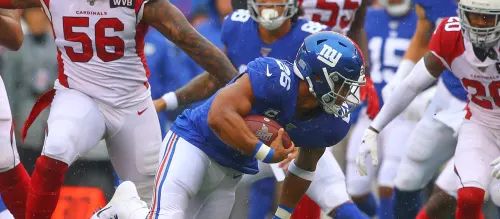 On defense, the biggest battle will be for the starting cornerback slot opposite James Bradberry. Deandre Baker was set to have the job, but even if he escapes the reach of the law, he'll be subject to NFL discipline and could even be cut. That leaves Sam Beal, a 2018 third-rounder, as next in line for the job, but 2019 sixth rounder Corey Ballentine might also be in the mix.
Medical Tent
Most of the key Giants are healthy at press time. Sterling Shepard had two concussions last season, so he's at risk should he take another hit, but Saquon Barkley has a clean bill of health after excelling late last season. Evan Engram is coming off surgery to repair a Lisfranc fracture and seems to be progressing toward a return in training camp, but with the absence of team OTAs, the best evidence we have is an Instagram video of him working out and doing drills. Keep in mind Engram has missed games in all three seasons of his career, 14 of a potential 48 in total.