This article is part of our 2020 Training Camp Preview series.
Expanding upon our team preview collection from earlier this offseason, we're gearing up for an irregular August with a series of team-specific articles to get you up to speed for training camp. You can find the previous writeup on the Pittsburgh Steelers here.
State of the Franchise
Steelers Nation is impatient after two straight seasons missing the playoffs, especially when there's been 'Stairway to Seven' talk since Pittsburgh last raised the Lombardi Trophy in 2009. In fairness, 2019 was nothing short of amazing considering that the team used Mason Rudolph and Devlin Hodges – neither of whom had previously taken an NFL snap – after franchise QB Ben Roethlisberger went down. For the Steelers to return to the postseason, they must get a full campaign from Big Ben.
Even then, they need help. The offense (30th overall) had 11 games with 275 or fewer total yards and scored 10 or fewer points in five games. An improved offensive line – bolstered by the signing of Stefen Wisniewski – should help, and Roethlisberger has a strong supporting cast, including James Conner and JuJu Smith-Schuster. The Steelers also signed Eric Ebron, although all three battled injuries of their own last season.
The team's offensive struggles last year put tremendous pressure on the defense, which rose to the challenge. The acquisition of Minkah Fitzpatrick helped the unit (fifth overall) lead the league in sacks (54) and takeaways (38). A healthy offense and this latest version of the Steel Curtain provide reason for high hopes in Pittsburgh in 2020.
Job Battle
Tight end is a key component to Pittsburgh's offensive success, but the franchise has been searching for a reliable pass catcher at the position for several seasons. The team enters the 2020 campaign with two strong options competing for snaps in Vance McDonald and Eric Ebron. McDonald has totaled 1,071 yards on 102 receptions and eight touchdowns in three seasons with Pittsburgh but has also struggled to remain healthy, missing nine games to a variety of injuries to his ankle, back, head, hip, knee and shoulder.
Ebron – who was signed as a free agent – has amassed 1,699 yards on 150 receptions and 20 touchdowns over that same span. However, he comes with health concerns of his own after undergoing surgery on both ankles this past offseason. Whether it's talent or injuries that puts one ahead of the other on the depth chart, it's unlikely that the team will deploy many two-TE formations, so whoever wins this position battle has a potentially high fantasy ceiling.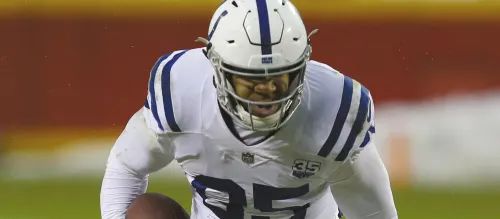 Medical Tent
Roethlisberger has battled his share of health woes, including the elbow injury which ended his 2019 season Week 2. With career highs for passing yards (5,129) and touchdowns (34) in 2018, Pittsburgh believes that Big Ben is fully recovered, and he's been working with fellow walking wounded teammates JuJu Smith-Schuster (knee) and James Conner (quadriceps) to get back to regular-season form. At 38, Roethlisberger's on-field achievements most likely rely on volume – his 675 pass attempts in 2018 were the fourth-most in NFL history – but he's only had one other season with 600 attempts.
RB James Conner
A physical runner unafraid to take a vicious hit, Conner has missed 11 games in his first three seasons. This aggressive style culminated in a quadriceps injury on his final carry Week 16 – forcing him to miss the must-win regular-season finale – marking the sixth time he was sidelined during the season. Conner has taken some much-needed time to let his body heal this offseason and still is considered the No. 1 running back on the depth chart, but he'll almost certainly see a reduction in touches in an effort to avoid the pounding that has hurt is production.
Injuries played a huge factor in a disappointing season in which Smith-Schuster finished with less than half his receiving yardage total from his previous campaign. The wideout suffered a knee injury Week 11, but when he returned for Pittsburgh's final two games of the season, he looked less than 100 percent. There have been no signs of lingering effects from that injury, but with several capable receiving options available to the team, it wouldn't be surprising if the Steelers choose to be cautious with him early this season.