This article is part of our 2020 Training Camp Preview series.
Expanding upon our team preview collection from earlier this offseason, we're gearing up for an irregular August with a series of team-specific articles to get you up to speed for training camp. You can find the previous writeup on the San Francisco 49ers here.
State of the Franchise
The 49ers are coming off of a heartbreaking loss to the Chiefs in Super Bowl LIV, but those with a rooting interest in the franchise should remain optimistic heading into 2020. GM John Lynch quickly addressed major losses at defensive tackle, wide receiver and left tackle with two first-round picks (DT Javon Kinlaw and WR Brandon Aiyuk) and a draft-day trade for perennial Pro-Bowl tackle Trent Williams during the 2020 NFL Draft.
The offseason wasn't all roses, as breakout talent and leading rusher during the playoffs, Raheem Mostert, surprised the organization with a demand for a new contract or a trade. The situation was settled when his contract was restructured in late July, but earlier in the offseason, Deebo Samuel, the 49ers' most-productive wideout, also suffered a foot injury, putting his availability for the beginning of the season in question.
That said, the team has franchise quarterback Jimmy Garoppolo under contract and nearly all of a young, talented supporting cast returning under one of the league's best coaching duos in head coach Kyle Shanahan and defensive coordinator Robert Saleh. San Francisco will begin a year as a championship contender for the first time since the Jim Harbaugh era.
Job Battle
Coach Shanahan only deploys a three-receiver rotation on game days with George Kittle's ability to double as an elite pass catcher while blocking like a lineman. With Emmanuel Sanders' departure this offseason, Deebo Samuel gets promoted to No. 1 wideout following an impressive rookie campaign. Kendrick Bourne's steady production and larger frame (6-foot-1) gives him a head start in lining up opposite Samuel in two-receiver formations. The third – or slot – receiver is where questions arise.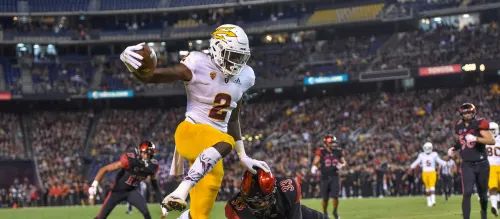 First-round pick Brandon Aiyuk would seem like the favorite to earn the next spot on the depth chart after the club traded up to get him, but the 49ers have more depth at the wideout position this year despite not adding any big names via free agency. Trent Taylor is a slot extraordinaire with soft hands and crisp route running; he spent the entire 2019 season on IR due to a foot injury but is reportedly healthy for 2020. Jalen Hurd, a 2019 third-round pick, also sat out last year with an injury, and he offers a unique combination of size (6-foot-4) and athleticism as a former running back prospect. This three-way competition will be the job battle to monitor during training camp.
Medical Tent
WR Deebo Samuel
Samuel performed so well in his rookie campaign – 961 yards from scrimmage and six touchdowns – that the front office felt it could let Emmanuel Sanders walk in free agency, giving the sophomore the keys to the top spot on the wide receiver depth chart. That plan came to an abrupt halt when the 24-year-old suffered a Jones fracture in his left foot in mid-June. The dual threat underwent successful surgery, giving him a 10-to-12-week recovery period and putting his return right around the projected start of the 2020 season.
McKinnon hasn't played a down since the NFC Championship Game after the 2017 season, the result of a torn ACL in his right knee right before Week 1 of 2018 and continued complications with the knee. His contract has been adjusted to reflect for back-to-back missed campaigns, and he'll now compete for reps behind lead backs Raheem Mostert and Tevin Coleman following the Matt Breida trade to Miami. McKinnon's most likely path to touches is as a pass catcher after combining for 94 receptions in his last two years as a Viking.
WR Trent Taylor
Taylor missed the entire 2019 season with a nagging foot injury that required multiple surgeries to address. The 26-year-old reportedly is back at full strength and ready to compete for the slot receiver role he secured back in a solid 2017 rookie year, when he had 43 receptions, 430 yards and two touchdowns. Taylor won't be handed the job, as he still has to compete with talented rookie Brandon Aiyuk, fellow healed wideout Jalen Hurd and potentially more candidates while also establishing that his foot is back to 100 percent.