This article is part of our Team Previews series.
Kansas City Chiefs

The Chiefs return the majority of a roster that fell short in the Super Bowl last season. With stars aplenty on the offensive side of the ball, the well-coached team should be set up for another run at the Lombardi Trophy.
Offseason Moves
Key Acquisitions
Should block Patrick Mahomes' blind side for years to come.
A pass-catching specialist who will complement Clyde Edwards-Helaire.
The highly coveted guard joins a retooled offensive line.
Could challenge Austin Blythe for the starting center spot.
Has a good chance to start at weak-side linebacker.
Gives the team a pass-catching tight end to groom behind Travis Kelce.
Key Losses
Injuries have held back the fourth overall pick of the 2014 draft.
Heads to the Windy City after opting out in 2020.
A Look Under the Hood
Head Coach: Andy Reid (Year 9)
Offensive Coordinator: Eric Bieniemy (Year 4) - West Coast Offense
Defensive Coordinator: Steve Spagnuolo (Year 3) - 4-3 scheme
2021 Vegas Projected Wins: 12 (1st)
2020 Record: 14-2
2020 Points Scored: 473 (6th)
2020 Points Allowed: 362 (10th)
2020 Point Differential: +111 (6th)
2020 Run-Play Rate: 37.4 percent (28th)
2020 Offensive Snaps: 1,057 (7th)
2020 PFF O-Line Ranking: No. 11
Projected 2021 Depth Chart
QB: Patrick Mahomes / Chad Henne
RB: Clyde Edwards-Helaire / Darrel Williams / Jerick McKinnon / Darwin Thompson
WR1: Tyreek Hill / Byron Pringle
WR2: Mecole Hardman / Marcus Kemp
WR3: Demarcus Robinson / Cornell Powell
TE: Travis Kelce / Blake Bell / Noah Gray
O-Line: LT Orlando Brown / LG Joe Thuney / C Creed Humphrey / RG Laurent Duvernay-Tardif / RT Mike Remmers (RotoWire Rank: No. 8)
Kicker: Harrison Butker
Top Storylines
Mahomes Prepping for Another Title Run
Patrick Mahomes' subpar Super Bowl LV showing figures to serve as a motivating force for the star quarterback, who completed 26 of his 49 passes for 270 yards with a pair of interceptions in a blowout loss to the Buccaneers. That effort fell far short of his previous playoff showings, which included three touchdown passes and 325 passing yards against the Bills in the AFC Championship Game. Additionally, Mahomes ended the regular season with a 38:6 TD:INT, the second-best mark in the league behind MVP Aaron Rodgers (48:5). The 25-year-old also finished in the top five in pass attempts, as his mark of 588 was a shade above the 580 he logged during his 50-TD campaign in 2018.
Assuming Mahomes maintains that level of volume this season, he once again will remain a top-tier fantasy option. The team's offseason investment in protecting him should only help. He was sacked three times and hurried a season-high 31 times in the Super Bowl, underscoring the need for an upgrade in the trenches. The Chiefs traded for Orlando Brown, signed Joe Thuney and Austin Blythe and drafted Creed Humphrey. Those additions, plus the return of Laurent Duvernay-Tardif from his 2020 opt-out, should allow Mahomes to target deep threats Tyreek Hill and Mecole Hardman more frequently.
CEH in the Driver's Seat
Another player who figures to benefit greatly from improved road pavers up front is Clyde Edwards-Helaire, who enters the coming campaign as the Chiefs' lead running back. The 2020 first-round pick accumulated 803 yards and four touchdowns on 181 rushes (4.4 YPC), along with 36 receptions for 297 yards and a score on 54 targets in 13 games last season.
Edwards-Helaire earned the third-best Pro Football Focus grade among rookie backs with at least 75 rush attempts, behind just the Colts' Jonathan Taylor and Washington's Antonio Gibson. The 5-7, 207-pounder also recorded the fourth-best receiving grade among the group. But his mark in that category seems a tad disappointing for a player considered by most analysts as the best backfield pass-catching threat in his draft class.
A more standard offseason in 2021 figures to assist the second-year pro, however. Despite his slightly underwhelming initial campaign, the LSU product seems poised to expand on his 59-percent offensive snap share from last year, considering the overall level of his backfield competition. Given that Damien Williams, who opted out last season, now is with the Bears, Edwards-Helaire's top backups will be Darrel Williams and newcomer Jerick McKinnon, with Darwin Thompson, Elijah McGuire and Derrick Gore also on hand.
A Look at the Playmakers
The Chiefs' playmaking group tied defenses in knots last season. Not only did opponents have to account for the "Cheetah" in Tyreek Hill, Travis Kelce, the NFL's top tight end, also resides in Kansas City. Kelce yet again excelled in 2020, posting a stellar receiving line of 105-1,416-11 on 145 targets. Hill was far from a slouch with his 87-1,276-15 output, which ranked him among the league's top wideouts despite sitting out Week 17.
Behind them, the explosive Mecole Hardman will look to earn an expanded role in the offense following the departure of Sammy Watkins. Though he upped his catch count from 26 as a rookie to 41 last year, Hardman's yards per target (13.1 versus 9.0) and yards per catch (20.7 versus 13.7) both saw significant dips from 2019 to 2020. His snap count also was limited by his poor run-blocking ability, resulting in Demarcus Robinson seeing 212 more plays.
To that end, Robinson is back on a one-year deal and could challenge for a share of Watkins' vacated reps. He doesn't own the enticing speed that Hardman does but did finish second among Chiefs wide receivers with 45 catches. Byron Pringle and rookie Cornell Powell are the two other candidates most likely to vie for playing time at wideout, while Blake Bell and fifth-rounder Noah Gray are on hand to support Kelce at tight end.
Barometer
⬆️ Rising: WR Mecole Hardman
The Chiefs' parting of ways with Sammy Watkins could pave the way for a post-hype breakout from Hardman. Though he failed to live up to the billing last season, he turned in an impressive 13.1 yards per target in 2019.
⬇️ Falling: RB Darrel Williams
Williams had looked poised to serve as the clear No. 2 option in the team's backfield, but the signing of the versatile Jerick McKinnon complicates that. Neither is a threat to overtake Clyde Edwards-Helaire.
😴 Sleeper: WR Cornell Powell
While Powell's draft capital (Rd. 5, 181st overall) doesn't guarantee him playing time, his willingness to do the dirty work could position him to compete with Demarcus Robinson and Byron Pringle for No. 3 receiver snaps.
🌟 Pivotal Player: Travis Kelce
Kelce continues to be an elite fantasy tight end year in and year out. The 31-year-old closed out the 2020 campaign in the league's top five in receiving yards (1,416) and receptions (105), while tying for fifth in TDs (11). There's no reason to deviate from ranking him first overall at his position once again this season.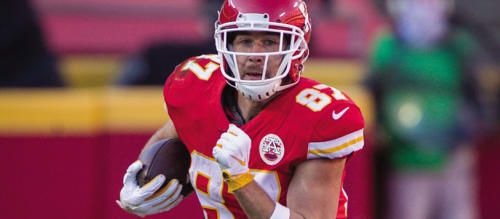 Medical Tent
Mahomes had a rough go of it during the playoffs, appearing to hurt his toe in the divisional round against the Browns before suffering a concussion later in that contest. While he cleared the concussion protocol ahead of the AFC title game, it was reported that he'd be playing through a turf toe injury. After the Super Bowl, Mahomes underwent surgery to repair a torn plantar plate in his left foot, but he was able to recover in time for OTAs and relayed that he had no restrictions at the start of training camp. He'll continue to preside over one of the most lethal offenses in the NFL in 2021.
LB Willie Gay
A second-round pick in the last year's draft, Gay played nearly the same number of plays on defense (267) as he did on special teams (239) as a rookie. He then suffered a pair of injuries in the postseason – a sprained left ankle and torn meniscus – the latter of which forced him to injured reserve before the Super Bowl. He returned to full healthy by the offseason program and now will eye a larger role on defense. He's a candidate to absorb a large number of the snaps vacated by Damien Wilson's departure.
After the Chiefs signed him to a one-year deal back in March, Long left a mid-June practice with an apparent knee injury and was considered a candidate to miss much of training camp. Since then, coach Andy Reid provided some optimistic words on the guard's status, suggesting Long could get some work in as camp progresses.
Job Battle
Despite the team's explosive attack, no wideout beyond Tyreek Hill made much of a fantasy splash in 2020. With Sammy Watkins, who averaged 5.5 targets per game last year, no longer in the mix, there's an opportunity for someone to emerge as a viable WR2 this coming season. Mecole Hardman, a 2019 second-rounder, has showed some flashes through his first two campaigns and profiles as a candidate to break out in Year 3. But Demarcus Robinson also hopes to lay claim to an expanded role, while Byron Pringle and rookie fifth-round pick Cornell Powell also are looking to impress in training camp with an eye toward carving out niches in Kansas City's offense.