This article is part of our Team Previews series.
Miami Dolphins

The Dolphins finished bottom 12 in offense last season, and Tua Tagovailoa undeniably had an uneven rookie year. Now further removed from his serious hip injury, with a revamped receiving corps and two new co-offensive coordinators, the pressure is on Tagovailoa to take a drastic leap forward.
Offseason Moves
Key Acquisitions
Has rare explosiveness and reunites with his former college quarterback.
A dangerous big-play threat, but has a history of injuries.
An experienced backup capable of mentoring Tua Tagovailoa.
Set for a depth role in Miami after six serviceable seasons in L.A.
Standout collegiate lineman could protect Tua as a guard or tackle.
Key Losses
Beloved veteran gunslinger heads to Washington for a chance to start.
Playmaker on defense was let go after just one year.
The serviceable center played 100 percent of the team's snaps in 2020.
A Look Under the Hood
Head Coach: Brian Flores (Year 3)
Offensive Coordinators: George Godsey, Eric Studesville (Year 1) - Erhardt-Perkins scheme
Defensive Coordinator: Josh Boyer (Year 2) - 3-4 scheme
2021 Vegas Projected Wins: 9 (T-14th)
2020 Record: 10-6
2020 Points Scored: 404 (15th)
2020 Points Allowed: 338 (6th)
2020 Point Differential: +66 (11th)
2020 Run-Play Rate: 41.9 percent (14th)
2020 Offensive Snaps: 1,021 (22nd)
2020 PFF O-Line Ranking: No. 28
Projected 2021 Depth Chart
QB: Tua Tagovailoa / Jacoby Brissett
RB: Myles Gaskin / Malcolm Brown / Salvon Ahmed / Gerrid Doaks / Patrick Laird
WR1: DeVante Parker / Preston Williams
WR2: Will Fuller / Lynn Bowden
WR3: Jaylen Waddle / Jakeem Grant
TE: Mike Gesicki / Durham Smythe / Hunter Long / Adam Shaheen
O-Line: LT Austin Jackson / LG Solomon Kindley / C Matt Skura / RG Robert Hunt / RT Jesse Davis (RotoWire Rank: No. 29)
Kicker: Jason Sanders
Top Storylines
It's Tagovailoa Time
Tua Tagovailoa's rookie campaign was a mixed bag. Coming off a serious hip injury, it took him six games to earn his first NFL start. He then threw seven touchdowns without a single interception in his first five turns, looking like an adequate game manager before things fell apart. The former Alabama star tossed five picks in his final four games, finishing up with just 6.3 yards per attempt and no completions over 40 yards. Of course, the blame can't be placed entirely on Tagovailoa. He dealt with a depleted group of receivers that didn't boast a single quality deep threat, a rushing game that wasn't reliable after injuries to Myles Gaskin and Salvon Ahmed and a bottom-10 offensive line.
Those excuses won't linger into 2021. Miami added veterans Matt Skura and D.J. Fluker to the O-line, as well as second-rounder Liam Eichenberg. Prized offseason signing Will Fuller links Tagovailoa with one of the league's premier deep threats, albeit one who carries a one-game suspension and lengthy injury history. Perhaps most notable is No. 6 overall pick and former Crimson Tide teammate Jaylen Waddle, who projects as an immediate starter out of the slot and soon could be much more. With DeVante Parker and Mike Gesicki still in house, Tagovailoa suddenly is throwing to one of the more impressive receiving corps in the league.
AFC Playoffs or Bust?
With Ryan Fitzpatrick no longer in the mix, Tua Tagovailoa is positioned as the leader of an improved skill-position group, and it quickly should become apparent whether or not he's franchise-quarterback material. If he does manage a Year 2 leap, giving the Dolphins a consistent and versatile passing game, it seems plausible for Miami to challenge for the AFC East title.
Sure, Tagovailoa may not be comparable to Josh Allen even if he does take the next step forward, but in 2020 Miami's defense nearly earned a playoff berth on its own merit. Coach Brian Flores led an outfit that finished sixth in points allowed (338) last season, despite lacking an impact running game or aerial attack to close out games. That isn't to say the defense was outstanding, having finished 23rd against the pass (4,024 yards, 21 TDs allowed) and 16th versus the run (1,862 yards, 17 scores), but it also was one of the youngest units in the NFL, making significant growth seem likely in 2021.
Xavien Howard and Byron Jones remain arguably the league's top cornerback tandem, while the likes of Jerome Baker, Christian Wilkins and Raekwon Davis are leaders in the front seven who, all being 25 or younger, could be primed for breakouts. If everything plays out right – a big "if" – the Dolphins could field both a top-16 offense and defense, while emerging as a legit contender.
Gaskin Still Heads the Backfield
Myles Gaskin proved himself to be the best running back on Miami's roster in 2020, rushing for 584 yards on 142 carries, catching 41 passes for 388 yards and tallying five total touchdowns in 10 games. Despite his lack of draft capital (2019 seventh-round pick) and size (5-10, 194), the Dolphins passed on big-name running back additions this offseason, instead bringing in veteran Malcolm Brown and rookie seventh-rounder Gerrid Doaks, seemingly a huge vote of confidence for Gaskin.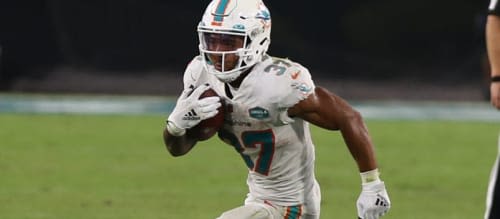 The 24-year-old averaged 97.2 yards from scrimmage when healthy last season and handled a bell-cow role whenever he was on the field. That output put him in good company, as the only running backs who averaged more total yards per game were fantasy stalwarts: Dalvin Cook, Derrick Henry, Christian McCaffrey, Alvin Kamara, Aaron Jones, Nick Chubb, Jonathan Taylor and David Montgomery.
If Miami's offense takes a leap forward, Gaskin's scoring opportunities also could improve. The caveat, of course, is that Gaskin isn't a prototypical lead back. He seems like the best option on the roster, but the Dolphins have proved willing to give opportunities to the most effective player. Monitoring training camp news will be essential for this backfield, as Brown and Salvon Ahmed may both make cases to vulture touches.
Barometer
⬆️ Rising: WR Jaylen Waddle
Few rookies enter the league with Waddle's combination of elite route running and explosiveness. A fractured ankle limited him to six games last year, but Waddle, who draws Tyreek Hill comparisons, now is 100 percent.
⬇️ Falling: TE Mike Gesicki
Staring down a crowded receiving corps for the first time in his career, a lesser target share could make Gesicki an even more boom-or-bust option than he has been. Still, his big-play ability is rare among tight ends.
😴 Sleeper: WR DeVante Parker
On one hand, Parker now has to compete with Will Fuller and Jaylen Waddle for targets. On the other, defenses can no longer design schemes around him. Parker thus could remain quarterback Tua Tagovailoa's No. 1 target.
🌟 Pivotal Player: Myles Gaskin
Gaskin escapes a dangerous offseason with his lead role intact, as the Dolphins' only additions to the backfield look like depth pieces. Before injuring his knee in 2020, he operated as a three-down workhorse. If he can stay on the field and keep a grip on the No. 1 spot throughout 2021, Gaskin could be a steal in fantasy drafts.
Medical Tent
Parker has a history with hamstring injuries, including one that sidelined him Weeks 15 and 16 of last season. He opened this year's training camp on the PUP list with an unspecified health concern that later was revealed to be soft tissue in nature. Apparently, the wide receiver picked it up in a workout just before reporting to the Dolphins. Parker has plenty of time to get healthy for the season opener, but his time away from the field will be indicative of the severity of the current issue.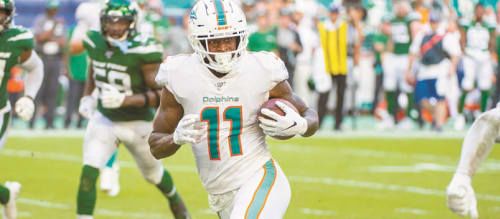 Waddle missed a large portion of his final collegiate season due to a rough ankle injury, but he managed to return to Alabama's national championship game in a limited capacity. Still, he's been seen with his surgically-repaired right ankle taped up in the opening stanzas of camp and even took a bit to get up from a fall during an early practice. The team likely will monitor Waddle's reps closely ahead of Week 1, but as long as he can avoid any setbacks the rookie first-rounder should get every opportunity to solidify himself as an immediate starter.
Tagovailoa's NFL career kicked off with questions about his health, mostly relating to the former Alabama star's serious collegiate hip injury. It's not entirely clear to what extent he was bothered by it during his rookie season, as he mostly avoided Dolphins practice reports, but the young signal-caller did disclose that his hip feels "10 times better" this offseason than it did in 2020. Being at 100 percent could allow Tagovailoa to feel more comfortable leaning on his athleticism in Year 2, which could be a make-or-break season in terms of proving himself as a franchise quarterback.
Job Battle
The top end of Miami's receiving corps looks clear: DeVante Parker and Will Fuller are proven starters, and the team clearly intends to build around 2021 sixth overall pick Jaylen Waddle. Beyond that, Jakeem Grant, Albert Wilson and Allen Hurns are reliable veterans who could settle into the No. 4 role, while younger options like Lynn Bowden, Preston Williams and Malcolm Perry could possess more potential.
Fuller will miss Week 1 due to a PED suspension, so Miami's fourth receiver is guaranteed some immediate relevance. And the Dolphins have real incentive to prioritize finding a reliable reserve. Parker and Fuller have both had issues with availability in their NFL careers, and even Waddle dealt with a significant ankle injury in 2020.
It's also common for rookie wideouts to work their way up to a full snap share, even those who aren't coming off health concerns. Even if Waddle can avoid losing snaps to the depth players behind him, it may be difficult enough to predict whether he, Parker or Fuller operates as Tua Tagovailoa's top target on a weekly basis.