This article is part of our DFS PGA series.
This week, we'll be tackling the opening round of the WGC-Mexico Championship. This is a no-cut event with an elite field of only 72 players, and as you'll see in my table below, some of the Tour's best will be in attendance.
If you are unfamiliar with how ThriveFantasy works, please refer to my introductory article here. Also first-time depositors who use the promo code RotoWire will get a deposit match of up to $25.
COURSE OVERVIEW
Club Chapultepac - Par 71, 7,355 yards
Mexico City, Mexico
The key thing to consider about this course is the altitude. Players will have to tinker with their distances as the course is almost two miles above sea level. As a result, you don't have to be the longest hitter on Tour to manage this course.
Keeping that in mind, the greens here are quite generous, which should result in high GIR numbers across the board. It will come down to how close players can get to the flag and how well they are rolling the rock. Dustin Johnson won here last year with a -21 under score, so low rounds could be plentiful in this elite field.
Justin Thomas - STROKES: 67.5
You have to like his measurables in this spot, and leaders in this tournament will need to average around 4-under to keep up with the pack. I think he'll get there on Thursday, but just barely.
PICK: UNDER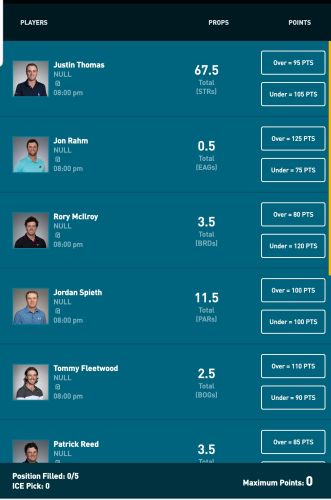 Jon Rahm - EAGLES 0.5
Rahm only has three eagles for the year, which comes out to about one eagle per 96 holes of play. I have to go with statistical probability, even though the manageable Par 5s here could burn me.
PICK: UNDER
Rory McIlroy - BIRDIES 3.5
No one is striking the ball as well as McIlroy recently. His metrics are stellar for this layout, and I think he could get 5 -6 birdies on Thursday.
PICK: OVER
Jordan Spieth - PARS 11.5
After constructing my table, I was almost sure I'd take the bad side of whatever comes for Spieth, but he gets one of the tougher categories to nail. As I've said before, this is less about counting pars than it is about counting birdies and bogeys. I think a couple of these Par 4s could give Spieth some trouble, and let's assume he birdies 1-2 of the Par 5s. That's still not enough to get a par number this low.
PICK: OVER
Tommy Fleetwood - BOGEYS 2.5
Fleetwood has some good finishes here and his Approach numbers are on point – it's that BoB number that scares me. Three birdies aren't that difficult to get on this course, and I think his metrics will benefit the Par 4s.
PICK: UNDER
Patrick Reed - EAGLES + BIRDIES 3.5
This is a tricky one, but anything with the eagles will break your slate. First, the birdies. Reed doesn't really distinguish himself in any category, but his approach numbers are all right, and he's kept with the pace in this tournament over the past two years. He isn't particularly strong in the opening rounds, however. This isn't a pick I will go with when I construct a lineup, as it's kind of a toss-up.
PICK : UNDER
Dustin Johnson - PARS + BOGEYS 12.5
Again, not the category we want here. Johnson averaged a little better than 5-under per round when he won here last year, and his history on this course is unmatched with 1st-, 7th- and 1st-place finishes over the past three years. Assuming he nets 4- or 5-under, it puts our number at around 13. I don't see him bogeying many holes. It's close.
PICK: OVER
Adam Scott- STROKES 66.5
There's no question that Scott is running hot after winning the Genesis, but he has no history on this course and could be a bit gassed after that victory. I think he'll finish under par but not this low.
PICK: OVER
Sergio Garcia - BIRDIES 3.5
Garcia certainly gets the nod from the home crowd, and he draws huge crowds on this course. He's been in the mix for the win in 2018 and 2019, so he certainly knows how to keep pace with the field. I wish I could get behind these metrics, however. The course history puts me over the top.
PICK: OVER
Webb Simpson - STROKES 68.5
While he's been in the middle of the pack in this tournament over the past two years, his metrics for this course are stellar at this point in the season. This is a clear numbers call for me to take the under.
PICK: UNDER
The author(s) of this article may play in daily fantasy contests including – but not limited to – games that they have provided recommendations or advice on in this article. In the course of playing in these games using their personal accounts, it's possible that they will use players in their lineups or other strategies that differ from the recommendations they have provided above. The recommendations in this article do not necessarily reflect the views of RotoWire.