Here's a look around the league at the latest trends after another week of hockey. Some food for thought, some leftover stats and, of course, some fantasy advice. Let's dig in.
It's Always Sunny in Florida
Here are the 5v5 xGF/60, CF/60, CF% and numbers for the lines that feature some of the top-15 scorers, and a random sprinkle of other top lines of interest (all fancy stats courtesy Natural Stat Trick):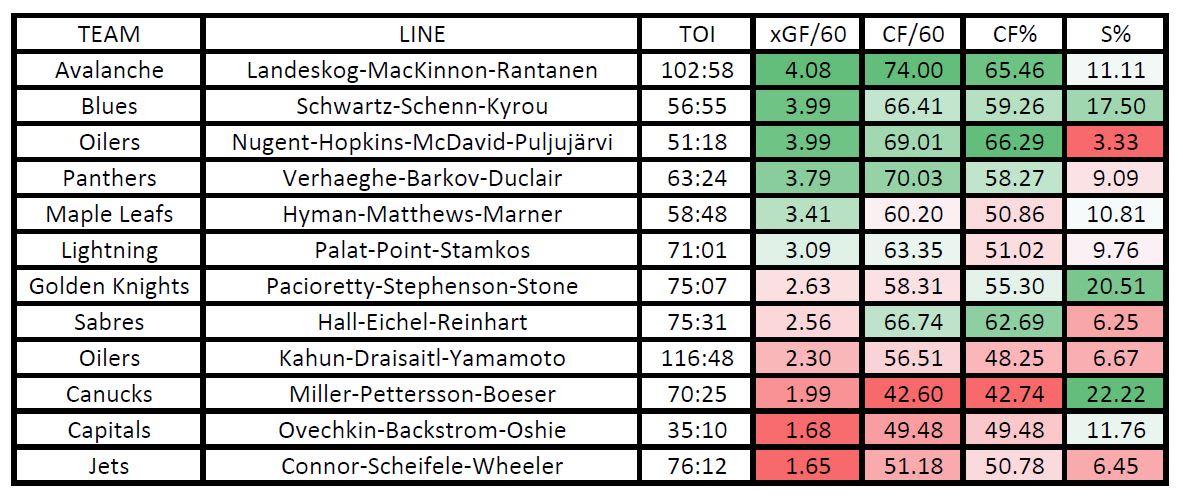 There's no way around it; the Panthers' top line of Aleksander Barkov, Carter Verhaeghe and Anthony Duclair is one of the best in the league. To address the Panthers' lack of depth on offense, coach Joel Quenneville opted to split Barkov and Jonathan Huberdeau, and it's paid big dividends. They're off to a surprising 4-0-1 start and any drama involving Keith Yandle's playing time and Sergei Bobrovsky being overpaid has been swept under the rug.
It's true that Verhaeghe's 33.3 S% is unsustainable, but collectively they're at 9.09 S%, which is still lower than Duclair's (12.7 S%) and Barkov's (13.3 S%) individual career average. In other words, it suggests that when Verhaeghe falls from his 56-goal pace, his point-per-game production might not suffer much because he's potentially assisting on goals scored by Barkov and Duclair — a combined two goals on 36 shots — as they return toward the mean.
It's worth mentioning Verhaeghe (17 percent rostered) has some pedigree; he's a third-round pick who couldn't crack the Lightning's top six, which was arguably the