This article is part of our Handicapping the NBA series.
As the 2020-21 NBA season fast-approaches, it's time to take a look at the preseason futures market.
Nick Whalen, James Anderson and Alex Barutha are here to break down the odds and highlight a few of their favorite bets.
All odds via the DraftKings Sportsbook
2021 NBA Title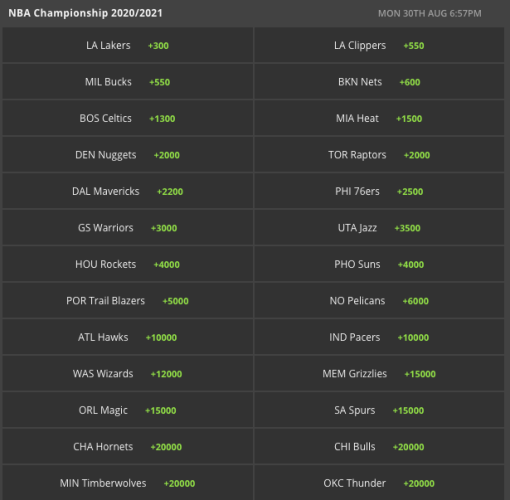 Beyond the top four (Lakers, Clippers, Bucks, Nets), which teams would you consider betting at their current numbers?
Anderson: The Mavs at 22:1 and the Blazers at 50:1 are the only teams outside the top four that I'd put money on. In my estimation, the eight best 2021 playoff players in rough order are: LeBron James, Anthony Davis, Kawhi Leonard, Luka Doncic, Stephen Curry, Kevin Durant, Damian Lillard, Giannis Antetokounmpo.
As in any year, you need one of those top 7-8 players to have a realistic chance to win the Finals, so the Mavs, Warriors and Blazers need to at least be considered at their odds. We have no idea how healthy Kristaps Porzingis will be, but if he's healthy entering the playoffs, I'd rank the Mavs third out West behind the two LA teams.
With a healthy Curry, I'm not going to completely rule out the Warriors, but I don't think the value is good at 30:1. People are sleeping on just how much better Portland will be this year in the regular season. This is the best Blazers roster in the Lillard-McCollum era. I wouldn't bet it at 30:1 or 40:1, but at 50:1, the reward is worth the risk.
Barutha: I like the Heat (+1500), Nuggets (+2000) and Trail Blazers (+5000).
For a team that just went to the Finals, 15-to-1 feels like a good deal, despite Miami losing Jae Crowder, which matters, but not enough to push me off the number.
Denver losing Jerami Grant matters, but more Michael Porter Jr. could end up being a good thing, and Jamal Murray appears ready for a breakout after his fantastic playoff run. They could end up being worse, but 20-to-1 is still a number I like.
Portland is sneaky-deep. The Blazers added Robert Covington and Enes Kanter; Carmelo Anthony and Rodney Hood are back; Gary Trent showed flashes; Zach Collins will eventually come back. Jusuf Nurkic is an underrated player.
Whalen: Dallas (22/1), Philadelphia (25/1) and Golden State (30/1) are the three that jump out. As currently constructed, I'm not sure any of these teams have enough to dethrone the Lakers or – in Philly's case – get past Milwaukee or Brooklyn in the East. But all three teams have some flexibility and could be one major trade away from moving up a level.
In Luka Doncic, Dallas already has a player who can carry the offense in the postseason and perhaps even win a series or two by himself. If Kristaps Porzingis stays healthy and Dallas can make another move or two to round out the roster, the Mavs are an intriguing play at that number.
Talent is never the question for the Sixers, but they're yet to prove capable of building a roster that maximizes the abilities of Ben Simmons and Joel Embiid. The upside of that tandem alone is high enough to draw me in, even if there's a small chance everything finally breaks right.
Without Klay Thompson, I can't fully buy into the Warriors, though Kelly Oubre is a solid short-term addition. The upside with betting Golden State is the chance that the Warriors leverage some combination of Oubre, James Wiseman, the 2021 Timberwolves pick and Andrew Wiggins' contract to add another star next to Stephen Curry. Even in that scenario, though, the surrounding roster would likely be extremely thin.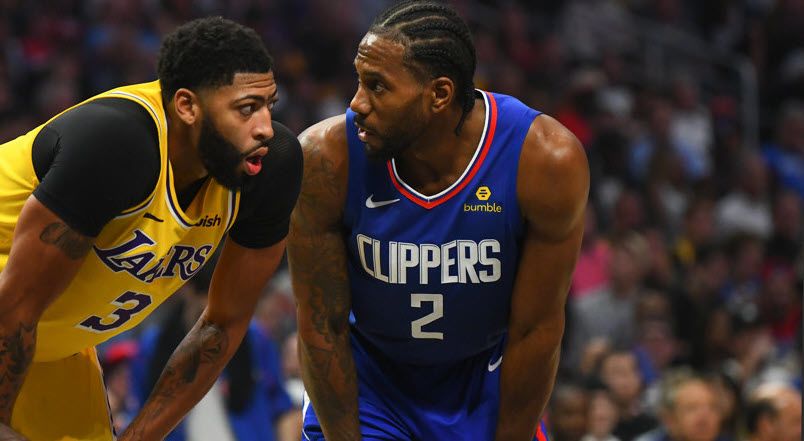 Would you rather bet the Lakers or Clippers to win the title, or The Field?
Anderson: For starters, I'd bet the Lakers at 3:1. The Montrezl Harrell signing was terrible, but he's their seventh man, and I love the other additions. I'd take The Field over just the Lakers, but I'd take the two LA teams together over The Field. I don't trust this Kawhi Leonard-Paul George duo after what we saw last year. They have a championship-quality roster, but I wouldn't bet the Clippers at +550.
Barutha: I'm convinced the Lakers will repeat, so I wouldn't be taking The Field. I have less confidence in the Clippers than I did last year now knowing all of the behind-the-scenes chemistry issues, but given their talent level we shouldn't be shocked if they pull things together. Many of the other title contenders got worse, like Boston, Houston and Toronto – and perhaps Denver and Philadelphia.
Whalen: I'm really high on the Nets, but I have to side with the two LA teams over The Field. If the Lakers stay healthy, they should repeat as champions. And if the Clippers make The Finals, that will mean they've probably solved whatever chemistry issues held them back in 2020. The bottom line is I see either the Clippers or the Lakers representing the West in the Finals, and I'd pick either of those teams over Brooklyn, Milwaukee, or another Eastern Conference challenger.
Most Valuable Player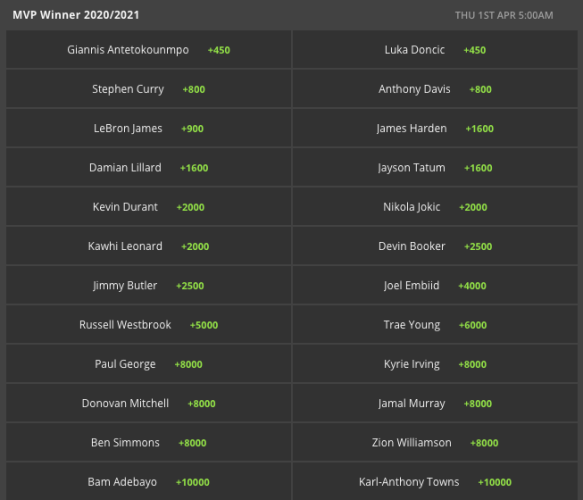 Who is your preseason MVP pick?
Anderson: This is tough. I'm going to rule out Giannis Antetokounmpo, as I can't picture the media giving him a third straight MVP after two straight playoff disappointments. I think Anthony Davis will be the best player in the league (non-Giannis division) during the regular season and possibly the playoffs, but Luka Doncic has the easiest path to winning the award.
The media loves LeBron James and will probably be 18-to-24 months late on realizing when Davis has passed him as the best player on the team. Doncic, on the other hand, has the perfect setup to win the MVP. He dominates his the Mavs' offensive attack, is beloved by the media, and is far and away the best player on his team. If Dallas finishes as a top-four seed, Doncic will probably win if he's been healthy for most of the season.
Barutha: Luka Doncic. He was obviously incredible last season, and he'll spend the beginning part of the year without Kristaps Porzingis while he recovers from a torn meniscus. Porzingis could end up missing more time throughout the year as well due to load management. Doncic should end up having a ton of monster games as a result. Giannis Antetokounmpo would be my second pick, but topping what he did last year will be tough, especially with coach Mike Budenholzer presumably limiting his workload.
Whalen: I always try to evaluate MVP odds by process of elimination. That task is more difficult than usual this season. Of the players at 20/1 or under, my only cross-offs are LeBron James, James Harden and Kawhi Leonard.
James and Leonard will almost certainly load manage themselves out of contention in a condensed season. James, himself, has already spoken openly about easing himself into the schedule. Meanwhile, Harden has probably lost what little remaining cachet he had with award voters. If he stays in Houston, it'll be viewed as another meaningless regular season of empty-calorie stats. And if he's dealt to Philadelphia or Brooklyn, he becomes a ring-chaser who automatically takes himself out of the race.
It's difficult to imagine Antetokounmpo winning it a third time, but if anyone is capable of putting up the requisite counting stats, it's him – especially if he returns to a normal superstar-level workload after barely cracking 30 minutes per game last season. He'll also have the feel-good narrative if he re-signs in Milwaukee.
Curry and Davis at 8/1 are intriguing. Coming off of a dominant playoff run, Davis' stock is higher than it's ever been, and the stage is set for him to take over as the Lakers' best player on both ends. But even if Davis picks up where he left off, he'll always have to battle the specter of playing alongside the reigning four-time Finals MVP. On paper, Curry is positioned for a monster season, but for him to truly challenge for MVP, the Warriors will have to finish near the top of an ultra-deep Western Conference. Curry will also have to stay healthy, which is far from a guarantee.
All of this is a long preamble to say that my preseason pick is Luka Doncic. He's the co-favorite for a reason and seems to have most of the momentum from the media at large. If Doncic can replicate last season's numbers and the Mavs finish as a top-four team in the West, he'll likely take home the award.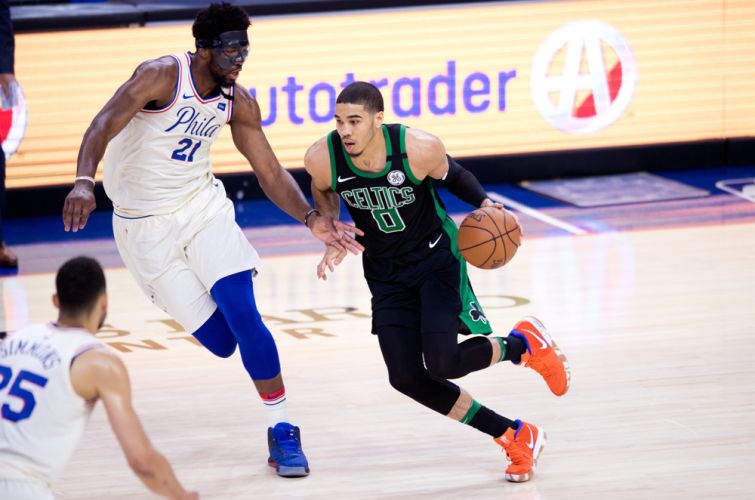 Based solely on value, who is your favorite MVP bet right now?
Anderson: Anthony Davis at 8:1 is my favorite MVP bet, since I think it's close between him and Doncic but Doncic has way shorter odds (+450). If you're looking for a long shot, Lillard at 16:1 is interesting. Durant at 20:1 stands out as a sucker bet. We've never seen a player who was on load management win an MVP and I don't think we ever will.
Barutha: Jayson Tatum (+1600). With Gordon Hayward gone and Kemba Walker's knee still acting up, Tatum is the clear-cut leader of the team on offense, and his two-way ability is great as well. With both players off the court last season, Tatum averaged 29.7 points, 8.3 rebounds, 3.8 assists and 2.1 combined steals-plus-blocks per 36 minutes.
Whalen: Hear me out: Kevin Durant at 20/1. There's some concern about how cautious the Nets will be with Durant, but I don't see him requiring time off for maintenance purposes. He's had roughly 20 months to recover, so at this point his Achilles is what it is. I'm fully prepared to give Durant the benefit of the doubt and assume he'll be close to the player he was before the injury. For MVP purposes, I think the bar could be slightly lower for Durant than other candidates. If he plays 90% of the Nets' games, has close to a vintage Durant season and leads the team to a top-three seed, he'll have an overwhelming case to win the narrative battle, which is a key component in the MVP race year in and year out.
Rookie of the Year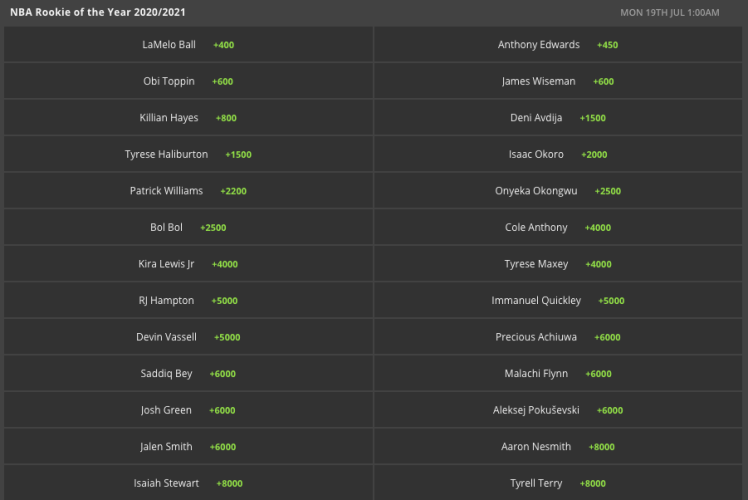 Does LaMelo Ball (+400) deserve to be the preseason favorite?
Anderson: I would definitely have Ball as the favorite. He should be his team's primary ball handler for at least two-thirds of the season, and possibly right out of the gate. There are reasons to be skeptical of him being a productive rookie, especially from an efficiency standpoint, but every other candidate has more glaring flaws in their candidacy. Anthony Edwards will not be given a chance to be the primary ball handler this year and he will be at best the third option. Tom Thibodeau won't play Obi Toppin big minutes as a rookie unless he has no other choice, as Toppin will be the Knicks' worst defender this year. James Wiseman is going to have really impressive flashes, but he just won't be involved enough on offense to put up ROY numbers.
Barutha: No. He doesn't have an easy path to minutes and I think his shooting percentages will be awful. He'll average the most assists in the class but that shouldn't matter to the voters if he shoots 40/30/70, or something like that.
Whalen: I understand it, but no, Ball wouldn't be my favorite. Ball won't walk into a clear starting role, and there's enough volatility with his production that he could really struggle early on. For me, James Wiseman should be installed as the favorite.
If it's not Ball, who is your favorite bet to win ROY?
Anderson: I'd be OK betting on Ball at 4:1, but my favorite bet is Cole Anthony at 40:1. He is flawed as a player, but not in a way that would prevent him from winning ROY in a Tyreke Evans or Michael Carter-Williams type of way. The only guys who have a chance to be their team's primary ball handlers this year are Ball, Killian Hayes and Anthony, and Anthony might be the most NBA-ready of the three. I don't think he'll be a winning player long term, but he will be able to get his own shot and get to the rim as a rookie, and points per game/usage rate are probably the top predictors of who wins this award.
Barutha: To me, the best value is Cole Anthony at +4000. Both Markelle Fultz and Evan Fournier are in contract years, so I Orlando will want to see what it has in Anthony before committing money to either of those players, especially Fultz. Plus, the Magic are desperate for offense and Anthony is a gunner. I also like Obi Toppin and James Wiseman, both at +600, since they should see 30 minutes per game.
Whalen: Wiseman should be the favorite, but he's not my favorite bet. Value-wise, I really like Cole Anthony at 40/1. He was a polarizing prospect, but he landed in an excellent situation to make an impact in Year 1. I'd also take a look at Obi Toppin (6/1), who's arguably the most NBA-ready player in the class. Tyrese Haliburton (15/1) is also a great bet, especially if he ends up starting on opening night. I also have some interest in Killian Hayes, who looks to be the Pistons' starting point guard.
Most Improved Player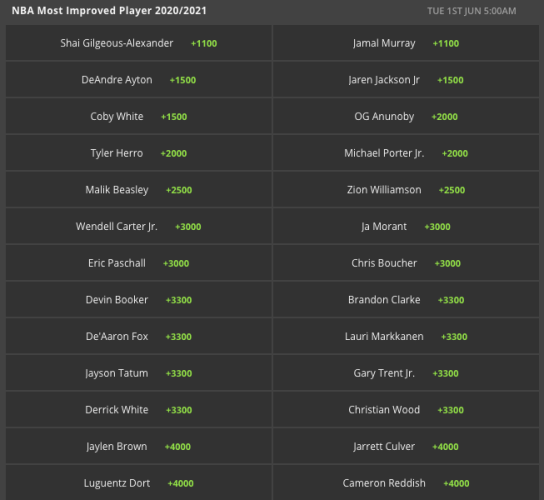 Click here for full list of players
It's a long list and everyone is at least 11/1 – who are some players who jump out to you as sensible bets?
Anderson: My favorite bets on the board: Shai Gilgeous-Alexander (11:1), Jamal Murray (11:1), Tyler Herro (20:1), Michael Porter Jr. (20:1), Wendell Carter Jr. (30:1), Devin Booker (33:1), Jayson Tatum (33:1), Derrick White (33:1), Christian Wood (33:1), Jaylen Brown (40:1), Kevin Porter Jr. (60:1), Mikal Bridges (80:1).
Voters aren't organized enough to come to any consensus on how to treat late-season breakouts like Murray, Herro, Booker, Tatum, White, Wood so I think they'll get credit for improving if they pick up close to where they left off. Gilgeous-Alexander, Michael Porter Jr., Carter, and Kevin Porter Jr. are all extremely talented and could see a major uptick in usage. Brown may have the most classic MIP case, where he could ascend to being a no-doubt All-Star who averages 25 points per game. Bridges could make Second Team All Defense, so I don't mind him at 80:1, but he probably won't score enough points to beat out the guys ahead of him.
Barutha:
Whalen: This is by far the most difficult award to predict. Here are a few players I'd consider:
Defensive Player of the Year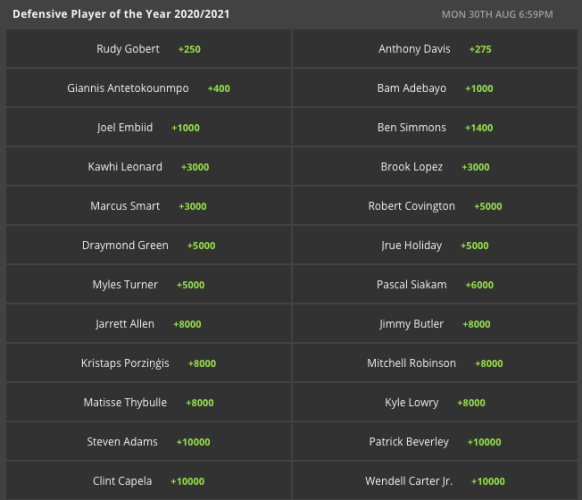 As usual, oddsmakers forecast it as a three-man race between Rudy Gobert, Anthony Davis and Giannis Antetokounmpo. Picking between just those three, who is your favorite bet?
Anderson: I'd pick Davis straight up over Giannis, but with Davis at +275 and Giannis at +400, I would rather bet on Giannis. However, I don't think there's much value in betting any of the three favorites.
Barutha: Giannis Antetokounmpo (+400). It's not difficult to repeat as DPOY, so getting 4-to-1 odds on the reigning winner is good value. I think he'll play more center this year, as well, which could lead to more blocks.
Whalen: At these odds, I'd side with Giannis at 4/1. But Davis is my preseason pick. He's never won it, which tends to be an advantage with these awards, and his defensive reputation has only improved compared to the start of last season. Antetokounmpo could very easily repeat, but it feels like it'll be Davis' turn as long as he puts up similar numbers to last season's.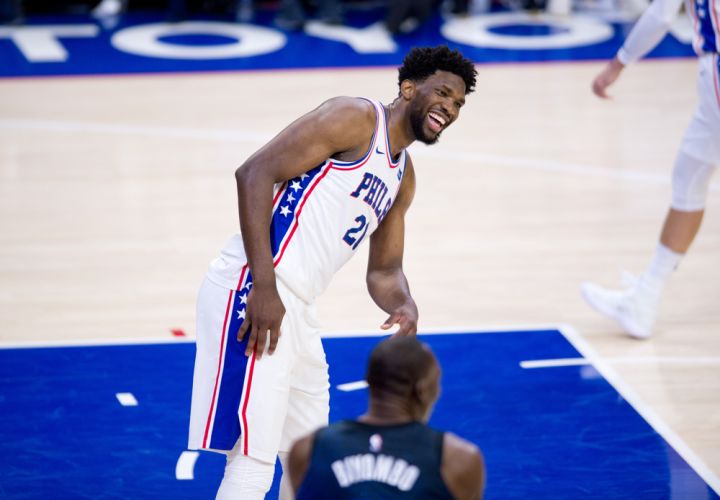 Beyond the top three, which player(s) would you consider betting?
Anderson: Adebayo (10:1) and Embiid (10:1) are the two best bets on the board. This 76ers team is going to really bounce back now that the pieces fit, so I think we're going to see a happy, engaged version of Embiid. When he's locked in, he looks like the best defender in the game. Adebayo probably won't put up the traditional counting stats to win the award, but he could be acknowledged as the most versatile defender in the league, like Draymond Green in 2016-17.
Barutha:
Whalen: Bam Adebayo. Like Davis, Adebayo had a fantastic regular season that was only bolstered by his play in the bubble. At 10/1, he's worth a stab – particularly given that he's one of the most durable players in the NBA, so missed games shouldn't be a concern.