Moving into Week 16, the majority of the league has played roughly 50 games, meaning by the end of the week we'll be just about 75 percent of the way through the 2020-21 season. While the standings in both conferences are beginning to coalesce, there's still plenty to be decided in both fantasy and reality.
Injuries continue to be the primary factor shaping the fantasy landscape, with big names like Kyle Lowry, Fred VanVleet, Zion Williamson, Domantas Sabonis and Kristaps Porzingis all missing time of late. The defending-champion Los Angeles Lakers are still without both LeBron James and Anthony Davis, while the Nets – who may have lost James Harden to a hamstring aggravation Monday night – eagerly await the return of Kevin Durant.
Meanwhile, bottom-feeders like Orlando, Houston and Oklahoma City seemingly have half of their rosters listed on the injury report on a game-to-game basis. That's resulted in increased opportunity for a number of young players, but the rotations have become increasingly difficult to predict as the focus shifts squarely toward lottery positioning player development.
As we take a rapid-fire look around the league, we'll hit on a few of those young players to monitor and check in on the NBA's top fantasy storylines:
James Harden tweaked his hamstring early in Monday night's game against the Knicks, forcing him out after just four minutes of action. The hamstring caused Harden to miss a pair of games to begin the month of April, but an MRI cleared him of any real damage. At this point, it's unclear if Harden actually injured the hamstring, or if he was simply pulled due to lingering discomfort. Either way, it's very possible the title-focused Nets hold him out of a few games on a precautionary basis.
Kevin Durant missed Monday's game, but he could be back at any point over the next week or so. The Nets play Wednesday (vs. NOR) and Saturday (vs. LAL) to conclude a three-game Week 16. Whenever Durant does return, he'll almost certainly be held out of one-half of back-to-back sets. Brooklyn has four back-to-backs remaining on its schedule – the first of which arrives on April 20 and 21. UPDATE: An MRI revealed a hamstring strain for Harden. He'll be re-evaluated in 10 days.
Sticking with the Nets, LaMarcus Aldridge has started all three of his appearances with his new team, playing at least 26 minutes in each game. In 28.0 minutes, Aldridge is putting up 10.0 points, 6.0 rebounds, 3.0 assists, 2.0 blocks and 1.0 steal per game. As of Tuesday, he's rostered in just under 80 percent of Yahoo fantasy leagues. UPDATE: Durant is expected to return Wednesday vs. the Pelicans.
Ahead of Wednesday's game against Charlotte, the Thunder have eight players listed on the injury report, including Shai Gilgeous-Alexander (foot) and Al Horford (shut down). Regular starter Darius Bazley (shoulder) hasn't played since the All-Star break, while Lu Dort (concussion) has missed eight of the last 12 games. With the Thunder executing one of the more blatant tanks in recent memory, a number of young players – namely Theo Maledon, Moses Brown, Isaiah Roby – have emerged as viable fantasy contributors, especially in deeper formats.
Brown has slowed down a bit of late, but he's been the most valuable of the three. Maledon and Roby have been less-consistent, making them more useful as DFS flyers than weekly starters in standard leagues. Meanwhile, Svi Mykhailiuk, Kenrich Williams and Aleksej Pokusevski have also taken on larger roles since the break. Over his last seven games, Pokusevski is averaging 14.6 points, 4.4 rebounds, 3.1 assists, 2.1 threes and 1.3 blocks.
On Monday, the Thunder signed Jaylen Hoard to a two-way deal and Justin Robinson to a 10-day contract.
The Heat are 2-0 with Victor Oladipo in the lineup, but he's struggled through his first two appearances. Oladipo finished his debut Thursday against the Warriors with just six points (2-8 FG), three rebounds, five assists and two steals in 23 minutes. He followed up with eight points (3-13 FG), one rebound, five assists, two steals and four turnovers in 30 minutes Saturday versus Cleveland. The shooting should come around, though Oladipo did hit only 41.1 percent of his field-goal attempts in 29 games with Indiana.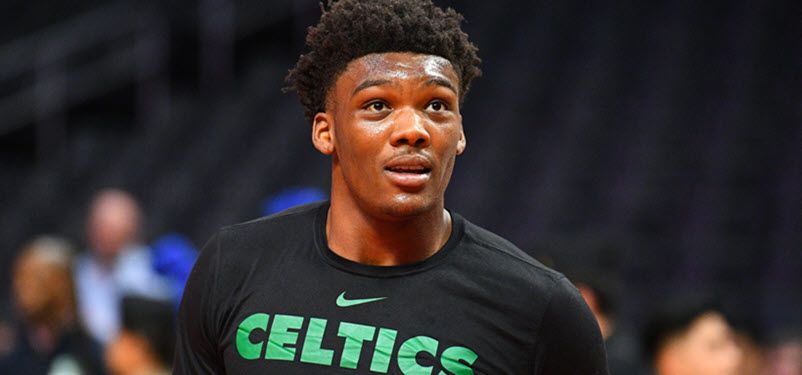 Robert Williams has been a top-25 fantasy player since the All-Star break, logging averages of 11.0 points, 8.9 boards, 3.2 assists, 2.7 blocks and 0.9 steals, while hitting 74 percent of his field goals. In a win over Houston on Friday, Williams nearly posted a triple-double, finishing with 20 points, nine rebounds, eight assists and a pair of blocks in just 26 minutes.
The Hornets lost Gordon Hayward to a sprained foot over the weekend, and he's expected to miss roughly a month's worth of action. The injury stifles a nice bounce-back year for Hayward, who's averaging 19.6 points, 5.9 rebounds, 4.1 assists, 1.2 steals and shooting better than 40 percent from deep (41.5% 3PT) for the first time since 2012-13.
Charlotte was annihilated by Boston on Sunday (a 116-86 defeat), so we didn't get a great look at how the sans-Hayward rotation will shape up over the next few weeks. Miles Bridges started in his place but finished with just 10 points, five rebounds and two assists in 31 minutes. Bridges probably stands to benefit most, but he was already averaging 26.5 minutes per game since the All-Star break.
Buyout addition Andre Drummond suffered a right toe injury in his first game with the Lakers (Wednesday vs. MIL), and it forced him to miss both of the team's games over the weekend. However, there's hope the big man will be able to play Tuesday against Toronto. The Lakers are embarking on a 10-game gauntlet that also features matchups against Miami, Brooklyn, New York, Charlotte, Boston, Utah (twice) and Dallas (twice).
Frank Vogel reiterated Monday that Anthony Davis is "still a ways away" from returning to game action. Tuesday will mark seven full weeks since his last appearance.
Lonzo Ball made his return from a seven-game absence Sunday at Houston and didn't miss a beat. Playing without any restrictions (37 minutes), Ball finished with 27 points, nine assists, four rebounds and three steals. He did tie a season high with six turnovers, but Ball also drained a career-best eight three-pointers.
Zion Williamson and Brandon Ingram have each missed the last three games and are questionable for Wednesday's game in Atlanta, which falls on the first night of a back-to-back. The Pels are also dealing with injuries to Josh Hart (torn ligament in thumb) and Nickeil Alexander-Walker (high-ankle sprain) – both of whom could miss extended time.
In other return news, D'Angelo Russell was back on the floor for the Timberwolves on Monday night. Russell finished the 116-106 win over Sacramento with 25 points, (7-19 FG, 4-7 3Pt, 7-9 FT), five rebounds, three assists, a steal and a block in 24 minutes off the bench.
The number one fantasy player since the All-Star break? Karl-Anthony Towns. After missing 20 of the Wolves' first 24 games, Towns is fully back to being one of the most dominant big men in the NBA. Over his last 15 games, he's averaging 27.3 points, 11.2 rebounds, 4.7 assists, 1.3 blocks and 2.9 made threes with a 48-40-85 shooting line.
In terms of per-game value, Kyrie Irving takes over the top spot since the break. He's missed four games, but in Irving's 10 appearances he's put up 30.0 points, 6.7 assists, 5.4 rebounds, 1.7 steals and 0.5 blocks, while hitting 52 percent of his field goals and 94 percent of his free throws.
Jrue Holiday has been on fire in Milwaukee, as he closed Week 15 with averages of 26.8 points, 8.5 assists, 5.8 rebounds, 2.5 steals, 2.8 threes and 0.8 blocks in four games. Since returning to the starting lineup on March 11, Holiday holds a 54-44-90 shooting line (12 games). He ranks as a top-10 fantasy value in that span.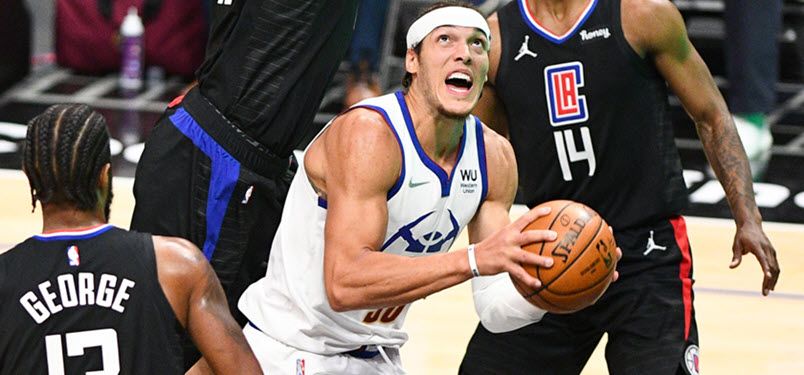 Aaron Gordon had his best game in a Nuggets uniform Sunday, finishing the Nuggets' sixth straight victory with 24 points, seven rebounds, two assists and two blocks in 35 minutes. In Thursday's win over the Clippers, Gordon posted 14 points, six boards, six assists, three steals and two blocks in 39 minutes.
The Clippers officially added DeMarcus Cousins over the weekend, signing the 30-year-old big man to a 10-day contract. The Clippers are Cousins' sixth team since the start of the 2016-17 season. His 25-game stint in Houston was mostly disappointing, though he had a few nights when he turned back the clock and looked like the player who returned first-round fantasy value (per-game value) every year from 2013-14 through 2017-18.
Wendell Carter's last three games: 18.7 PPG, 11.0 RPG, 2.3 APG, 1.3 BPG, 1.0 SPG, 12-of-14 FT, 33.3 MPG. With Khem Birch out Sunday in Denver, Carter finished with 16 points, nine rebounds, four assists, three steals and a block. Birch will likely be active for Wednesday's matchup against Washington, but it wouldn't be a surprise if Steve Clifford hands the job over to Carter the rest of the way.
In other Magic news, Cole Anthony returned to practice Tuesday and is considered questionable for Wednesday night. The 15th overall pick in 2020 hasn't played since fracturing his ribs back on Feb. 9 in Portland.
For the first time this season, Kevin Love has done the unthinkable: play in three consecutive games. Since making his return on Thursday against Philly, Love's workload has gradually crept up from 20 to 23 to 26 minutes. After posting a 10-point, 10-rebound double-double Saturday in Miami, Love finished Monday's win over San Antonio with nine points, eight boards, three assists and two steals. Over the three games, Love is a combined 6-of-17 from three.
Darius Garland went for a career-high 37 points in Monday's win, hitting five three-pointers and adding seven assists. Garland's first career 30-point effort came in his 100th NBA game.
A rookie to keep an eye on: Toronto's Malachi Flynn. With Kyle Lowry and Fred VanVleet sidelined, the San Diego State product has scored 16 points in each of the last two games. He finished Monday's win over Washington with 16 points, six boards, four rebounds, four steals, three blocks and two three-pointers in 34 minutes. Flynn's run could be short-lived, but both Lowry and VanVleet have already been ruled out of Tuesday's game against the Lakers.