This article is part of our 2020 Training Camp Preview series.
Expanding upon our team preview collection from earlier this offseason, we're gearing up for an irregular August with a series of team-specific articles to get you up to speed for training camp. You can find the previous writeup on the Indianapolis Colts here.
State of the Franchise
It would be an overstatement to say that the Colts have completely recovered from the abrupt retirement of QB Andrew Luck last August. This time around, though, instead of quickly being forced to pivot to highly capable NFL backup Jacoby Brissett, the team had the entire 2020 offseason to come up with a more deliberate transition plan.
Brissett is still around, but the Colts are gambling that Philip Rivers, a signal-caller known for his durability, still has what it takes to lead an NFL team to contention at the age of 38. Rivers managed to rack up 4,615 passing yards with the Chargers last year and joins an offense that will benefit from the presumed return to health of top wideout T.Y. Hilton, as well as an infusion of young talent, highlighted by a pair of second-round draft picks in receiver Michael Pittman and running back Jonathan Taylor.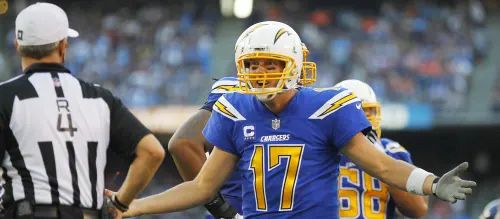 Both rookies have the ability to contribute right away, with the attack having room to accommodate such a pair of explosive playmakers to complement Hilton. Moreover, Parris Campbell, who the team took in Round 2 last year, can't be dismissed. He's healthy now after enduring an injury-riddled inaugural campaign and, like the team as a whole, will look for better luck in 2020.
Job Battle
After logging his first 1,000-yard rushing season as a pro in 2019, Marlon Mack seemed ready to settle into his position as the Colts' top back, a role that granted him solid utility in standard fantasy formats. Meanwhile, Nyheim Hines would make his mark in PPR setups, thanks to his pass-catching duties out of the team's backfield.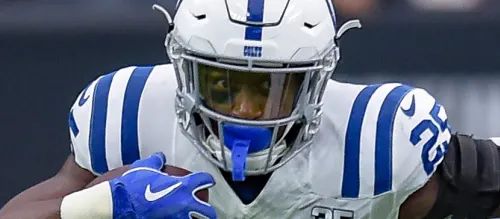 That rather straightforward and predicable arrangement, however, was turned upside down in April, when Indy landed Jonathan Taylor with pick No. 41 in the draft. Taylor is the latest in a long line of Wisconsin backs with impressive college resumes. The 5-10, 226-pounder was the second player in FBS history to post consecutive 2,000-yard rushing seasons (after Troy Davis) and the second to win consecutive Doak Walker awards (after Darren McFadden).
That said, Taylor won't be handed a starting job, and before that's even possible, he'll need to demonstrate improved ball security after logging drops and fumbles at an alarming rate as a collegian.
As a result, this is a job battle that may not produce a winner. Rather, look for a committee situation and associated fantasy headaches to prevail, at least until Taylor's obvious upside puts him in the driver's seat.
Medical Tent
WR T.Y. Hilton
Hilton, the Colts' clear-cut top receiver, was limited to a career-low 10 games last season as he dealt with a few injuries, most notably a troublesome calf issue. He approaches the coming campaign in good health and should benefit from working in a wideout corps that will look to implement the talents of Michael Pittman and Parris Campbell, a pair of youngsters who can take some of the attention of opposing defenses away from Hilton.
TE Trey Burton
The tight end underwent hip labrum surgery in December, but that didn't deter the Colts from signing him as a free agent, with a six-month recovery having been slated for Burton. That timetable suggests that he'll be ready to go when the Colts next take the field. In the process, he'll look to fill the void created by the offseason departure of Eric Ebron. Meanwhile, Jack Doyle figures to remain the team's primary in-line tight end.
With preseason buzz surrounding 2020 second-round pick Michael Pittman, Campbell – last year's second-rounder – is quietly in a position to emerge as a sleeper in his second season as a pro, provided he's past the assortment of injuries (sports hernia, broken hand, fractured foot and a hamstring injury) that led to a forgettable 2019 campaign. With that in mind, Campbell declared in May that he was back to 100 percent.