This article is part of our FanDuel Sportsbook series.
It's tough to feel optimistic after just missing on bets because you either win or you lose; there's no partial earnings for getting close, which made the Week 6 Tickets particularly frustrating. Granted, I pretty much only had long shots that I liked, but they all felt good.
Adam Thielen over 84.5 receiving yards and an anytime touchdown (+212) was thwarted because the Vikings got crushed at home by the Falcons, with Thielen reaching only 51 receiving yards on five targets, though he did score a touchdown. Meanwhile, the inverse of the T.J. Hockenson over 44.5 receiving yards and Kenny Golladay anytime touchdown (+284) hit, as Hockenson had only 17 receiving yards but scored a touchdown while Golladay didn't get into the end zone but smashed his yardage prop by finishing with 105 yards on six targets. Adding salt to the wounds, A.J. Brown had only 56 receiving yards in the Titans' win, but he scored two touchdowns, so the anytime touchdown and win bet was the right move instead of 100+ receiving yards and a win (+330). And finally, Myles Gaskin went over 22.5 receiving yards (he had 35) and over 57.5 rushing yards (91), but he failed to get in the end zone despite 22 total touches and the Dolphins beating the Jets 24-0. That +418 feels pretty greedy looking back on it.
Not to be deterred, we're back for another week, one that includes seven games with totals over 50 points, with the Packers and Texans topping out at 57.
Ezekiel Elliott over 81.5 rushing yards and anytime touchdown (+157)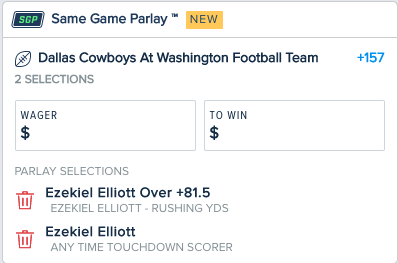 Elliott is the No. 2 ranked running back by Jeff Erickson this week and the most expensive running back on FanDuel's main slate for Sunday's action if we skip the injured Christian McCaffrey. With Andy Dalton under center for the Cowboys, there are huge expectations for Elliott's volume, though he doesn't make it easy on us because he's able to contribute in the passing game just as much as on the ground. His 28.5-yard receiving prop is pretty tempting too, and combining it with the above bet pushes it to +378, or we get to +187 if you choose the over on his receiving yards and the touchdown. His -170 odds for an anytime touchdown are the best in the game, and if you think the Cowboys get off to a fast start because of Elliott, over 81.5 rushing yards and a first-half touchdown moves the odds to +287.
Kenny Golladay over 80.5 receiving yards, Julio Jones over 80.5 receiving yards and Calvin Ridley over 78.5 receiving yards same-game parlay (+605).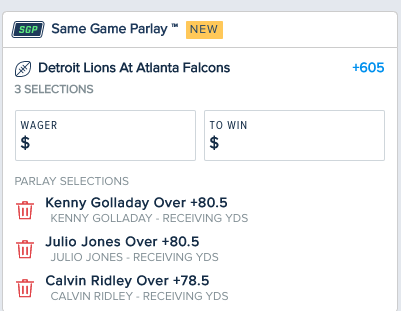 It's not often we get upgrades for basically every wide receiver in a single game, but that's what we have in this week's Corner Report by Mario Puig, who is positive on Golladay, Marvin Jones, Danny Amendola, Jones, Ridley and Russell Gage. Obviously these lines are set with the knowledge they have attractive matchups, but there are plenty of yards expected in a game with a 54.5-point total and the Falcons 2.5-point home favorites. If you really want to go nuts and take the overs on all of them, Gage just has to reach 35, Jones 45 and Amendola 34 to get you +5115 odds, which feels insane but also maybe worth a few bucks? (literally just a few though)
Joe Burrow over 11.5 rushing yards and Kareem Hunt anytime touchdown same-game parlay (+201)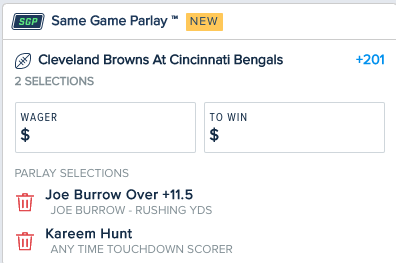 The absence of Joe Mixon is a big one for the Bengals' offense, and while many people are turning to Giovani Bernard for their fantasy contests, or expecting Burrow to air it out more than usual, let's focus on the QB's mobility, which hasn't been on display much recently, rushing for 11 or fewer yards in each of the past four games, which were preceded by 46 and 19, the latter of which was against this same Browns team in Week 2. Cleveland has mostly faced pocket quarterbacks this season, with the exception of Lamar Jackson rushing for 44 yards against them in Week 1 and Burrow in Week 2, and the 11.5 is certainly attainable. Meanwhile, Hunt is expected to get a vast majority of the backfield touches because Nick Chubb remains out, and his -200 odds to score are the highest in the game by a considerable margin (Odell Beckham is next at +110).
James Conner over 66.5 yards and anytime touchdown (+194)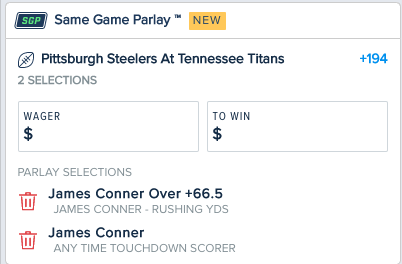 Only five teams in the NFL have allowed more rushing yards per carry (5.02) than the Titans this season, who have been winning enough of their games that they've only faced 112 rushing attempts, tied for the eighth-fewest in the NFL. However, this game is expected to be close, and Conner should be heavily used out of the backfield, so the 66.5-yard over/under feels particularly low for a player who has rushed for over 100 yards in three of five games this season, and he was hurt in Week 1 against the Giants when he played only 15 offensive snaps. Additionally, his -120 odds to score a touchdown are the second-best in the game behind the Titans' Derrick Henry (-180), and the next highest on the Steelers is Chase Claypool (+170). The Steelers actually opened as 1.5-point favorites, which moved up to 2.0, only for it to swing all the way over to Tennessee -1.5 as of Saturday.