This article is part of our Team Previews series.
Cincinnati Bengals

Joe Burrow tore his ACL and MCL in his rookie season, and his lack of protection evoked comparisons to the rookie seasons endured by David Carr and Andrew Luck. The Bengals passed on Penei Sewell in the draft, gambling that the additions of Riley Reiff and Jackson Carman will be sufficient.
Offseason Moves
Key Acquisitions
Locks down RT and led to the call of Ja'Marr Chase over Penei Sewell.
Had 13.5 sacks last year, but can he produce without Cameron Jordan?
Reunites with Joe Burrow after opting out of the 2020 season.
Replaces William Jackson in Year 2 of the team's secondary revamp.
Key Losses
Went out with a thud, with a 47-523-2 line in his last Bengals season.
Landed a three-year, $45 million deal to bolster the Jets' pass rush.
Now will pair up with Kendall Fuller on an improving defense.
The eight-time Pro Bowler's season was ruined by a shoulder injury
A Look Under the Hood
Head Coach: Zac Taylor (Year 3)
Offensive Coordinator: Brian Callahan (Year 3) - West Coast (wide/outside zone)
Defensive Coordinator: Lou Anarumo (Year 3) - 4-3 scheme
2021 Vegas Projected Wins: 6.5 (28th)
2020 Record: 4-11-1
2020 Points Scored: 311 (29th)
2020 Points Allowed: 424 (22nd)
2020 Point Differential: -113 (28th)
2020 Run-Play Rate: 39.5 percent (20th)
2020 Offensive Snaps: 1,040 (13th)
2020 PFF O-Line Ranking: No. 30
Projected 2021 Depth Chart
QB: Joe Burrow / Brandon Allen
RB: Joe Mixon / Samaje Perine/ Trayveon Williams / Chris Evans
WR1: Tyler Boyd / Mike Thomas
WR2: Ja'Marr Chase / Auden Tate
WR3: Tee Higgins / Trent Taylor
TE: Drew Sample / C.J. Uzomah
O-Line: LT Jonah Williams / LG Xavier Su'a-Filo / C Trey Hopkins / RG Jackson Carman / RT Riley Reiff (RotoWire Rank: No. 25)
Kicker: Evan McPherson / Austin Seibert
Top Storylines
Hold That Line!
At pick No. 5 in the 2021 NFL Draft, the Bengals were presented with a dilemma. Should they take a potential generational offensive tackle to protect Joe Burrow's blind side in Oregon's Penei Sewell, or should they give him a potential generational wide receiver to throw to in LSU's Ja'Marr Chase? Burrow's rookie campaign was wrecked by ACL and MCL tears Week 11 against Washington, but he was under constant pressure all season long, getting hit eight times per game, so one can easily see the case for drafting Sewell. The Bengals ultimately opted for Chase, but that doesn't mean they ignored the offensive line.
They signed Riley Reiff to start at right tackle, after Reiff was a salary-cap casualty with the Vikings. Jackson Carman from Clemson was taken in the second round of the draft to bolster guard. He's a project, and it's still up for debate whether he'll be ready to start immediately. They're also counting on left tackle and 2019 first-rounder Jonah Williams to improve after an injury-marred season. In addition to Carman, the Bengals also drafted D'Ante Smith (East Carolina) in the fourth round and Trey Hill (Georgia) in the sixth round. The other big change was re-hiring Frank Pollack to be the offensive line coach, after Jim Turner's disastrous regime under Zac Taylor.
Cutting to the Chase
Let's be clear, the Bengals didn't settle for Ja'Marr Chase. He was a clear standout and Joe Burrow's top target at LSU during the quarterback's 2019 Heisman effort. That season, Chase worked ahead of Justin Jefferson, catching 84 passes for 1,780 yards and 20 touchdowns in 14 games. Chase opted out last year but assuaged some fears related to that by running a 4.38 40-yard dash at LSU's Pro Day before the draft.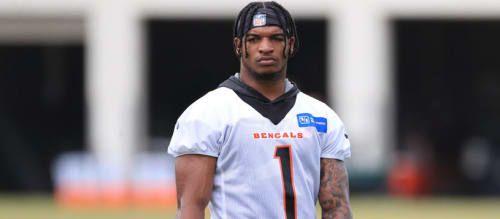 The Bengals' receiving corps was a little thin heading into the proceedings, following the departures of both A.J. Green and John Ross. Chase will step into a top-three role right away, likely on the outside along with Tee Higgins, with Tyler Boyd operating in the slot. Considering the lack of depth behind them and the dearth of a noteworthy pass-catching tight end, there should be plenty of volume to go around for the trio.
Last season, Boyd, Higgins and Green all netted more than 100 targets, but the quality of those targets wasn't great, particularly after Burrow's injury. Beyond the current top three receivers, Auden Tate looms as a possible red-zone vulture, but he's returning from surgery to repair a torn labrum in his shoulder. Even though rookie wideouts often start slowly, Chase should be active early and will be in a position to reach a similar target volume to that of Boyd and Higgins.
Won't Be Fooled Again?
When Joe Mixon signed a four-year, $48 million contract extension last August, it locked the Bengals into committing to him through thick and thin. The 2020 season provided a lot of thin gruel, however. Mixon struggled to average just 3.6 yards per carry through the team's first six games before a foot injury eventually ended his season, but he was listed as "day-to-day" for weeks and expected to return from IR at some point. If there was a bright side to be gleaned from the games for which Mixon did suit up, it was that he was involved more in the passing game, getting 26 targets in those six weeks.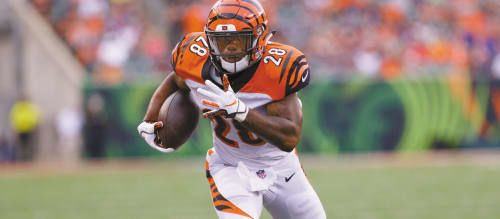 Giovani Bernard was released in the offseason, and the Bengals waited until the sixth round before drafting a running back in Chris Evans from Michigan. That leaves Samaje Perine, Trayveon Williams and Evans as Mixon's primary backup options. Despite a shortage of competition, there's been a lack of ardor for Mixon in the fantasy community, as he's typically going as the 14th running back in early high-stakes leagues. Between Mixon's recent injury history and the struggles on the Bengals' offensive line, it's difficult to treat him as a bell-cow back worthy of being an RB1. Still, he's entering his age-25 season after going pro young, so there still should be some gas left in the tank.
Barometer
⬆️ Rising: WR Tee Higgins
Don't sleep on Higgins because the team drafted Ja'Marr Chase. Higgins graded out well in his rookie year despite the cavalcade of poor quarterback play post-Joe Burrow. At 6-4, Higgins is likely to be the Bengals' top red-zone target.
⬇️ Falling: WR Tyler Boyd
Boyd will get his share of looks, particularly in the slot. That said, all you have to do is look at the Bengals' draft behavior over the last couple of years to realize that they think they can improve on him.
😴 Sleeper: TE C.J. Uzomah
Before an Achilles tendon tear late in a Week 2 tilt, Uzomah had eight catches for 87 yards and a touchdown on 11 targets. He was medically cleared to return in April and will look to regain his starting tight end spot.
🌟 Pivotal Player: Joe Burrow
It's not overly dramatic to say that everything for the Bengals rides on getting Burrow healthy and surrounding him with the right personnel, both in terms of receiving options and in protection to keep him upright. At press time he was considered "all systems go" for the season opener, but will his offensive line hold up?
Medical Tent
QB Joe Burrow
It's not that other injuries on the Bengals aside Burrow's don't matter, but everything about their franchise player's health and development determines both the short- and long-term arcs
of the team. So far, the QB's recovery from a torn ACL and MCL has gone well, and he'll participate right away at training camp without having to go on the active/PUP list. However, it might still be difficult to track exactly where Burrow is at, as the Bengals intend to hold him out of preseason games.
RB Joe Mixon
Mixon missed the final 10 weeks of the 2020 season with a foot injury, but all reports in March and beyond have been positive. Plus, he never required surgery. The Bengals let Giovani Bernard depart for Tampa Bay this offseason and didn't invest much in a replacement, adding sixth-rounder Chris Evans and undrafted rookie Pooka Williams to slot in behind Samaje Perine and Trayveon Williams on the depth chart as Mixon's backups.
CB Trae Waynes
Waynes was a big part of the Bengals' secondary overhaul before the 2020 season, but he tore a pectoral muscle while weightlifting during training camp and didn't play a snap. Now William
Jackson also is gone, completing the team's cornerback clean sweep. As a result, Waynes will be heavily counted upon to step up this season, and so far it's looking good as he's made it through every single workout leading up to training camp.
Job Battle
Drew Sample slowly improved as a pass catcher as the 2020 season progressed, but the Bengals' second-round pick in 2019 has never been primarily a receiver, but instead is a blocker first and receiver second. Meanwhile, C.J. Uzomah suffered a season-ending Achilles' tendon injury Week 2 last year, but he had 11 targets over the first two weeks. One might say he had a larger Sample Size of targets than his competition. Watch the early practice reports in training camp, but Uzomah is nominally worth following as a fantasy option, more so than Sample.