This article is part of our Collette Calls series.
Ten year ago, literally to the day you may be reading this article, the Rays created a character called Recycles McGee to help teach recycling habits to fans and the community in the greater Tampa Bay area. Don't believe me?
This character's existence came just a couple months after Jake McGee made his MLB debut for Tampa Bay, two years after McGee's mid-2008 Tommy John surgery while in the minor leagues. McGee was part of that awesome pitching prospect class that included David Price, Wade Davis, Jeremy Hellickson, and Jeff Niemann — all of whom appeared in the top 8 for the 2008 Top Ten Rays prospect list.
McGee came back from his surgery late in 2009, "starting" games as an opener of sorts given he had 16 starts and amassed 30 innings that season. 2010 saw him work as a starter in Double-A Montgomery but switched to the bullpen when he was promoted to Triple-A Durham, where he has remained ever since. He has worked in 546 games of relief in 11 seasons at the big-league level, but has just twice earned more than 10 saves — in 2014 for Tampa Bay, and in 2016 in his first season with Colorado after the Rockies sent Corey Dickerson and Kevin Padlo to the Rays for McGee and then-prospect German Marquez. McGee has just four saves since 2016, as his role has mostly been getting the ball to other relievers to finish off the game.
His time in Colorado was tough, even though he is the type of pitcher — in theory — that should not be affected by altitude. He throws his fastball nearly exclusively with a show-me slider. Things never got better, to the point the Rockies simply cut McGee before the 2020 season, paying him $5.5M to not pitch for them last season. The Dodgers were more than happy to pay McGee a minimum salary to pitch in their pen, which McGee happily took given he was already $5.5M ahead on the season.
The Dodgers gave him one direction: throw your fastball and throw it as much as you possibly can. McGee listened; of the 332 pitches he threw in 2020, 322 were fastballs.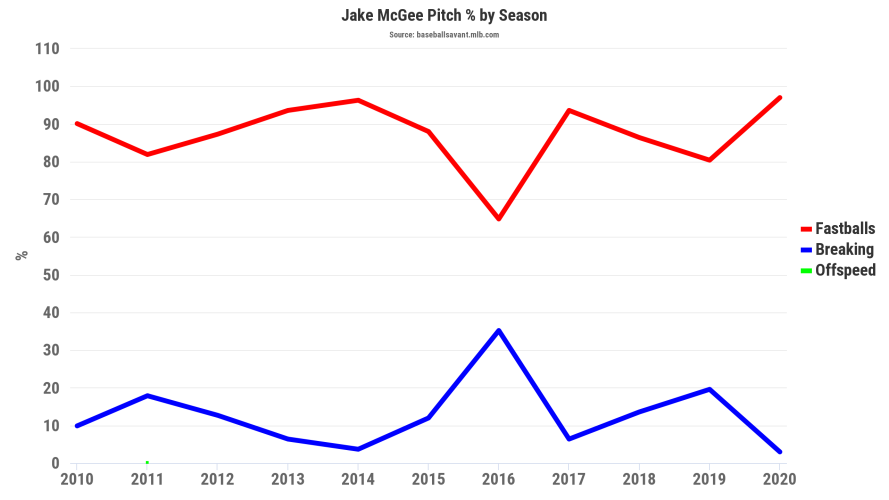 The 97 percent fastball utilization was not the first time McGee had leveraged his fastball that often, but the results in 2020 were better than what he got from the pitch in 2017.
| Season | MPH | Whiff% | SpinRate | wOBA | xwOBA | HH/9 | HH/TBF |
| --- | --- | --- | --- | --- | --- | --- | --- |
| 2016 | 94.3 | 21% | 2285 | 0.397 | 0.384 | 11% | 27% |
| 2017 | 94.9 | 19% | 2248 | 0.273 | 0.294 | 8% | 23% |
| 2018 | 93.7 | 20% | 2232 | 0.387 | 0.371 | 11% | 28% |
| 2019 | 93.4 | 16% | 2212 | 0.414 | 0.381 | 12% | 30% |
| 2020 | 94.9 | 34% | 2274 | 0.240 | 0.234 | 9% | 27% |
Regular readers of this column may notice this is the first time I've referenced HH/9 (Hard Hit per 9 innings) or HH/TBF (Hard HIt divided by total batters faced), but after reading this article by Alexander Chase, you'll see more of that referenced in my work moving forward. The numbers on the chart above show a few notable changes in McGee from 2019 to 2020. He rediscovered 1.5 mph on his fastball that had been missing the last two seasons, but velocity alone does not account for the type of new life McGee found in his fastball last season. Note there also isn't any newfound spin rate in the pitch, just that it became not only hard to hit fairly into play, it just became tough to make contact with overall: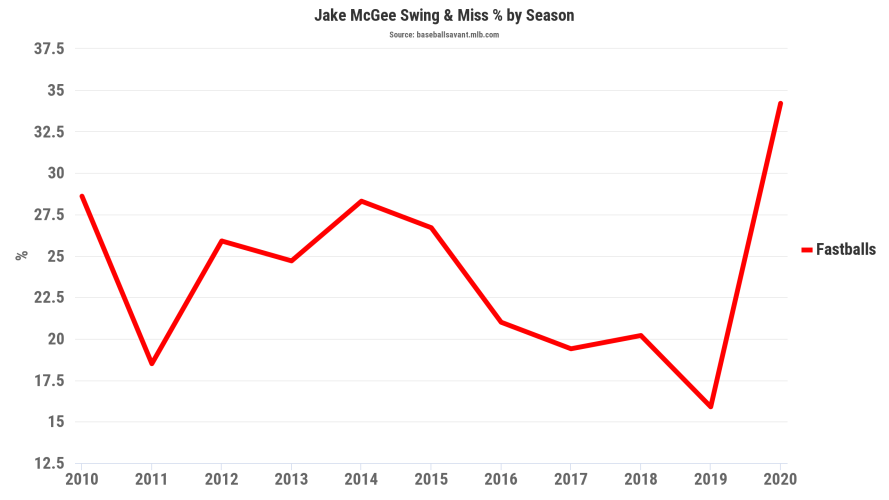 Consider the 2010 season was only a handful of pitches; the spike in 2020 really came out of nowhere. It is not often we see a pitcher's fastball whiff rate rebound, let alone surge like this late in a career. One thing McGee did very well in the time he had in 2020 was force the issue for hitters by filling the zone with fastballs and forcing hitters to swing. He threw a career-best 62 percent of his fastballs in the zone, a rate he had only come close to approaching once in the past eight seasons: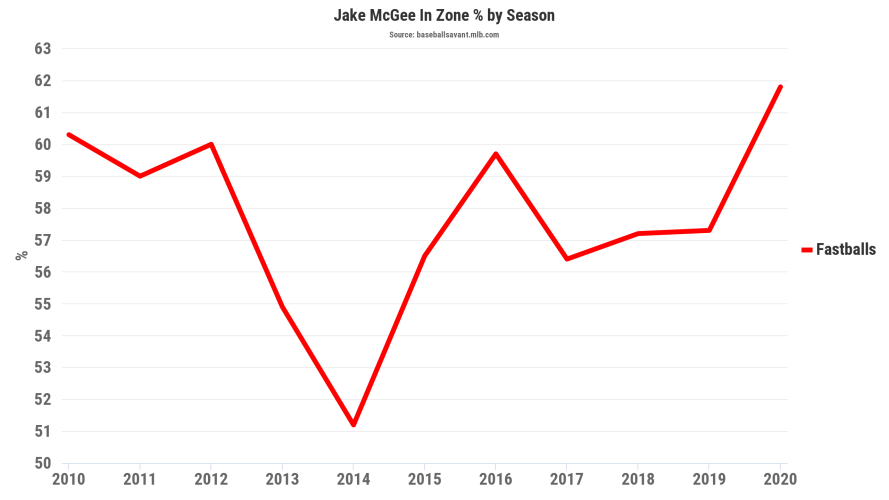 McGee made a particular point to emphasize the upper two-thirds of the zone as he threw 30 percent of his overall pitches to that part of the zone. It is a theme by now; what McGee did with the Dodgers he had not done in any previous season. He attacked a particular part of the zone at a higher rate than previous season: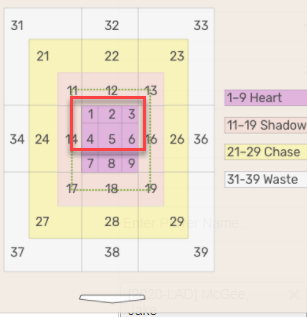 When a pitcher is attacking that part of the zone at a high frequency, and hitting his target, it forces the issue quickly in a count.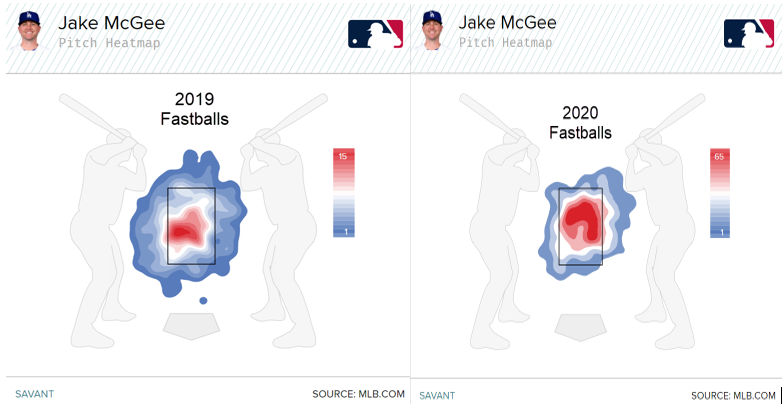 The heatmap shows a better concentration of pitches in the zone last year, and a concerted effort to elevate the fastball up in the zone. All of this led to just 13.5 percent of McGee's fastballs in 2020 even being put into play: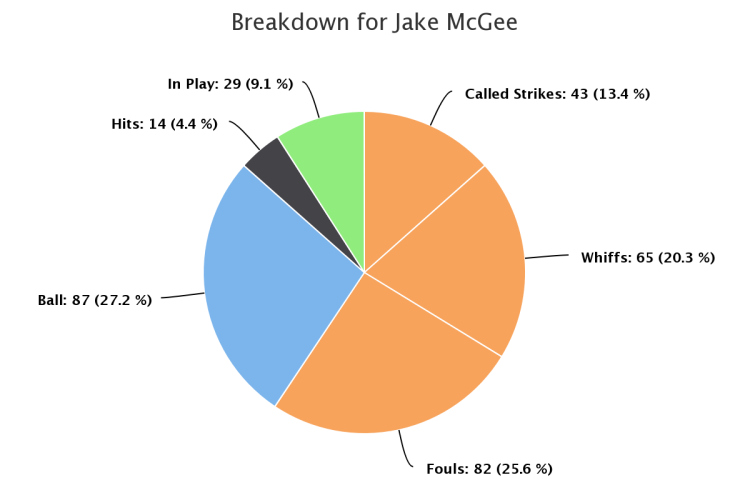 More than 59 percent of McGee's fastballs generated a strike, either by a call, swing and miss, or a foul ball. That was an improvement from 2019, when his fastball generated a strike 45 percent of the time.
Baseball is a simple game. Throw strikes and hit your spots, and good things happen. McGee has always had confidence in his fastball but gained more confidence last season by rediscovering some velocity and what he did well earlier in his career. A year ago, he looked destined to pitch out his contract in Colorado and perhaps struggle to land another full-time gig. Now, the free agent could potentially land a closer role for a team who believes McGee has retooled himself into a high-leverage reliever. There is always risks with a pitcher who relies upon his fastball as much as McGee and who does not really have a quality secondary offering, but a well-placed fastball is still one of the best pitches in baseball.