This article is part of our The Wheelhouse series.
The Arizona Fall League is my favorite trip of the year.
In addition to the Fall Stars Game on Saturday night – a showcase of the league's best prospects in any given year – the weekend includes Baseball HQ's First Pitch Arizona – an event that celebrated its 20th anniversary in 2014. My participation in the event started back in 2009, and it's a weekend that I would recommend to anyone ready to begin the next baseball season immediately following the previous year's World Series.
Since the league's inception, 58% of AFL players have gone on to play in the big leagues, including 212 All-Stars, 12 MVPs, and four Cy Young Award winners.
The league is comprised of six teams, and each roster is built from the prospects of five major league organizations. In many instances, teams use the Fall League as an opportunity to help players make up for development time lost to injury during the previous season.
Most of the games I've attended over the years have had fewer than 500 fans in attendance, making it easy to get your preferred seat for as little as $6 per game.
The venues are outstanding – including Salt River Fields at Talking Stick (the spring home of the D-backs and Rockies), Surprise Stadium (Royals and Rangers) and Camelback Ranch in Glendale (White Sox and Dodgers) – and the weather in Phoenix throughout the fall is excellent.
Rather than write up the most highly regarded or top-ranked prospects playing in the league, I am going to focus on the 20 best players that I saw over the course of my trip (Oct. 30th through Nov. 4th).
Of course, I am not a professional scout, but I have found a ton of value in seeing players first hand as they progress through the final stages of their professional development.
Hitters
Jesse Winker, OF, CIN – Winker was held out of the Fall Stars Game on Saturday night due to a calf injury (cramp), but I was fortunate enough to get a look at him before the weekend. Now 21, Winker split time between High-A Bakersfield and Double-A Pensacola in 2014, but a wrist injury sustained in a car accident limited him to 21 games after the promotion. He breezed through the California League with a .317/.426/.580 line and 13 homers over 53 games while showing a very advanced approach at the plate (16.1% BB%, 18.5% K%) despite being matched up against older competition. With the ability to make consistent contact and drive the ball effectively to all fields, Winker is well on his way to fulfilling his potential as a middle-of-the-order bat capable of anchoring a big league lineup and pushing into the 20-25 home run range annually. With a 6-foot-3, 210-pound frame, Winker could add enough muscle to exceed the current power projections as he matures. Thanks to the lost time in 2014, Winker may have to wait until 2016 to become the Reds' starting left fielder.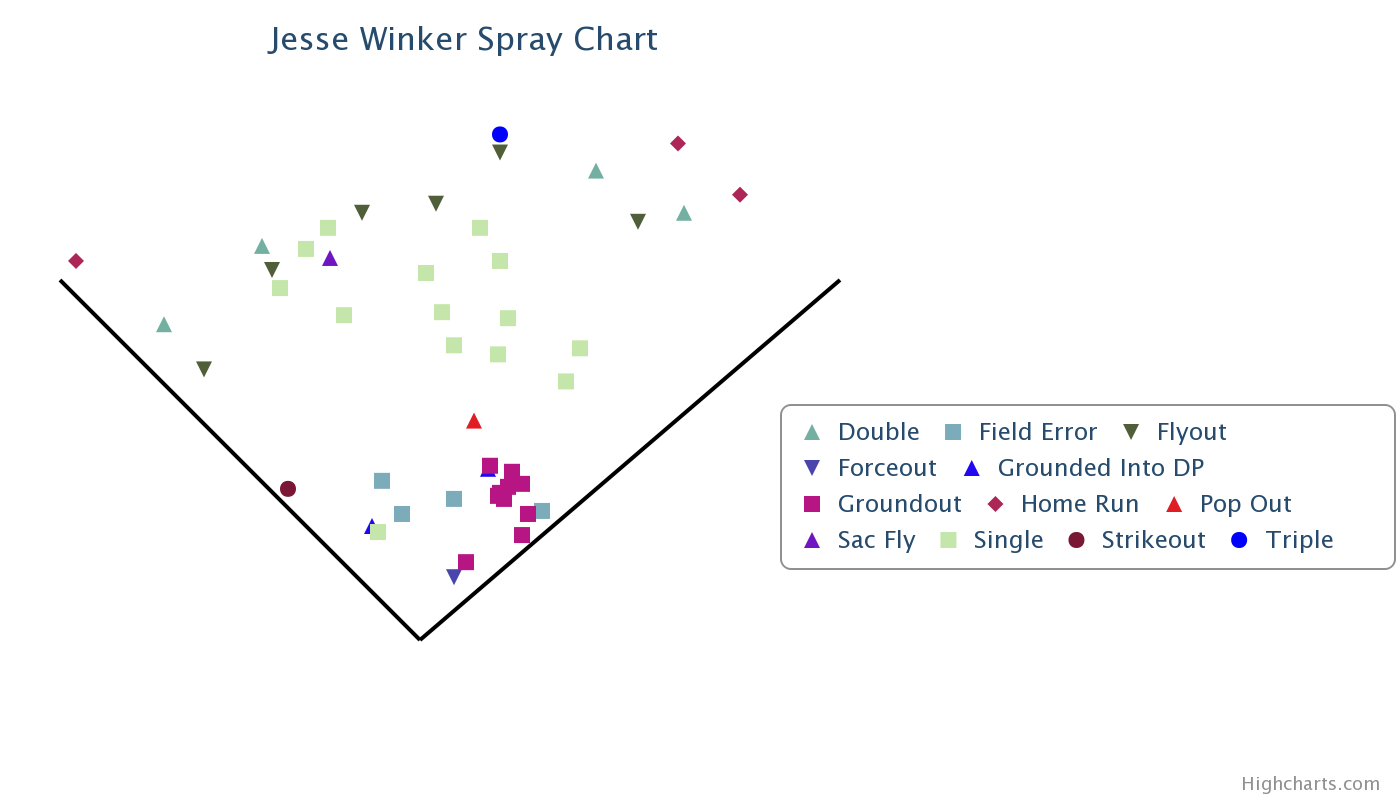 (All spray charts sourced from MLBFarm.com)
Hunter Renfroe, OF, SD - Renfroe did not start the Fall Stars Game, but homered in his first at-bat against Angels right-hander Trevor Gott on Saturday night. His 2014 campaign was split nearly evenly between High-A Lake Elsinore and Double-A San Antonio, but his numbers post promotion featured a .660 OPS after he punished Cal League pitching at a .935 clip. One particularly encouraging sign is that Renfroe showed improved plate discipline following the promotion, and it may not be long before he's ready to contribute in San Diego. Although he finished the season as RotoWire's 27th ranked prospect, Renfroe seems to get overlooked by some owners due to his future home park in San Diego. As a right-handed bat with pop to all fields, the cavernous nature of Petco Park won't be as damaging to his production as it is for lefties. If all goes according to plan, Renfroe and Rymer Liriano will man the corner-outfield spots for the Padres for years to come.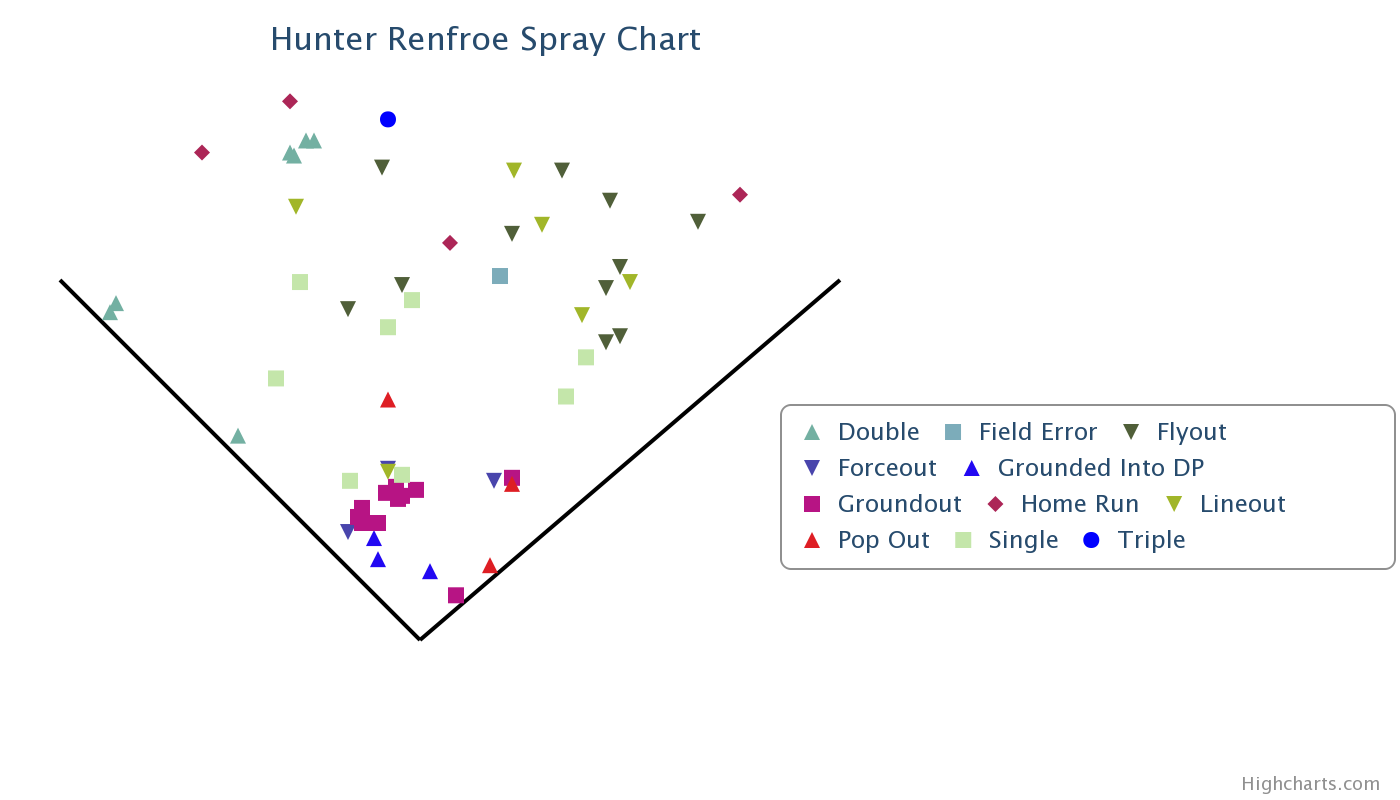 Francisco Lindor, SS, CLE - Defense continues to be Lindor's best tool, but he's not far away from contributing in Cleveland. While the Indians insist that he'll likely begin the year back at Triple-A Columbus, perhaps a strong showing in Arizona during spring training will change that plan. Short term, he may end up buried in the bottom third of the Cleveland lineup, which will limit his chances to pile up runs scored, but the long-term expectation continues to point toward a premium shortstop with good on-base skills, moderate power, and the ability to steal plenty of bases. Between Double-A and Triple-A in 2014, Lindor swiped 28 bags, but he was caught 16 times - suggesting that there is still some work to be done in terms of his ability to properly read opposing pitchers.
Roman Quinn, CF, PHI - Injuries have prevented Quinn from playing full seasons in each of the past three campaigns, but his long-term value to fantasy owners may significantly exceed his value to the Phillies. Thanks to the development of J.P. Crawford, Quinn has moved to center field. Just 21 years old, the switch-hitting outfielder has delivered at least 30 steals in each of his first three professional seasons. Listed at 5-foot-10 and 170 pounds, Quinn has shown a modicum of pop while demonstrating the ability to drive the ball to the gaps and use his blazing speed (3.84 seconds from home plate to first base) effectively. The strikeout rate (20.9% at High-A) is on the high side for a speedster, but he's shown that he can draw walks (BB% > 9.0%) in each of the past three seasons while walking more than he's struck out in the Fall League. Another full season of development time in the minors seems likely in 2015, but in an organization that lacks quality tablesetters, Quinn appears to have a bright future in Philadelphia.
Dalton Pompey, CF, TOR - Pompey received a taste of Toronto in September, going 9-for-39 (.231) with a homer and four RBI along with a stolen base in 17 games. Considering that he started 2014 in the Florida State League (High-A), it was a rapid rise. With Colby Rasmus on the open market as a free agent, the Jays may look to Pompey as their new center fielder. It's entirely possible, however, that they'll opt to find a veteran stopgap to begin 2015 before turning the job over to him full time. Pompey's defense alone should enable him to stay in the lineup regularly, and his ability to effectively switch-hit has produced a steady line against both lefties (.266/.350/.418) and righties (.285/.380/.422) during his ascent through the Toronto system. The speed that supports his plus defense will also make him a threat to steal bases, as evidenced by his 44-for-51 mark across four levels in 2014.
Eddie Rosario, OF, MIN - Rosario missed time at the start of 2014 due to his second positive test for a drug of abuse (marijuana). After a quick stop at High-A Fort Myers, Rosario returned to Double-A New Britain, where he finished his 2013 season. Now with 149 games at the level under his belt, Rosario is hitting .260/.302/.403 with 12 homers, 15 steals and 74 RBI as a Double-A player. He remains young for his level, but the off-field issues paired with his shift from second base to the outfield have undoubtedly removed some of the prospect luster. Rosario's swing is very busy, which could make him vulnerable to top-level pitchers capable of beating him consistently with high fastballs. While Rosario has been productive in Arizona and was one of the 20 best players I saw during my trip, I have plenty of doubts about his ability to hit enough to justify regular playing time as a corner outfielder, especially since the Twins are expecting Byron Buxton to man center field for a very long time.
(Video recorded by Mike Berardino of the St. Paul Pioneer Press)
Corey Seager, SS/3B, LAD - Seager is the reason that Francisco Lindor wasn't on the field as a shortstop in the Fall Stars Game, but there is still plenty of debate about his future position. The Dodgers insist that he'll stick at short, but he's more likely to end up at third base, and he may be just a year away from taking on that role in Los Angeles. Seager's plate discipline slipped after he was promoted from High-A to Double-A in 2014 (24.2% K%, 6.2% BB%), and he seems likely to spend April and May with Chattanooga before a mid-season bump to the hitter-friendly Pacific Coast League. The expectation for Seager - the younger brother of Mariners third baseman Kyle Seager - has always been that he will go on to become a more productive hitter than his brother in the long run.
Raul Adalberto Mondesi, SS, KC - There is no doubt about Mondesi's future position. He has the range, hands and arm necessary to be a premium defender at shortstop. Offensively, the switch-hitting son of the former Dodger slugger is still a work in progress. His production thus far should be graded on a curve, as he was just 18 years old for most of the season at High-A Wilmington. If he can hold his own as he continues to advance against higher quality pitching, Mondesi should prove to be a useful source of stolen bases, as he went 17-for-21 at High-A despite a .256 OBP in 2014. At the present time, his long-term value to the Royals significantly exceeds his long-term value to rotisserie-minded dynasty owners.
Daniel Robertson, SS, OAK - Scouts and prospect analysts are divided about Robertson's ability to remain a shortstop as he advances to higher levels. If the A's willingness to go all-in with the Addison Russell trade last summer is any indication, Robertson will receive every opportunity to stick at the position. He has shown adequate range in the Fall League, and enough arm to make most of the difficult throws necessary to be a quality shortstop. Just 20 years old, Robertson showed an advanced approach in the California League with High-A Stockton in 2014 (72:94 BB:K, 548 at-bats), while compiling a .310/.402/.471 line in 132 games. It remains to be seen if the surge in power was merely the function of a more hitter-friendly league, but Robertson's stock internally and in prospect circles is undoubtedly on the rise.
Aaron Judge, RF, NYY - Picture Jimmy Graham in a baseball uniform. Judge is a physically imposing right-handed hitter, standing at 6-foot-7 and offering plenty of power. Physically, he'll draw Giancarlo Stanton comps, but the expectations shouldn't be quite that high. Judge's size allows him to cover the entire plate effectively, but he's able to stay far enough off the plate where he should be able to turn on inside fastballs. For his size, Judge moves well in the outfield, but there's little reason to expect him to see more than the occasional green light as a basestealer. His arm is strong enough for him to stay in right, and he should be at least average - if not better - as a defender in the long run. Judge has a discerning eye at the plate (15.7% BB% in 2014, including AFL, despite a 22.5% K%), and should continue his ascent with a prolonged stretch at Double-A Trenton to begin 2015.
Brandon Nimmo, CF, NYM - While there are some questions regarding Nimmo's defense as a center fielder, he appears to be a relatively high-floor prospect for a high school outfielder drafted out of Wyoming. Even after a promotion to Double-A Binghamton, Nimmo showed the ability to draw walks (12.9% BB% at Double-A as a 21-year-old) despite a steady drop with his slash line. The book remains the same, Nimmo looks like a player capable of doing everything pretty well, without having a standout tool. As such, the stashing him away in keeper leagues is very format dependent, but his value is much greater to the Mets and to those in simulation formats than to traditional rotisserie dynasty leaguers.
Greg Bird, 1B, NYY - Bird swatted a homer into Javier Baez territory at Salt River Fields during the Fall Stars Game on Saturday. Observe:
In a limited sample at Double-A, Bird carried a .937 OPS over 27 games with Trenton. While he's been prone to striking out at a steady clip at each minor league stop, Bird takes his share of free passes (> 13.8% BB% from Low-A through Double-A). Mark Teixeira is signed through 2016 and the Yankees have enough aging bats to account for the DH spot this season, which may put Bird two years away from seeing regular playing time in the Bronx. The raw power is impressive, but Bird will need to handle breaking balls more effectively in order to sustain big numbers at higher levels.
Patrick Leonard, 1B, TAM - The Rays moved Leonard off of third base at High-A Port Charlotte this season, and he went on to show much better offensive numbers with the promotion from the Midwest League. At 6-foot-4, 225 pounds, Leonard possesses the athleticism necessary to be an above-average defender at first base, and the raw power desired to be considered a rising prospect at the position, although it should be noted that his power is mostly of the pull variety. In addition to moving well defensively, Leonard went 14-for-14 as a basestealer in the Florida State League this season. Further, the 20.9% K% he posted was his lowest mark as a professional. A small piece shipped back to the Rays as part of the James Shields-Wil Myers blockbuster with the Royals, Leonard will likely spend all of 2015 at Double-A Montgomery.
Dan Vogelbach, 1B, CHC - Vogelbach resembles a slightly slimmer version of Jeremy Brown from Moneyball. Listed at an even 6-feet, 250 pounds, Vogelbach was a second-round pick of the Cubs out of high school in 2011. He spent 2014 at High-A Daytona, compiling a .268/.357/.429 line on the foundation of a 16.3% K% and 11.8% BB%. Anthony Rizzo has first base locked down on the north side of Chicago for years to come, and Vogelbach will almost certainly be a trade chip for the Cubs as the organization looks to add pitching in the coming months. While the body type seems like an immediate red flag, Vogelbach has been more diligent as a professional about trying to maintain a healthier playing weight, and thus far he's been able to shed pounds without sacrificing power. He won't be able to play any position other than first base, but Vogelbach has shown the ability to hit to all fields - with plenty of power - and could be an ideal trade target for an AL club seeking a quality young bat to serve as a primary DH.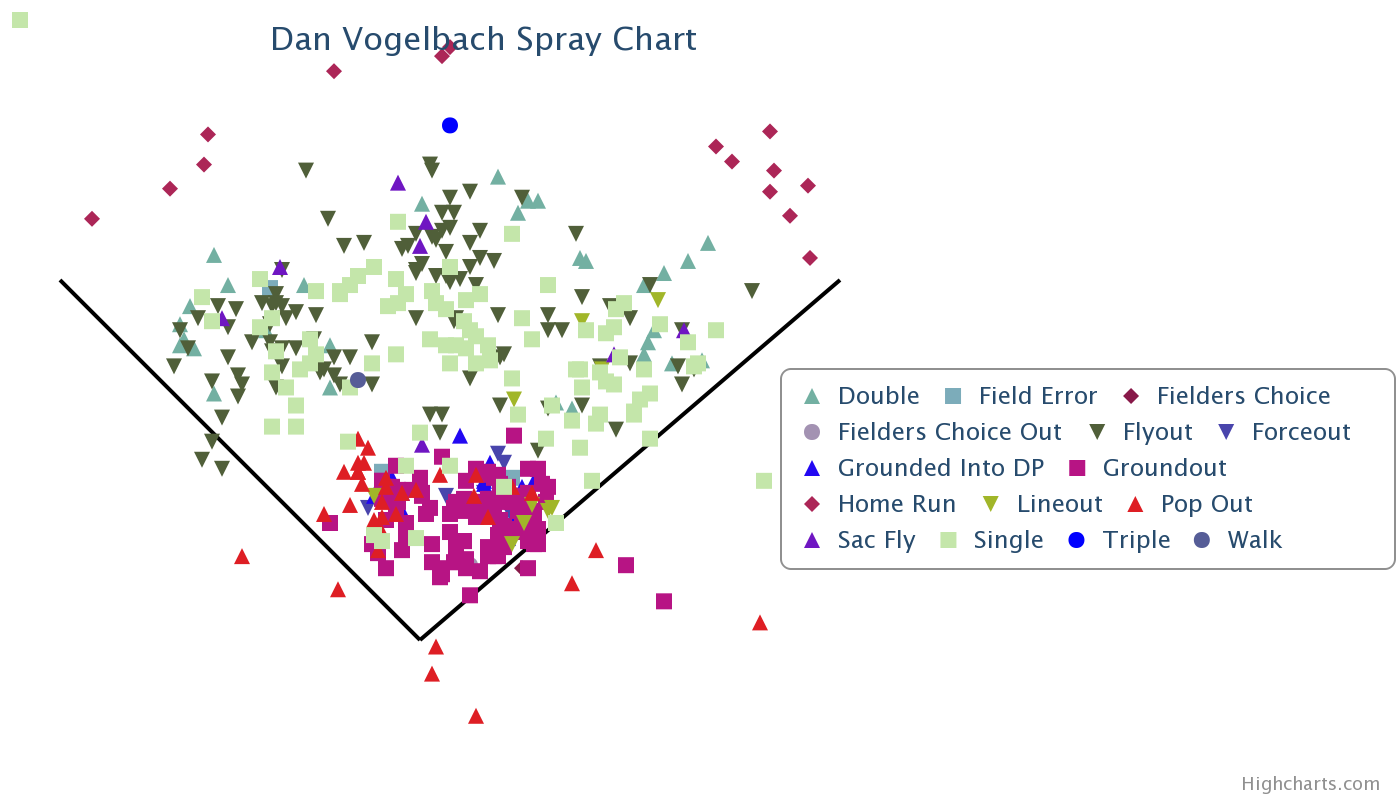 (Note: Vogelbach's spray chart includes all of his 2014 at-bats.)
Pitchers
Miguel Almonte, SP, KC - Almonte had the most impressive pitching performance that I saw in Arizona last week. The first thing that caught my attention was his willingness to work on the inside part of the plate, particularly to left-handed hitters. He commanded his fastball very well, and worked off the pitch (93-94, topping out at 96 mph) to set up the changeup (83-84 mph) and curveball (76-78 mph). Just 21 years old, Almonte will likely move up to Double-A in 2015, where he'll look to improve upon the 4.49 ERA he posted at High-A Wilmington this season. At 6-foot-2, there is still room for projection on his 180-pound frame. Further, Almonte has shown the ability to pound the strike zone consistently at each minor league stop, carrying a sub 3.0 BB/9 in each of his first three professional seasons. If the secondary pitches continue to develop, the ceiling here appears to be that of a No. 2 starter.
C.J. Edwards, SP, CHC - Edwards, the Cubs' top pitching prospect, appears to have the 6-foot-3, 170-pound frame that he's credit with. He's very skinny, and most of that frame comes from Edwards' long legs. If he were graded purely off of stuff and production to this point in his career, Edwards would likely be much higher on prospect lists. Walks have been an occasional issue for Edwards, as he's issued 73 free passes in 182 innings, but he's offset that with 220 strikeouts and just two home runs allowed as a professional. It's also worth noting that Edwards has been excellent against Top 20 prospects, carrying a 26.1% K% and allowing a .188 average against them over the past two seasons. Durability is the primary concern with Edwards, especially after a right shoulder strain cost him nearly four months to begin the 2014 season. He'll likely return to Double-A to start 2015, with the hope of pushing his way to the big leagues before season's end, but a strict innings cap seems very likely.
Archie Bradley, SP, ARI - Bradley started the Fall Stars Game, tossing a pair of innings and flashing the skills that have led some to tag him as the best pitching prospect in baseball at various points in the past 12 months. Having pitched just 83 innings in 2014 due to an elbow injury, Bradley is attempting to make up for lost development time in Arizona. In his most recent Fall League outing, Bradley was sitting at 94 mph with his fastball, while also showing a changeup and slider, though the latter offering his been identified as a cutter at times. Mechanically, Bradley has a very clean delivery and there is nothing that stands out as a problematic with regard to the elbow injury he had last season, or with the ongoing command issues he's displayed. With a good showing in spring training, Bradley could put himself in position to be an early-season callup for Arizona as the D-backs look to rebuild their injury-ravaged rotation.
Tyler Glasnow, SP, PIT - Standing at an imposing 6-foot-7, Glasnow looks the part of a future workhorse. While I was not logging his times to the plate, Glasnow appeared vulnerable to the running game, as he allowed three successful stolen-base attempts in the short outing (his catcher on this day was Pirates farmhand Elias Diaz, arguably one of the better defensive options at the position in the AFL this season). Further, Glasnow showed an overreliance on his fastball, only throwing his curveball in trouble spots instead of utilizing the pitch consistently. One challenging aspect of evaluating players in the Fall League is that it's not always clear if they are under strict limitations from their club. In Glasnow's case, it would hardly be surprising if the Pirates are pushing him to throw more fastballs than usual with the hope that he will develop more consistent command with the pitch. The Pirates have been bringing Glasnow along at one level per season thus far in his development, and it seems likely that he'll see an entire year at Double-A Altoona in 2015.
Roberto Osuna, SP, TOR - Osuna had Tommy John surgery in July of 2013, and his work in the Fall League has been part of his limited exposure to game situations post operation. Prior to going down with the injury, Osuna impressed as an 18-year-old in the Midwest League, carrying a 51:11 K:BB over 42.1 innings while pitching to a surprisingly-high 5.53 ERA. The Jays pushed him to High-A once he was ready to pitch in 2014, and he appears to be on a fast track despite the lost time. Working in relief in Arizona, Osuna's fastball was in the 92-95 mph range on Tuesday night, while he was showing a high-70s changeup to keep hitters off balance. Historically, he's utilized a curveball as a third pitch, but it didn't appear to be part of his arsenal for the fall. Osuna is polished for his age, having pitched professionally in Mexico as a teenager prior to signing with Toronto.
Mark Appel, SP, HOU - Appel burned me in keeper formats in 2014, as I expected him to cruise through the Astros' system in the first half and become an immediate contributor as a top 40-50 starting pitcher. Instead, he was hammered at High-A Lancaster, struggling with the extreme hitter-friendly environment and the Astros' tandem starter development plan. The reviews have been more bad than good, and it would be easy to jump on the anti-Appel bandwagon and bury him. After all, Appel spurned the Pirates when he was selected eighth overall in 2012, returning to Stanford for his senior year and going first overall to the Astros a year later.
Appel had his best inning in the start I saw before I was even in my seat (more on that below), and he scuffled in a big way while working from the stretch, leaving pitches out over the plate and making himself vulnerable to steady hard contact. The arsenal was still impressive - featuring a 95-97 mph fastball, 87-mph slider and a few changeups - according to Jim Callis of MLB.com. The expectations for a No. 1 overall pick are always sky high, and perhaps Appel won't be the true ace the Astros were hoping for upon drafting him, but he should develop into a quality major league starter with the potential to miss a lot of bats if he can put all of the pieces together.
Outside the Top 20
D.J. Peterson, 3B, SEA - Peterson only played part of the Fall Stars Game, and I didn't get a good look at him in the Thursday night game. With a combined .297/.360/.552 line and 31 homers between High-A High Desert and Double-A Jackson, there's plenty to like here.
Steven Moya, OF, DET - Moya has shown no sign of figuring out lefties, which may ultimately lead him to a platoon role as a big league player. For dynasty purposes, there is more to dream on with Moya than with guys like Nimmo and Rosario, but there is considerably more downside thanks to the swing-and-miss he's shown to this point. In six years as a professional, Moya has a .295 OBP.
Tyler Austin, OF, NYY - Injuries have skewed his overall numbers, but Austin looks like a potential regular. His overall production has been dimished by injuries to this point, and it remains to be seen if he can display consistent power against higher-level pitching.
Andrew Aplin, OF, HOU - David DeJesus 2.0?
Rio Ruiz, 3B, HOU - Plenty of arm for third base, perhaps just mobile enough to stick at the position. Ruiz is a big, left-handed bat yet to show the game power expected for a player with his size. That said, he's been very young for his level thus far and it's easy to see the potential for a big step forward at Double-A in 2015.
Peter O'Brien, C/1B, ARI - Most likely, he's in the wrong organization. O'Brien was the return in the traded that allowed the D-backs to discard Martin Prado's contract to the Yankees last summer. He has a strong enough arm to catch, but the receiving skills and ability to consistently control the running game are still a work in progress. O'Brien has a loud bat, but needs to improve his eye at the plate against higher-quality pitching.
Josh Bell, 1B, PIT - Bell walked a lot in the games I saw, which is nice, but did little to reveal his hit tool. He didn't stand out as a top-50 overall prospect, but he wasn't completely lost either.
Jace Peterson, SS, SD - Peterson has speed and good on-base skills, unfortunately, I didn't get a good look at them.
Trevor Story, SS, COL - I saw him mostly in DH role. Perhaps an average hitting shortstop - if he stays at the position - in the long haul with the typical boost that Colorado hitters receive at Coors Field.
Francellis Montas, SP, CHW - Montas has great stuff, and was the first pitcher off the list above. His outing in the Fall Stars Game was marked with inconsistent command, but there is plenty of velocity here. Considering the step forward that he took in 2014 and that the White Sox got him in the Jake Peavy deal in 2013, the trade looks like a very nice one for general manager Rick Hahn.
Tyrell Jenkins, SP, STL - Jenkins doesn't throw as hard as you would expect for a pitcher his size. If he stays down in the zone, he should continue to induce a lot of outs on the ground. In the outing I saw Tuesday, Jenkins lacked a pitch that could consistently generate whiffs.
Clayton Blackburn, SP, SF - Blackburn is huge - although he didn't appear to be as overweight as a 6-foot-2, 260-pound listed height-weight would suggest. At the very least, he's a steady two-pitch starter capable of chewing up innings in the back of the rotation for the Giants in the not-so-distant future.
Felipe Rivero, SP, WAS - I saw Rivero twice, and it was the tale of two completely different outings. In his second start, Rivero was showing a mid-90s fastball and a useful breaking pitch. Spot duty for the Nationals in 2015 may be a possibility, but more likely his first taste of the big leagues comes in September as an extra lefty out of the bullpen.
Vincent Velasquez, SP, HOU - Velasquez was leaving pitches out over the plate in his start Tuesday, and he was struggling to utilize secondary pitches against lefties. It was later revealed that he suffered a minor lat strain in the outing. The previous reports that I was privy to were encouraging.
Guys I Did Not See
Byron Buxton, CF, MIN - A broken finger ended Buxton's AFL stint before I arrived in Phoenix. The injury was his third of 2014, a lost season in his development that will likely keep him in the minors for all of 2015. Still, when I saw Buxton in 2013 with Low-A Cedar Rapids, it was easy to see the superstar potential that he possesses.
Addison Russell, SS, CHC - Russell's departure from the Fall League was not injury related, but he was struggling at the plate and seeing time at second base, even though he's expected to be the Cubs' shortstop of the future. His numbers at Double-A Tennessee after he was acquired in the Jeff Samardzija deal - .294/.332/.536, 12 HR, 36 RBI - were very impressive for a 20-year-old at that level. It will be interesting to see if the Cubs bump him up to Triple-A Iowa to begin 2015.
Matt Olson, 1B, OAK - Olson chipped in four homers in 11 games during the Fall League, but he was removed from the Fall League due to a shoulder injury following a collision at first base. His 2014 campaign ends with a combined 41 home runs between High-A Stockton and the AFL, and he'll look to push up his stock even further as a 21-year-old at Double-A in 2015. In addition to displaying tremendous raw power, Olson drew 117 walks in 634 plate appearances with the Ports (18.5% BB%) in 2015.
Tim Anderson, SS, CHW - Anderson is spending the fall in Arizona after missing significant time in 2014 with a wrist injury. His eye at the plate is still a work in progress, but the raw tools here are reportedly excellent.
Trea Turner, SS, SD - Turner offers 80 speed, not surprisingly earning the moniker "Turner the Burner" from those who have seen him. A "taxi squad" player in the AFL, Turner is limited to two games per week. The 13th overall selection in the first-year player draft in June, Turner should cruise through the Padres' system quickly after a successful three-year career at North Carolina State where he stole 113 bases in 127 attempts over 173 games.
Clint Coutler, OF, MIL - Coulter had a huge breakout at Low-A Wisconsin in 2014, but unfortunately, I didn't see his Fall League club (Glendale) over the course of the week. Previously a catcher, the Brewers are moving him to right field on a permanent basis. If the 2014 line is any indication (.287/.410/.520, 22 HR, 89 RBI), Coulter's bat should play just fine with the move.
Food & Drink
Four Peaks Brewing Company (Tempe location on 8th St.) – Talk to Trevor if you sit at the bar – Four Peaks is a growing craft brewery that is closing in on 20 years in the Valley. The beer is very good, and I would recommend their signature beer "Kilt Lifter" – a Scottish style ale or the seasonal Pumpkin Porter if you visit in the fall. The food was very good too, although our group stuck with the Thai Hummus and Nachos for appetizers. Grade: 65/80
Casella's Italian Delicatessen - Chicago-style Italian Beef, and a variety of other meats prepared in-house. This was the lunch stop prior to Mark Appel's Friday start, and it's definitely worth seeking out if you're seeking a great sandwich near Salt River Field (less than 10 minutes from the park). Casella's has been in business for 37 years and it's easy to understand why. Grade: 65/80
Los Sombrero's - Spoiler Alert: There is a lot of Mexican food in Arizona. I haven't eaten as much of it as you might think, but Los Sombrero's handled our very large group capably and the dishes were comprised of fresh ingredients. The smoked chicken enchiladas I ordered were flavorful, and the presentation was very good. Grade: 60/80
Whatabuger - I might have ordered the wrong item - Jalapeno & Cheese burger with onion rings - but this was a mediocre fast food burger. Sure, I'd go back as opposed to the gross nationwide mega chains, but compared to the likes of Culver's, In-N-Out and Five Guys, Whataburger is currently a distant fourth for me. Grade: 45/80