With the NBA wrapping up seeding games Friday, it's time to turn our attention toward the postseason. The league's abrupt hiatus, spanning from mid-March until the end of July, virtually ended all season-long fantasy leagues, but the competition picks back up in the playoffs.
Whether you're playing in a draft-and-hold league, or one that allows for a new roster at the start of each round, we've got you covered. The following rankings are intended for leagues that allow for few, if any, transactions throughout the postseason – that is, the players you draft before the playoffs begin are who you're stuck with the rest of the way. With that in mind, projecting games played, and series results, is a key factor.
These rankings don't aim to predict what's going to happen over the next two months, but they're tilted in favor of teams that project to progress further – especially those with favorable matchups in Round 1.
Rather than simply ranking each fantasy-relevant player, we opted to divide the pool into a series of tiers. Within each tier, players are sorted in order of value, but the difference between, say, the third and sixth player in a given tier is not overly significant.
MORE: NBA Roundtable – Previewing the Playoffs
MORE: NBA Fantasy Postseason Draft Review
The tiers can also be adapted to leagues like the NFBKC's Postseason contest, which employs its own unique set of rules. Rather than a traditional draft, the league operates like one giant pool, where each manager selects a new team at the start of each round.
To begin Round 1, one player from each team must be selected to fill out a 16-man roster. As the player pool dwindles, team rosters shrink to 12 players. Managers can select up to two players from the same team in Round 2 and three players from the same team in Round 3. For the NBA Finals, rosters consist of eight players (four from each team). In the NFBKC contest, there's more room for error as the playoffs progress, but these rankings can serve as a general guide.
Tier 1: Potential No. 1 Overall Picks

Giannis Antetokounmpo, Bucks
This is pretty straightforward. The Bucks are the favorite to come out of the East and Giannis is one of the best players in the NBA. Since January, the presumptive back-to-back MVP is averaging 28.6 points on 19.0 shots, 14.4 rebounds, 5.5 assists and 1.6 combined steals-plus-blocks in 29.9 minutes.

LeBron James, Lakers
James didn't look quite like himself during seeding games, but there's no player in the NBA with a more proven track record of playoff success. The Lakers will face a tougher-than-usual matchup in Round 1, but they're still the Vegas favorite to make the Finals for a reason.

Kawhi Leonard, Clippers
Leonard carried the Raptors all the way to the title last season, and he'll have a good chance to do it again with arguably an even better supporting cast.

Anthony Davis, Lakers
Davis and the Lakers have a tough path through the West, but a matchup against the Rockets or Clippers should provide him an opportunity to feast against smaller centers, even if the series ends up in a loss. Since the New Year, Davis is averaging 24.9 points on 16.2 shots, 9.3 rebounds, 3.1 assists and 3.6 combined steals-plus-blocks in 33.6 minutes. He's also hitting 37.9 percent of his threes over this stretch.

Paul George, Clippers
George is the No. 2 option for the second-seeded Clippers and should continue serving up stat-sheet-stuffing performances. In his first six seeding game appearances, he averaged 25.5 points on 18.0 shots, 5.2 rebounds, 3.8 assists and 2.0 steals in 32.8 minutes.

James Harden, Rockets
The Rockets aren't on the same level as the Bucks or the Los Angeles teams, but Harden's individual numbers propel him into Tier 1. Even if the Rockets are eliminated in Round 2, Harden's production – 34.4 PTS, 7.6 AST, 6.6 REB, 1.9 STL, 0.9 BLK – warrants consideration over some safer options like Khris Middleton, Kyle Lowry or Pascal Siakam.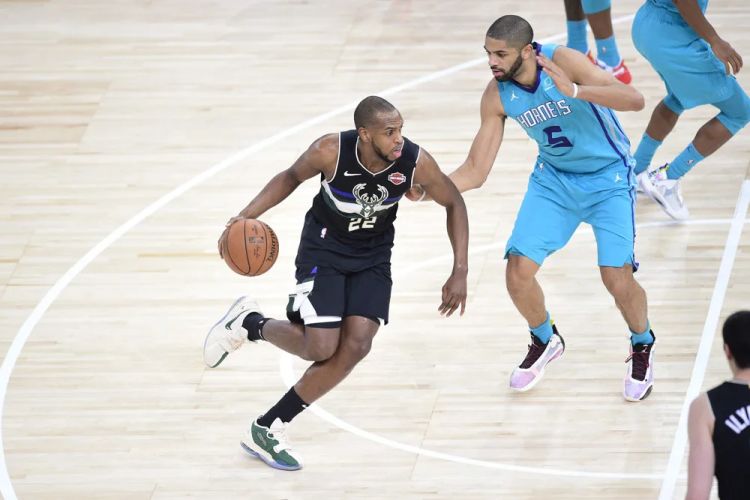 Tier 2: Established Stars on Great Teams

Khris Middleton, Bucks
If the Bucks make it to the Finals, Middleton will be one of the most productive postseason players. He's turned himself into a great all-around player in addition to a knock-down shooter. Since the New Year, Middleton is averaging 22.8 points on 16.0 shots, 6.7 rebounds and 4.7 assists in 31.7 minutes.

Pascal Siakam, Raptors
There are better players than Siakam in Tier 3, but the Raptors' stability and track record of playoff success makes him the more reliable fantasy option.

Kyle Lowry, Raptors
The veteran has been prone to wild swings in production from game-to-game, but he's still the offensive engine for the Eastern Conference team best built to challenge Milwaukee for a Finals berth.

Fred VanVleet, Raptors
VanVleet proved last playoffs just how dangerous he is, and he continued that for the entirety of this season, averaging 17.6 points, 6.6 assists, 3.8 rebounds and 1.9 steals for one of the best teams in the league.

Nikola Jokic, Nuggets
The Nuggets are by no means as bulletproof as Milwaukee and Toronto, but they'll be favored in Round 1, and Jokic is far and away their best and most productive player. Getting two full rounds from Jokic would be fine, but the upside of a Conference Finals berth makes him worth a gamble.

Eric Bledsoe, Bucks
Playoff inconsistency is a major question mark, but Bledsoe is locked into a starting role for the team with the best chance to go all the way. In 60 regular season games, Bledsoe averaged 15.1 points, 5.4 assists and 4.7 rebounds.
Tier 3: Established Stars on Good Teams

Jayson Tatum, Celtics
Only one of Tatum and Embiid will still be playing in Round 2, but the fully-healthy Celtics will enter the series with the advantage. Tatum ascended toward star status this season, highlighted by a 20-game run when he averaged 28.8 points on 50 percent shooting, with 7.6 rebounds, 3.2 assists, 1.4 steals and 1.1 blocks.

Jimmy Butler, Heat
Butler is the No. 1 option on a team poised for the second round of the playoffs, and he's a top-flight defender as well. Since the New Year, he's averaging 19.1 points on 12.3 shots, 6.7 rebounds, 5.5 assists and 2.1 combined steals-plus-blocks in 32.1 minutes.

Bam Adebayo, Heat
Going against the Pacers in the first round likely won't be a cakewalk, but the Heat should be favored, making Adebayo a strong option. Since the New Year, he's averaging 16.2 points, 9.8 rebounds, 5.5 assists and 2.3 combined blocks-plus-steals in 32.8 minutes.

Joel Embiid, 76ers
Should be able to feast against the Celtics' frontcourt in Round 1, but Ben Simmons' absence makes the 76ers a candidate to go home early. If he advances to Round 2, Embiid will likely be one of the best fantasy postseason centers even if the 76ers fail to go further.

Chris Paul, Thunder
With the news that Russell Westbrook will be sidelined for, at minimum, the start of the first round against the Thunder, Paul becomes a more enticing pick for the fantasy postseason, as it's more likely OKC will be able to get into the second round. CP3 has been excellent in his age 34 season, averaging 17.6 points on 12.7 shots, 6.7 assists, 5.0 rebounds and 1.6 steals in 31.5 minutes.

Kemba Walker, Celtics
The health of Walker's knee may ultimately determine the Celtics' ceiling, but he moved well during seeding play and shouldn't have much, if any, of a minutes limit in the playoffs.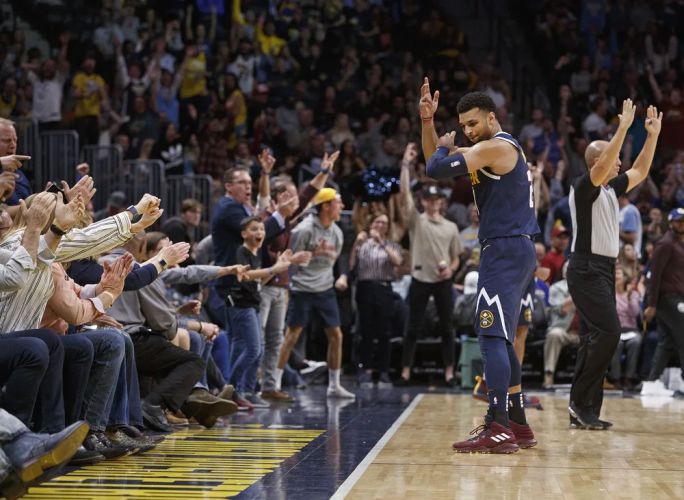 Tier 4: High-Upside Risks

Jamal Murray, Nuggets
The Nuggets should vault into the second round, but it's not a lock, and it's possible Murray's scoring takes a dip if Michael Porter Jr. truly emerges in the postseason. Still, Murray figures to be a quality contributor, as he's averaging 18.6 points, 4.9 assists, 4.1 rebounds and 1.1 steals in 32.6 minutes per game.

Luka Doncic, Mavericks
Statistically speaking, Doncic belongs in Tier 1. But the Mavs face an incredibly difficult Round 1 matchup against the Clippers, so it's completely conceivable that Doncic only plays four or five games.

Russell Westbrook, Rockets
Normally, Westbrook would belong in Tier 3, or perhaps even Tier 2, but he'll enter the playoffs nursing a quad injury that will keep him out of "the beginning" of the Rockets' first-round series against Oklahoma City. Drafting Westbrook carries considerable risk.

Damian Lillard, Trail Blazers
Lillard has been MVP-esque in the bubble – 37.0 PPG, 9.3 APG, 4.4 RPG, 1.3 STL – but will draw the Lakers in Round 1. Considering the Blazers are expected to lose that series, it's tough to stomach drafting Lillard much higher than here.

Jaylen Brown, Celtics
If you're confident in Boston handling Philly in Round 1, then Brown could leap into the bottom of Tier 3. Brown posted career-bests in scoring, rebounding, assists, steals, blocks, field goal percentage and free throw percentage this season.

Gordon Hayward, Celtics
Aside from the Celtics possibly being bounced in the first round by the 76ers, it's crucial to take into consideration before drafting Hayward that he'll be leaving the bubble for paternity leave in September. That said, provided Boston advances, he should still provide nice numbers, as Hayward is averaging 17.5 points, 6.7 rebounds and 4.1 assists in 33.5 minutes.

Shai Gilgeous-Alexander, Thunder
A nearly-20-point-per-game scorer who gives you close to 2.0 steals/blocks per night, Gilgeous-Alexander is as solid as second-year players come. OKC faces a tough Round 1 opponent in Houston, but if they can pull the upset, Gilgeous-Alexander could be a mid-round steal.

T.J. Warren, Pacers
Like "Mike", "Magic" or "Larry", "T.J." is a name that strikes fear into opponents. With Domantas Sabonis (foot) out indefinitely, Warren has stepped up, averaging 31.0 points, 6.3 rebounds, 2.0 assists, 1.3 steals and 1.2 blocks in 36.7 minutes in bubble play. It remains to be seen if he can keep that up in his first playoff series while facing the defensive-minded Heat, but if the Pacers manage to advance, he should be extremely productive.

Tobias Harris, 76ers
Harris could take on even more offensive responsibility without Ben Simmons, but Sixers-Celtics is a coin toss, at best, so Harris' fantasy stock must be dinged appropriately.

Donovan Mitchell, Jazz
The Nuggets have some injury concerns, but they're still favored to take care of Utah in Round 1. No matter what happens, Mitchell should have a huge series, but fantasy players may only get five or six games from him.

Rudy Gobert, Jazz
See above. For as long as the Jazz are alive, Gobert projects as one of the most productive big men in fantasy. But the risk of a Round 1 loss relegates him to Tier 4.

Michael Porter Jr., Nuggets
Porter has been remarkable in the bubble – 22.0 PPG, 8.6 RPG, 1.6 APG, 1.9 combined STL + BLK – practically defining the category of high-upside risk. He's thrived with players in and out of the Nuggets' lineup, but mostly with Gary Harris and Will Barton out. When a full rotation is available, it's not clear how many minutes MPJ will receive, but if he can at least see minutes in the high-20s and the Nuggets advance past Round 1, he figures to be a helpful fantasy asset.

Myles Turner, Pacers
The Pacers face a tough matchup against Miami, a team that's had their number throughout the regular season. Unless you're confident in Indiana pulling the upset, don't go out of your way to target Turner in drafts.

Jusuf Nurkic, Trail Blazers
As vulnerable as the Lakers may be, Portland pulling the Round 1 upset would be a major surprise.

Kristaps Porzingis, Mavericks
The Porzingis-Doncic duo has been fantastic in Orlando, with the big man averaging 30.5 points, 9.5 boards and 1.5 blocks to go with a 48/38/89 shooting line. With that said, the pair has a combined zero games of playoff experience, so pulling the upset over the Clippers is probably too much to ask.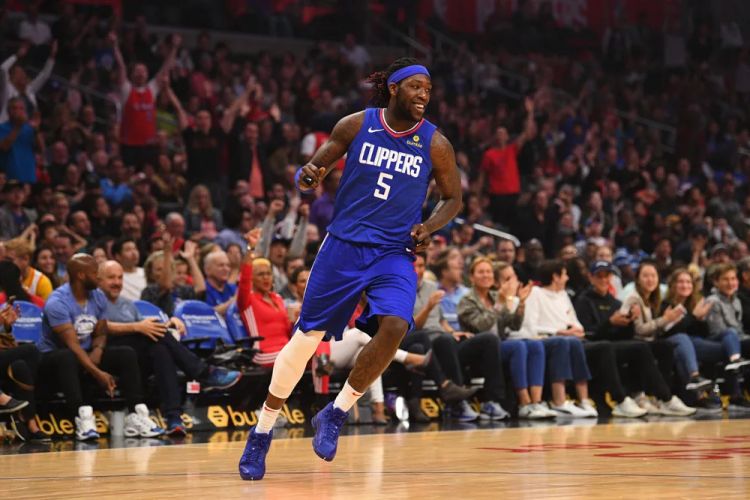 Tier 5: Low-Risk Rotation Players

Lou Williams, Clippers
Williams has never been a great fantasy option, but he's on the safest team in the Western Conference. In 65 games, Williams put up 18.2 points and 5.6 assists per game.

Montrezl Harrell, Clippers
It's fair to be concerned about Harrell's conditioning, but even if he uses Round 1 as a warmup, he'll be a nightly double-double threat off the bench as long as the Clippers are alive.

Brook Lopez, Bucks
Lopez could easily lead the playoffs in total blocks. He's also looked revitalized in the bubble, averaging 20.7 points (48.5 3Pt%), 5.2 rebounds and 2.2 blocks in 29.2 minutes per game.

Kyle Kuzma, Lakers
Kuzma has been one of the very few bright spots for the Lakers during seeding play, hitting 46 percent of his field goals, including 44 percent of his 5.1 threes per game.

Serge Ibaka, Raptors
Ibaka is less consistent than he used to be, but he's still capable of a double-double on any night. He'll continue to split minutes with Marc Gasol, but Ibaka is the more versatile of the two.

Marc Gasol, Raptors
Gasol's numbers are down considerably from his peak, but he's been the full-time starter in Orlando and will benefit from what's expected to be a lengthy playoff run.

Norman Powell, Raptors
Powell finally came into his own in his fifth NBA season, and he's carried over his strong play to the bubble. In his last five seeding games, Powell averaged 15.8 points and 4.0 rebounds while hitting 46 percent of his threes.

Ivica Zubac, Clippers
Zubac can do a lot with a little, averaging 8.3 points, 7.6 rebounds, 1.2 assists and 1.1 combined steals-plus-blocks in 18.5 minutes this season. Assuming the Clippers at least make it to the Conference Finals, he should be one of the more productive centers overall.

George Hill, Bucks
A steady presence for the Bucks, Hill can be relied upon to play sixth-man minutes and possibly more if Eric Bledsoe struggles again. Since the New Year, he's averaging 8.1 points, 3.2 assists and 2.7 rebounds in 21.7 minutes.
Tier 6: Role Players on Good Teams

Will Barton, Nuggets
An injury kept Barton out of all of the Nuggets' seeding games. On top of the physical concerns, Michael Porter Jr. played so well in Barton's absence that it'll be difficult for the Nuggets to keep the young forward off the floor.

Paul Millsap, Nuggets
The veteran didn't look great during seeding play, but he's locked in to around 25 minutes per night for a team with a favorable Round 1 matchup.

Robert Covington, Rockets
If Houston makes a run to the Western Conference Finals, Covington will be a major reason why. He hasn't shot the ball well since joining the Rockets, but he's a keystone on the defensive end. Since the All-Star break, Covington is averaging 3.8 steals + blocks per game.

Marcus Smart, Celtics
Should be one of the best sources of defensive stats in the playoffs on a per-game basis. During the regular season, averaged 12.9 points, 4.9 assists, 3.8 rebounds and 2.2 combined steals-plus-blocks.

Goran Dragic, Heat
Sharing time with Kendrick Nunn hurts Dragic's upside, but he still averaged 16.2 points and 5.1 assists per game this season.

Danilo Gallinari, Thunder
A proven scorer who has a chance to advance past the first round. Posted season averages of 19.0 points, 5.3 rebounds and 2.0 assists in 29.9 minutes.

Al Horford, 76ers
In danger of being bounced in the first round by his former team, the Celtics. With that said, Horford has 120 playoff games of experience under his belt and will need to take on a more prominent role with Ben Simmons (kneecap) out.

Josh Richardson, 76ers
Richardson had somewhat of a down regular season, but he'll be one of several players tasked with making up for the absence of Ben Simmons. If the Sixers can get past Boston, Richardson, Tobias Harris and Al Horford will all be significant value picks.

Dennis Schroder, Thunder
A strong Sixth Man of the Year candidate, Schroder figures to continue playing a crucial role for OKC in the postseason. However, he may be slow out of the gate since he left the NBA bubble for about two weeks.

OG Anunoby, Raptors
Extremely important to Toronto's defensive scheme, Anunoby's value doesn't translate seamlessly to fantasy. Still, he was good for 10.6 points, 5.3 rebounds and 2.1 blocks/steals per game during the regular season.

Steven Adams, Thunder
Adams provides quality rebounding numbers and the often low-scoring double-double. He figures to be a nice fantasy value if OKC can make it to the second round.

Malcolm Brogdon, Pacers
Brogdon averaged 18.6 points, 6.4 assists and 6.0 rebounds in seeding play but draws a tough first-round matchup against the Heat.

Victor Oladipo, Pacers
Performed just O.K. in the seeding games, averaging 16.0 points, 5.7 rebounds, 2.8 assists and 1.0 steals in 31.7 minutes. Jimmy Butler may shadow him in Round 1.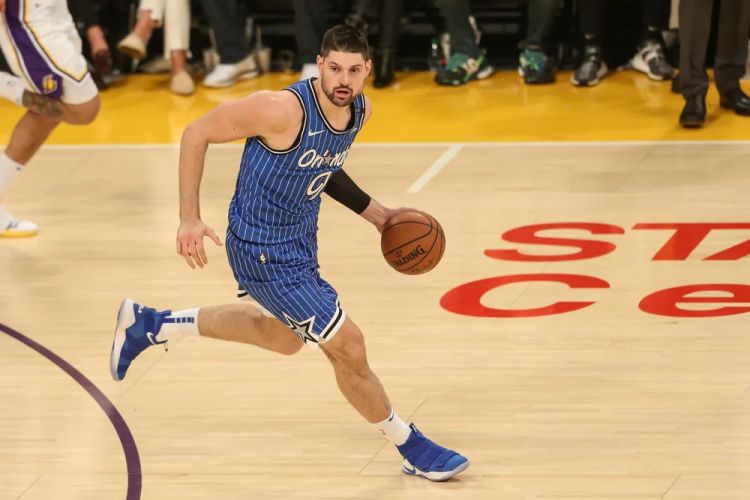 Tier 7: Short-Term Flyers

Joe Ingles, Jazz
The Jazz should be plenty competitive against Denver in Round 1, but Ingles' inconsistency this season is a concern. If he only plays one series, Ingles' upside is quite limited.

Nikola Vucevic, Magic
The focal point of a team destined for a first-round exit. Since the New Year, averaging 20.3 points, 11.1 rebounds, 3.7 assists and 1.4 combined steals-plus-blocks.

Caris LeVert, Nets
As expected, LeVert has stepped up as the Nets' primary offensive option, but there's a good chance he only plays four playoff games.

Jarrett Allen, Nets
Allen averaged a double-double, plus 4.2 assists per game, during seeding play, but the Nets are simply overmatched against a Raptors team that hasn't missed a step.

Aaron Gordon, Magic
Gordon missed the Magic's final four seeding games, and it's unclear what his status will be for the playoffs. Even if he is 100 percent, the Magic are getting bounced in the first round. In a best-case scenario, he might net you around 85 points, 45 rebounds, 20 assists and 10 steals-plus-blocks.

Joe Harris, Nets
Will be a good source of threes while the Nets are alive. Averaging 20.2 points (3.8 threes), 4.6 rebounds and 2.0 assists in the bubble.

CJ McCollum, Trail Blazers
The Blazers are expected to lose in Round 1, and McCollum is playing through a fractured back. He can maybe still get around 20 points per game, but it may be inefficient and short-lived.

Carmelo Anthony, Trail Blazers
Anthony is playing his best basketball of the season in the bubble, and if the Blazers push the Lakers in Round 1, he'll be a major reason why. He averaged 22.3 points and 7.3 rebounds over a key, three-game stretch during seeding play.

Tim Hardaway Jr, Mavericks
Always capable of heating up in a hurry, Hardaway projects as a good source of scoring and three-pointers for as long as Dallas can stay alive against the Clippers.
Tier 8: The Rest
Marcus Morris, Clippers
Dion Waiters, Lakers
Alex Caruso, Lakers
Patrick Beverley, Clippers
Landry Shamet, Clippers
Kentavious Caldwell-Pope, Lakers
Dwight Howard, Lakers
Eric Gordon, Rockets
Gary Harris, Nuggets
JaVale McGee, Lakers
Reggie Jackson, Clippers
Donte DiVincenzo, Bucks
Shake Milton, 76ers
Duncan Robinson, Heat
Kendrick Nunn, Heat
Daniel Theis, Celtics
Markelle Fultz, Magic
Terrence Ross, Magic
Hassan Whiteside, Trail Blazers
Gary Trent Jr., Trail Blazers