This article is part of our NBA Draft series.
As the 2020 NBA Draft nears, speculation is heating up and rumors continue to swirl. With just over two weeks until the big night, Anthony Edwards, James Wiseman and LaMelo Ball remain the prohibitive favorites to come off the board early. But in a draft with unprecedented obstacles, and so much inherent uncertainty, nothing is guaranteed.
To help sort things out, Nick Whalen and James Anderson give their takes on five key questions leading up to November 18:
If one of the top prospects falls, which team lower in the draft could you envision moving up? Atlanta, coincidentally, is reportedly looking to move the No. 6 pick for a win-now piece.
Anderson: If the Pistons or Knicks think one of those guys is a franchise cornerstone, I could see them trying to move up. Getting a likely role player won't be an appealing outcome for either of those franchises. I'm sure the Celtics will be trying to package their picks in a consolidation trade, and I could see them trying to trade up if they love a guy.
Whalen: If, say, Ball were to get past the Cavaliers at five, then we could see a handful of teams scrambling to move up to the Hawks' pick at No. 6. With three picks in the first round, Boston has the most ammunition of the teams outside of the top 10. The question is whether getting 14, 26 and 30 is enough to pass on the chance to develop a player like Ball – even if a front office is relatively low on him.
San Antonio at 11 is another team to watch, as both DeMar DeRozan and LaMarcus Aldridge could be on the table, though each would come with significant cap implications. Phoenix at 10 is another team I could see being active. The Suns have the Kelly Oubre expiring they could trade. And finally, the Thunder at 25 have more firepower – when it comes to future draft picks – than any team in the league.
Who is the prospect (or prospects) that you're considerably lower on than most?
Anderson: I touched on why I'm lower on Obi Toppin in last week's Q&A. I'm also lower on Anthony Edwards and Deni Avdija. With Edwards, almost everyone agrees that his effort and decision making are huge weaknesses. How often do prospects like that pan out? If we all agree he has these weaknesses that almost always lead to players busting, why are people talking themselves into him at the top of the draft? I don't get it. A drive to get better doesn't seem to be there. They're different players, but I see so much Andrew Wiggins in Edwards from an effort/drive standpoint.
With Avdija, I think he will have a long NBA career, but I would feel more comfortable taking him in the back half of the lottery than the top half. He is actually underrated as a ball handler and finisher at the rim, but I think he is overrated as a passer and I'm concerned about his three-point and free throw shooting. If he can be a 35-38 percent three-point shooter, then he will belong near the top of the draft, but I think he'll be more in the 30-34 percent range, which is obviously a less dynamic player. He will be a good passer relative to other forwards but I don't think he will be a primary ball handler, and he can't really be a secondary ball handler if defenders don't have to respect his three-point shot. I'm projecting him to be a solid rotation player who would start on a bad team and come off the bench on a good team, which is fine, but not someone I'm targeting in the top five, even in a weak class.
Whalen: I really, really want Anthony Edwards to pan out, but I'm with James; I just don't see it happening. The physical tools are there, and his best nights at Georgia were impressive, but there's just too much downside. Players with Edwards' profile either turn into superstars or end up as major busts – there's not much room in between, and that's a significant risk for any team picking in the top three.
I also get the sense that I'm a little lower on Isaac Okoro, who could go as high as fourth or fifth overall on draft night. On one hand, I'm glad teams are starting to place more value on athletic, defensive-minded wings. But on the other, I'd rather go with a higher-floor player like Tyrese Haliburton or maybe even Vanderbilt's Aaron Nesmith. While he could certainly develop a more reliable outside shot, Okoro's sub-30 three-point percentage at Auburn is a big concern.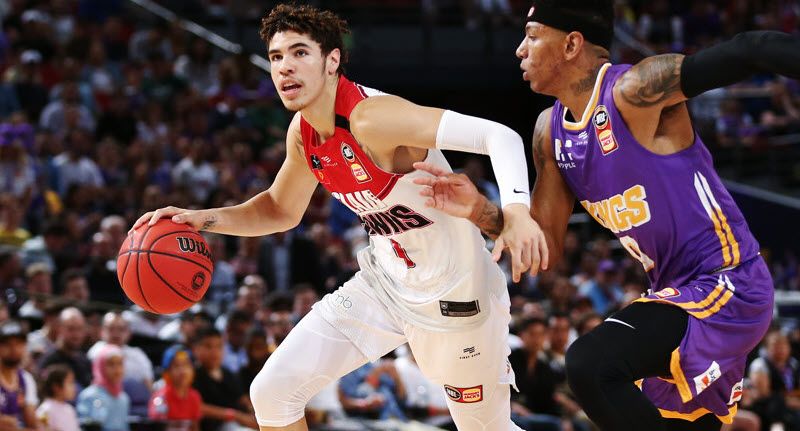 Throwing bust potential out of the window, which prospect has the absolute highest ceiling in the draft, if everything were to break right?
Anderson: LaMelo Ball. If everything breaks right he's a solid defender and a good three point shooter who improves his shot selection. I think he will be a top-15 ball handler and top-5 passer in the league without even projecting to the best-case scenario, so in a best-case scenario he could be a good shooter and one of the best passers and ball handlers in the league, which is an All-NBA caliber player. I don't think Edwards' passing/play making would allow for him to reach those levels, even in a best-case scenario, and while I think Wiseman also has an All-NBA ceiling, I'll take the primary ball handler over the center if everything else is comparable.
Whalen: Even after what I wrote about Edwards above, there's at least a 10 percent chance he could develop into an All-NBA-caliber player. Physically, Edwards is everything you'd want in a modern lead guard. His size/athleticism combination is the biggest advantage he has over the other top prospects in the class. Edwards fits the profile of a Donovan Mitchell type, though it remains to be seen if he'll ever be a good enough passer to truly function as a No. 1 option in the NBA.
Given James Wiseman's physical tools, he's the other prospect I would lean toward. In an everything goes right scenario, he could be an athletically superior Myles Turner/Karl-Anthony Towns hybrid within a few years.
Last week, we discussed the best fits for James Wiseman and LaMelo Ball. Of the teams near the top, what would be the worst landing spots for those two players?
Anderson: For Wiseman, Minnesota would be the worst landing spot because he and Karl-Anthony Towns are both true centers and that franchise doesn't have the wherewithal to be able to figure out how to make that pairing work. There's a chance it could work with a really creative coach and front office, but I don't think those pillars are in place in Minnesota. I think Ball will make his teammates better regardless of where he lands, but Charlotte, Chicago and Cleveland are potential pitfalls due to organizational dysfunction/incompetence. That said, if he fell past 3, I think a team would trade up to grab him at 4 or 5.
Whalen: For Wiseman, it has to be Minnesota. Given the level of talent, I'm not 100 percent against a Wiseman-Towns frontcourt experiment, but Wiseman's camp apparently is. At best, it would be a challenging fit. The last thing the Timberwolves need is their No. 1 overall draft pick not wanting to play for the organization before his rookie year even begins.
For Ball, the Cavaliers are probably the worst landing spot – partially because it's the Cavaliers, and partially because that would mean Cleveland took a guard for the third consecutive year. Neither Collin Sexton nor Darius Garland looks like a franchise cornerstone, but adding Ball would make an already-messy situation even messier.
Who are some of your favorite prospects projected to go in Round 2?
Anderson: I think Tyrell Terry, Desmond Bane, Robert Woodard and Josh Green have moved up enough that they're no longer projected in that range, but Jahmi'us Ramsey is in my top 15 and seems like someone who could go in the late-20s or early-30s. Ramsey has shades of Gilbert Arenas — a confident, capable 1-on-1 or pick-n-roll scorer in the halfcourt who also has the tools to be a solid defender. Elijah Hughes and Ty-Shon Alexander are both borderline first rounders who I'd be happy to end up with if I was picking at the end of the round. They can shoot and guard on the perimeter, which is a nice place to start.
Whalen: Some of these guys could certainly make their way into Round 1, but Malachi Flynn is the first name who comes to mind. He's one of the oldest players in the draft, but at some point that almost becomes a good thing – especially if he were to land with a team like the Lakers, Celtics or Bucks, who could all use another well-rounded playmaker off the bench. Duke's Vernon Carey also stands out as a big-bodied center who quietly dominated the ACC as a freshman. Players like Carey continue to be phased out of the league, but he would've been in the conversation to go No. 1 overall five or 10 years ago.