This article is part of our DFS College Basketball series.
With a few games to collect a sample size of data, the tools offered for college basketball lineup preparation are starting to take form. Today I wanted to highlight the Advanced Daily Lineups page, which shows usage alongside minutes and salary to help identify value. While each team here has only played one game, here's a sample from tonight's UNLV vs. UNC matchup, which has the highest over/under of the slate.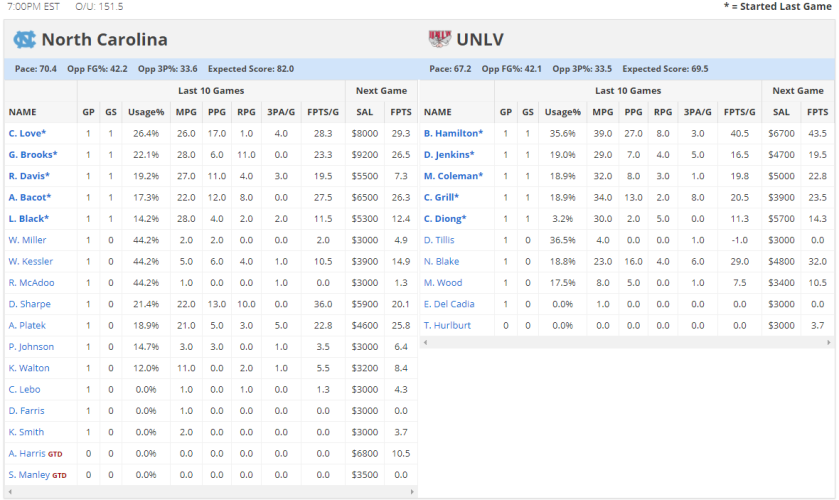 And as usual, here is the entire slate sorted by implied totals:

Without further delay, let's get to the plays.
Targets
1. Ziaire Williams, F, Stanford ($7,500 DK, $4,700 FD)

Stanford hasn't played a game yet, so the pricing is a bit all over the place. Williams is one of the best recruits in program history, however, and the Cardinal are going up against one of the fastest-paced teams in the country in Alabama. Take it or leave it on DraftKings (as long as you get SOME Stanford exposure), but lock him in on FanDuel. He'll be as close to 100 percent rostered as any player this week.
2. Day'Ron Sharpe, F, North Carolina ($5,900 DK, $7,600 FD)

Switching gears from the play above, Sharpe may be a little overpriced on FanDuel, but presents potential value for DraftKings players. The only risk is he's not a starter, but but the five-star recruit did put up a double-double as the leading reserve against College of Charleston. In any case, you need a piece of this UNC team with the highest implied total on the slate. UNLV game up 91 points in the opener to Montana State. Garrison Brooks ($9,200) is of course the ticket if you can fit him in, while Armando Bacot ($6,500) offers a slightly discounted post presence. Caleb Love ($8,000) is the usage leader, and freshman R.J. Davis ($5,500) is a more cost-effective way to get starter minutes into your lineup.
On the UNLV side, Bryce Hamilton ($6,700) is the usage leader and a fine play, while Iowa State transfer Caleb Grill ($3,900) is the value play – he started and played 34 minutes in the opener.
3. JT Thor, F, Auburn ($4,300 DK, $4,100 FD)

Here's your boom-or-bust play of the day. Thor has started both games for the Tigers, and while it's just a two-game sample size, he's currently sporting a team-high 30.4 percent usage rate. So what's the catch? He's only played 15 and 16 minutes in those two games, fouling out in the first and getting whistled three times against Gonzaga. This is a down-tempo game for the Tigers, but if Thor can just stay on the court, he could be in for his first big game. It helps Thor's case that UCF will be without starting center Collin Smith, who is sitting out this season due to an underlying medical condition. Thor is raw, no doubt, but the four-star forward and No. 50-ranked ESPN certainly has the pedigree to make some serious DFS noise this season.
Fades
1. Jay Heath, G, Boston College ($7,300 DK, $6,000 FD)

After a strong opener against Villanova, Heath suffered a foot injury and didn't play against Rhode Island. He's since been cleared to play Monday, and while it's an up-tempo game, this is Wynston Tabbs' backcourt. Tabbs can be had for $800 less on DraftKings and $300 less on FanDuel. Note we're dealing with a small sample size here, but Tabbs also has a usage rate a full 10 percent higher than anyone else on the slate.
2. Josh Roberts, F, St. John's ($5,000 DK, $5,100 FD)

A starting center – at least recently – for a fast-paced team might seem appealing, but there's a lot that could go wrong here. First, the minutes (12 and 16) aren't quite there. St. John's has also been playing quite a bit of small ball. But most importantly, Julian Champagnie ($7,200 DK, $6,300 FD) could make his return Monday, which gums up the works of the entire rotation. There are so many value plays in up-tempo matchups on this slate that I don't feel the need to squeeze many St. John's players in.
3. Texas State

There's been a few values to find in mid-major players early in the season, but that's not the case here. The Bobcats have the lowest implied total on the slate by a full five points and are going up against a Mississippi State team that checks in at No. 325 in KenPom's adjusted tempo rating. To make matters worse, 10 players have seen the court in both of the Bobcats' first two games.
The author(s) of this article may play in daily fantasy contests including – but not limited to – games that they have provided recommendations or advice on in this article. In the course of playing in these games using their personal accounts, it's possible that they will use players in their lineups or other strategies that differ from the recommendations they have provided above. The recommendations in this article do not necessarily reflect the views of RotoWire. Jake Letarski plays in daily fantasy contests using the following accounts: FanDuel: rotojakeski, DraftKings: RotoJakeSki.