This article is part of our Team Previews series.
Tennessee Titans

The Titans enter the coming season with a number of intriguing fantasy options, most notably A.J. Brown and Derrick Henry. However, coach Mike Vrabel has put a ball control, slow-paced offensive scheme in place. That makes any Titans' player a risky draft-day investment, particularly in the early rounds.
Offseason Moves
Key Acquisitions
Inconsistent pass rusher is coming off an eight-sack season with Atlanta.
Could start right away following the departure of Jack Conklin.
Dion Lewis' replacement as the team's change-of-pace back.
Key Losses
The highly skilled pass-catcher was derailed by injuries in recent seasons.
Departs after seeing his role decrease significantly in 2019.
The 2015 first-rounder heads to Las Vegas to back up Derek Carr.
Essentially traded for $11.8 million worth of salary-cap relief.
The eighth overall pick in 2016 wasn't retained after the expiration of his rookie deal.
A Look Under the Hood
Head Coach: Mike Vrabel (Year 3)
Offensive Coordinator: Arthur Smith (Year 2) - West Coast (wide/outside zone)
Defensive Coordinator: None - 3-4 scheme
2020 Vegas Projected Wins: 8.5 (T-14th)
2019 Record: 9-7
2019 Points Scored: 402 (10th)
2019 Points Allowed: 331 (12th)
2019 Point Differential: +71 (8th)
2019 Run-Play Rate: 48.8 percent (3rd)
2019 Situation-Neutral Pace: 31.25 seconds per play (19th)
2019 Offensive Snaps: 949 (30th)
2019 PFF O-Line Ranking: No. 8
Projected 2020 Depth Chart
QB: Ryan Tannehill / Logan Woodside / Cole McDonald
RB: Derrick Henry / Darrynton Evans / Dalyn Dawkins / Khari Blasingame
WR1: A.J. Brown / Rashard Davis
WR2: Corey Davis / Cody Hollister
WR3: Adam Humphries / Kalif Raymond / Cameron Batson
TE: Jonnu Smith / Anthony Firkser / MyCole Pruitt
O-Line: LT Taylor Lewan / LG Rodger Saffold / C Ben Jones / RG Nate Davis / RT Isaiah Wilson (RotoWire Rank: No. 5)
Kicker: Greg Joseph / Tucker McCann
Top Storylines
Tannehill Earns the Trust of Tennessee
After taking over the starting quarterback role Week 7, Ryan Tannehill led the Titans to wins in seven of their final 10 regular-season games before tacking on playoff victories over AFC heavyweights New England and Baltimore. That performance convinced the team to commit to Tannehill as its leader for the foreseeable future, as he was signed to a four-year, $118 million contract extension this offseason.
His continued success – at least at the level he showed in 2019 – is less certain. Not only did Tannehill perform well above his previous career baselines, but he also posted near league-leading efficiency in TD percentage and adjusted yards per attempt.
Even if Tannehill remains highly efficient with his attempts, volume will almost certainly be lacking for him to perform as a top-end fantasy quarterback. The Tennessee offense has ranked 29th and 30th in offensive plays per game in the last two seasons, while also attempting the second-fewest and fewest pass attempts per game respectively in the same span.
With Derrick Henry still in the fold, it's unlikely the Titans will suddenly change their offensive philosophy. In any case, the team clearly felt comfortable placing their trust in Tannehill long-term, resulting in the free-agent departure of Marcus Mariota, the No. 2 overall pick in the 2015 NFL Draft.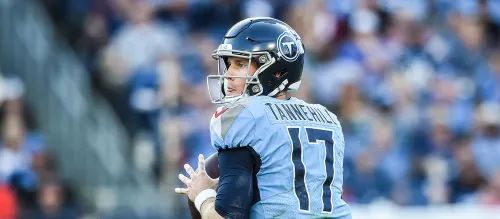 A repeat of 2019 may be difficult to accomplish, but Ryan Tannehill will be given the opportunity.
Henry Powers On
Derrick Henry got the opportunity to be a workhorse back for the entire 2019 season, and the results were spectacular. Not only did he rack up a league-high 303 carries, but he also led the NFL with 1,540 rushing yards and 16 touchdowns in the regular season. Even so, he didn't fully hit his stride until the second half of the campaign, accounting for 959 yards and 11 TDs in his final seven contests.
After receiving the franchise tag this offseason, Henry could be entering his final season in Tennessee. He's nonetheless in line to shoulder a heavy load once again. That provides Henry with one of the safest rushing floors around the league, though there are issues that limit his ceiling, the primary one being Henry's lack of involvement in the passing game. While he set a new career high in targets in 2019 with 24, he still contributed a meager 206 receiving yards.
In addition, Jack Conklin departed for Cleveland after having his fifth-year option declined, leaving a void at right tackle that will likely be filled by rookie first-round pick Isaiah Wilson. Setting those concerns aside, Henry should remain a safe fantasy option, albeit lacking the upside of elite running backs such as Alvin Kamara, Saquon Barkley and Christian McCaffrey.
Is Arthur King?
A.J. Brown began his rookie season with a 100-yard game Week 1, prior to crashing back to earth quickly by combining to record just 29 receiving yards over his next two games. Just as his initial performance began to look like an aberration, he exploded again Week 4 with a two-touchdown showing. Things continued to improve from there, as Brown closed the season by surpassing 100 receiving yards in four of his final six games.
Entering 2020, Brown is expected to take over as the leader of the Titans' receiving corps. Corey Davis, the fifth overall pick in 2017, is trending in the opposite direction, as he had the fifth-year option on his rookie deal declined and appears prepared to move on after this season.
Adam Humphries had a disappointing first campaign in Tennessee, but he figures to remain the team's primary slot receiver. In fact, Brown's biggest obstacle to solidifying himself among the best receivers in the league may be Tennessee's offensive philosophy.
In addition to the team's plodding pace and focus on establishing the run, the Titans targeted their receivers only 255 times last season – the fourth-lowest mark in the league. Thus, to build on his promising rookie campaign, Brown will not only need to remain ahead of Davis on the depth chart but also maintain his exceptional efficiency.
Barometer
⬆️ Rising: TE Jonnu Smith
Smith will enter the season as the Titans' top tight end for the first time in his career following the exit of Delanie Walker. He's seen his role in the offense increase progressively in each of his three seasons, and 2020 should be his breakout campaign.
⬇️ Falling: WR Corey Davis
The wideout failed to get on track in 2019 and was surpassed on the depth chart by rookie A.J. Brown by season's end. The coming season is likely Davis' last in Tennessee, meaning he could be further phased out of the offense.
😴 Sleeper: RB Darrynton Evans
Evans is the clear backup in Tennessee and as a rookie he may be relegated to a special teams role early on. However, he also profiles as a solid pass-catcher and could earn 10-12 touches akin to Dion Lewis in 2018.
🌟 Pivotal Player: A.J. Brown
A.J. Brown's rookie campaign started slowly, as he earned 23 targets through six contests. However, he broke out in his final nine games, racking up 714 yards and six TDs. The Titans declined to bolster their receiving corps this offseason, making Brown the presumptive top target for QB Ryan Tannehill and a popular 2020 breakout candidate.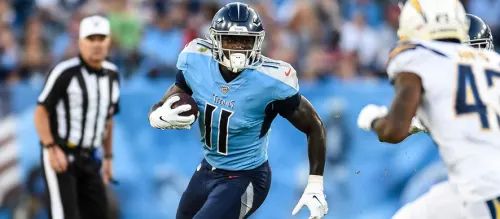 The go-to receiver in the Titans offense, A.J. Brown is seeking to establish himself among the league's elite.