This article is part of our 2020 Training Camp Preview series.
Expanding upon our team preview collection from earlier this offseason, we're gearing up for an irregular August with a series of team-specific articles to get you up to speed for training camp. You can find the previous writeup on the Minnesota Vikings here.
State of the Franchise
Entering the last year of his rookie deal, Dalvin Cook showed good faith to the Vikings by participating from the start of the virtual offseason program in late April. By June 8, it was revealed that the running back intended to stay away from team activities until the team offers "reasonable" numbers on a contract extension. The declaration included the language "for camp or beyond," suggesting he was willing to extend the holdout into the regular season. However, Cook decided to show up when veterans were expected to report, taking his first COVID-19 test in the process. The issues with his contract remain unresolved.
From Minnesota's point of view, the organization may be reticent to negotiate until Cook strings together more than one season with minimal missed time. Between 2017 and 2018, he played 15 games and 659 offensive snaps. Last season, he nearly matched those figures (14 and 615, respectively). Clearly, his ability speaks for itself – he's averaged 4.6 YPC, hauled in 81.3 percent of his 128 targets and scored 19 touchdowns in his career – so the lead up to the regular season should be interesting for the ground-based Vikings. Any absence from Cook will give backups Alexander Mattison and Mike Boone an opportunity for additional work.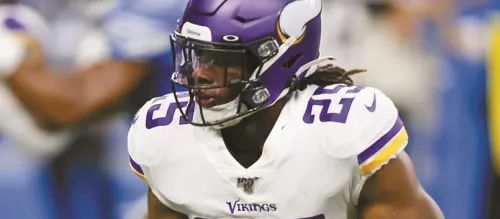 Job Battle
Beginning in late November, Dalvin Cook was plagued by what was alternatively called a chest and right shoulder injury, limiting his practice reps and even causing DNPs in Weeks 16 and 17. His snap count suffered as a result – from Weeks 13-15, they ranged from 43-47 percent – allowing the likes of Alexander Mattison, Mike Boone, Ameer Abdullah and even fullback C.J. Ham to get reps.
Notably, Mattison sat out the final three regular-season games due to a sprained ankle, a circumstance that caused a timeshare between Boone, Abdullah and Ham. Boone racked up 44 touches for 249 yards from scrimmage and three TDs during that three-game stretch, while Abdullah went for 24-119-0 and Ham had 8-34-0.
If Cook happens to miss time again, Mattison will be the next man up, but coach Mike Zimmer seemed to tip his hand in the event that does happen. Expect the order to be Mattison and Boone first in that scenario, but Abdullah should get some reps, too, as a pass catcher, with Ham potentially receiving the occasional snap in short-yardage situations.
Medical Tent
WR Adam Thielen
Aside from a 7-130-2 performance Week 5 last season, Thielen was touchdown dependent through the first seven games, going for 20 catches, 261 yards and four TDs in the other six outings. In the last one, he picked up a right hamstring strain while making an acrobatic 25-yard score in the back of the end zone and made just one appearance over the next six contests. Thielen then suffered a deep cut on his ankle in practice that required stitches before the Vikings' divisional-round loss to the 49ers. However, he played his usual amount of snaps and will head into 2020 with a clean bill of health.
WR Chad Beebe
A preseason darling of the Vikings the past two years, Beebe has logged time in just six of 26 games (including playoffs) due to injury. First, a hamstring issue forced four DNPs in 2018 once he was elevated from the practice squad Week 9. He entered last season as the No. 3 wide receiver behind Thielen and Stefon Diggs, only to sustain torn ligaments in his ankle Week 3 that resulted in a stay on injured reserve the rest of the campaign. For his career, Beebe has averaged 18.2 yards on his six targets, but he'll need an injury to Thielen or rookie Justin Jefferson to make a bigger splash in 2020.
CB Mike Hughes
Hughes has had a difficult start to his NFL career. As a rookie first-round pick in 2018, he earned significant reps right away, but it was wiped out when he tore an ACL in Week 6. His recovery extended into last year, and after making his season debut Week 3, he was listed with knee and oblique injuries before missing Minnesota's two playoff games due to a neck problem. With the departure of cornerbacks Xavier Rhodes, Mackensie Alexander and Trae Waynes, Hughes is left as the team's No. 1 at the position. Whether Hughes can stay on the field for a full season remains to be seen.