This article is part of our 2020 Training Camp Preview series.
Expanding upon our team preview collection from earlier this offseason, we're gearing up for an irregular August with a series of team-specific articles to get you up to speed for training camp. You can find the previous writeup on the Seattle Seahawks here.
State of the Franchise
Having taken the eventual NFC champions to the last play twice in 2019, the Seahawks perceive themselves as true contenders. They made that clear by pushing their chips all-in and packaging two first-round picks, a third-rounder and Bradley McDougald to acquire All-Pro safety Jamal Adams and a fourth-round selection from the Jets. The 24-year-old is one of the NFL's best, most versatile safeties and will boost Seattle's defense from last year's mediocrity.
Before the addition of Adams, it felt like a foregone conclusion that Russell Wilson would need to throw more to keep the Seahawks competitive, but a bolstered defense may point to another year of offensive coordinator Brian Schottenheimer's run-heavy approach. Furthermore, even with a porous defense last year and an injured backfield down the stretch, Seattle stuck to the ground game and finished with more rushing attempts than 29 teams.
Still, Wilson has overcome internal barriers before, and now he has the Seahawks' best receiving corps in years at his disposal after the addition of Greg Olsen and expected development from DK Metcalf. Wilson looks poised to hit the 30-touchdown mark for a fourth straight season and give Seattle a chance to make the playoffs.
Job Battle
Whether a porous defense forces the Seahawks to throw more or not, the team's backfield still will see plenty of churn. However, injuries are abundant in the backfield, with Chris Carson, Rashaad Penny and Carlos Hyde all dealing with various issues. Carson and Hyde should both be ready for Week 1, and if that's the case, the former likely will see the bulk of the workload.
Hyde comes to Seattle on a cheap deal after posting the first 1,000-yard rushing season of his career in Houston on the back of 4.4 YPC. The 29-year-old is far from a sure thing as the No. 2 back, though, partly because he doesn't do anything better than Carson.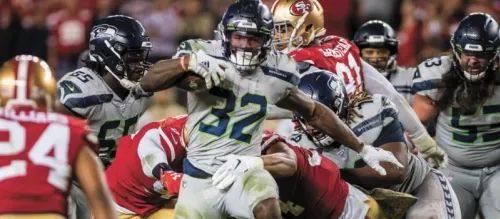 Hyde should get some tread as Carson comes back from a serious injury, but flying under the radar is serious competition from Travis Homer. While Homer's 202-pound build may not hold up to a workhorse role, his abilities are a better complement to Carson's skill set than Hyde's. The second-year back has impressive explosiveness – he shared time with Tyler Lockett as a kick returner last season – and pass-catching ability, reeling in 14 passes for 88 yards over the final five games, including playoffs.
Medical Tent
RB Chris Carson
The best campaign of Carson's three-year career abruptly ended when he suffered a fractured hip Week 16, but the bruising back avoided surgery, and GM John Schneider doesn't believe the injury will affect his Week 1 status. Nevertheless, Carson's status as the No. 1 RB was tested by Rashaad Penny prior to the injury, so the Seahawks may ease Carson back into game action, a notion that is supported by the additions of Carlos Hyde – who has a similar running style – in free agency and DeeJay Dallas through the draft.
Penny tore his ACL – and coach Pete Carroll said he suffered additional damage as well – two weeks before Carson fractured his hip, leaving the Seahawks backfield in rough shape and leading to the return of Beast Mode. The 2018 first-round pick compiled 236 yards from scrimmage and three total touchdowns over two games prior to the injury, and there would be a preseason battle for the No. 1 job if both Penny and Carson were healthy. However, Penny appears destined to land on the PUP list to start the year despite making notable rehab progress in the spring.
TE Will Dissly
Dissly has briefly rewarded fantasy owners who have taken late-round fliers on him since entering the league in 2018, but he's been unable to stay healthy, suffering a patella tear his rookie year and a ruptured Achilles last season. With the latter injury happening Week 6, Dissly should have enough time to recover and be full speed for the season opener. Still, the Seahawks revealed some rightful pessimism about Dissly's recovery, signing veteran Greg Olsen in free agency while selecting two tight ends in the draft. The rookies won't be an issue if Dissly is healthy, but Olsen limits Dissly's upside.