This article is part of our Team Previews series.
Chicago Bears

After betting on Mitchell Trubisky in 2017, the Bears let him walk this offseason and doubled down by trading up to select Justin Fields as their new franchise quarterback. However, if Andy Dalton kicks off the campaign under center, this could be more of a transition year, as the team prepares for the future.
Offseason Moves
Key Acquisitions
Team hopes to have found its long-term answer at quarterback.
May begin the year as the starter while Fields learns the system.
Adds backfield depth after posting 4.7 yards per carry since 2018.
Has 14 picks in eight seasons, but just 15 appearances the past two.
Key Losses
The 2017 first-rounder departs after four up-and-down years.
Kick returner that earned 5.3 touches per game in 2020.
After falling out of favor in Chicago, he heads south for a new opportunity.
Top cover corner had more than three interceptions twice in six seasons.
A Look Under the Hood
Head Coach: Matt Nagy (Year 4)
Offensive Coordinator: Bill Lazor (Year 1) - West Coast Offense
Defensive Coordinator: Sean Desai (Year 1) - 3-4 scheme
2021 Vegas Projected Wins: 7.5 (T-22nd)
2020 Record: 8-8
2020 Points Scored: 372 (T-22nd)
2020 Points Allowed: 370 (14th)
2020 Point Differential: +2 (15th)
2020 Run-Play Rate: 37.7 percent (27th)
2020 Offensive Snaps: 1,043 (T-11th)
2020 PFF O-Line Ranking: No. 20
Projected 2021 Depth Chart
QB: Andy Dalton / Justin Fields / Nick Foles
RB: David Montgomery / Tarik Cohen / Damien Williams / Khalil Herbert
WR1: Allen Robinson / Javon Wims
WR2: Darnell Mooney / Marquise Goodwin
WR3: Damiere Byrd / Justin Hardy
TE: Cole Kmet / Jimmy Graham / Jesse James
O-Line: LT Teven Jenkins / LG James Daniels / C Cody Whitehair / RG Alex Bars / RT Germain Ifedi (RotoWire Rank: No. 27)
Kicker: Cairo Santos
Top Storylines
The Dilemma at Quarterback
During the 2017 NFL Draft, the Bears passed on Patrick Mahomes and Deshaun Watson to pick Mitchell Trubisky, second overall, a mistake from which the front office moved on by signing Andy Dalton and trading up in this year's draft to take Justin Fields. Going into training camp, Dalton is penciled in as the starter, while Fields waits for his chance to take over. If (or when) he does, Fields will be behind an offensive line that struggled to keep quarterbacks upright in 2020, but the addition of left tackle Teven Jenkins in the second round may help to improve the protection.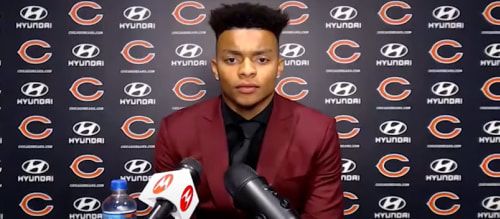 As a team, Chicago has watched its once vaunted defense fade over the last two years, and it's had an impact on the quarterback position, with the offense going from a tie for eighth-fewest pass attempts per game (32) in 2018 to the eighth-most per game (38.4) last season. If given time, Dalton or Fields will get to target a stud in Allen Robinson, emerging second-year players Darnell Mooney and Cole Kmet and viable pass-catching backs David Montgomery, Tarik Cohen and Damien Williams. While this group as a whole isn't top tier, it may be enough for Dalton or Fields to hold some sway, fantasy-wise. In particular, Fields had some success on the ground in two seasons at Ohio State, averaging 39.4 yards per game and scoring 15 touchdowns in 22 contests.
How Much Work Can Montgomery Expect?
Despite the Bears finishing with the sixth-fewest carries per game (24.6) in 2020, David Montgomery held a nearly full-time role in the offense once the team lost Tarik Cohen to a season-ending ACL tear Week 3, leading to 20.3 touches per game the rest of the way. As a result, Montgomery was one of the few running backs in the league to have a three-down role, and because the team didn't face a run defense outside the bottom six between Weeks 12 and 17, he was the fantasy RB1 during that span.
With Cohen expected back and the addition of Damien Williams – who played for offensive coordinator Bill Lazor with the Dolphins in 2014 and 2015 – the big question is how much will the duo impact Montgomery's usage? The good news? In the 19 games in which Montgomery and Cohen both played over the past two seasons, Montgomery logged 16.9 touches for 66.7 yards per scrimmage per game to go with eight total touchdowns. While that production isn't significant, such usage should be enough to yield consistent results.
In terms of what Montgomery may do with his chances, he'll look to replicate the 89th percentile broken-tackle rate and 79th percentile average yards after contact that he posted last year. Between the improvements he showed and his workload when he had competition, he should garner the snap count to maintain value.
Defense on the Spot
Since defensive coordinator Vic Fangio left Chicago after the 2018 season, the unit has been trending downward. In that campaign, the Bears allowed the fewest points per game (17.7) while recording the eighth-most sacks per game (3.1). In 2020, however, they were 13th in scoring defense (23.1 per game) and fell to just 2.1 sacks per contest. In addition to having a middling pass rush, the team released Kyle Fuller, its best cornerback, in March due to salary cap concerns and spent most of its draft picks addressing the offense, so this isn't a group that appears set for a resurgence.
The regression of the defense over the past two years has forced the offense to be more aggressive, which has held back the Bears because they didn't have the firepower necessary on that side of the ball to overcome defensive shortcomings. And because they weren't playing with leads as frequently as they had in the past, they were unable to force opponents to become one-dimensional, putting the defense at a disadvantage.
Subsequently, coordinator Chuck Pagano retired in the offseason and was replaced by safeties coach Sean Desai, who worked under Fangio from 2015 through 2018. The move could mean Chicago's defense returns to concepts that yet again get it on a track to being one of the NFL's best.
Barometer
⬆️ Rising: WR Darnell Mooney
Mooney began his rookie season slowly but averaged seven targets per game over his last six appearances. His ceiling could enhance if the Bears make better use of his speed than did last year's quarterbacks.
⬇️ Falling: TE Jimmy Graham
Anthony Miller was in this spot before he was swapped to the Texans. During Cole Kmet's second-half resurgence last season, Graham managed just a 17-179-4 line over the last seven games, including playoffs.
😴 Sleeper: TE Cole Kmet
As a rookie in 2020, Kmet was targeted just eight times in his first nine games. After ending the season getting between six and eight looks in four of his last six contests, the tight end is a decent bet to see an expanded role
🌟 Pivotal Player: Allen Robinson
After Robinson averaged a 100-1,198-6.5 line on 152 targets over the last two seasons, his production could rise further in 2021. With Mitchell Trubisky no longer on the team and Nick Foles buried on the depth chart, Robinson may see the best quarterback play of his career once Justin Fields takes over from Andy Dalton.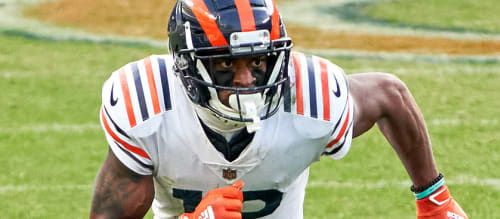 Medical Tent
RB Tarik Cohen
Cohen tore his ACL during Week 3 last season, so it's not a big surprise that the change-of-pace back began training camp on the active/PUP list. Once he resumes practice, Cohen will look to
reclaim his role as the primary receiving back in Chicago's offense. Meanwhile, David Montgomery will reprise his lead duties and newcomer Damien Williams will provide the team with a viable complementary option for both early-down and passing situations.
After logging 111 carries for 498 yards and five TDs in 11 games with Kansas City in 2019, Williams opted out of the 2020 season. He's ready to resume action this season, and while there may be a degree of rust on his part early on after his missed campaign, the 29-year-old should come into training camp healthy and with fresh legs after his extended layoff.
LB Robert Quinn
Quinn didn't practice during minicamp in June, but coach Matt Nagy indicated that the Bears were demonstrating caution by holding the veteran out. The 31-year-old is expected to enter training
camp atop the depth chart at outside linebacker, and though Quinn posted a career-low two sacks during his first year with the Bears, there doesn't appear to be a candidate ready to unseat him as the starter.
Job Battle
Last year's second-rounder Cole Kmet was significantly out-snapped by veteran Jimmy Graham through the first nine games of the 2020 season. However, the duo's snap share completely reversed after the Bears' Week 11 bye, with Kmet seeing nearly 30 more snaps per game the rest of the way. In the process, the duo's target allotment made a similar shift, with Kmet seeing 36 targets from Week 10 on after seeing less than one target per game over the first nine contests.
Meanwhile, Graham, who was targeted 59 times through Week 9, received just 21 the rest of the way. That said, over the last seven games, Graham scored three TDs to just one for Kmet. Heading into 2021, we'd expect Kmet to be far more involved out of the gate than he was as a rookie, but Graham could still factor in from a fantasy perspective if he ends up being the team's preferred tight end in red-zone situations.