This article is part of our Team Previews series.
Cleveland Browns

The Browns took a leap forward in 2020, when a revamped attack carried them to the playoffs for the first time in 18 seasons. Offensively, there's not much left to do. To get deeper into the postseason, however, the organization needs to improve defensively, which was the primary focus during the offseason.
Offseason Moves
Key Acquisitions
The elite pass rusher joins the Browns after spurning them last year.
Offers sack potential opposite Myles Garrett and/or Clowney.
Will shore up coverage on the back end, which was suspect in 2020.
Adds premier college cornerback to an already talented position group.
Team moved up seven spots to take the athletic coverage linebacker.
Key Losses
Cut in a money-saving move, but interior production could be missed.
Swept out among wholesale changes on the defensive line.
Recorded nine sacks in a comeback season but tore Achilles in Week 17.
A Look Under the Hood
Head Coach: Kevin Stefanski (Year 2)
Offensive Coordinator: Alex Van Pelt (Year 2) - West Coast (wide/outside zone)
Defensive Coordinator: Joe Woods (Year 2) - 4-3 scheme
2021 Vegas Projected Wins: 10 (T-7th)
2020 Record: 11-5
2020 Points Scored: 408 (14th)
2020 Points Allowed: 419 (21st)
2020 Point Differential: -11 (15th)
2020 Run-Play Rate: 47.8 percent (4th)
2020 Offensive Snaps: 1,022 (T-20th)
2020 PFF O-Line Ranking: No. 1
Projected 2021 Depth Chart
QB: Baker Mayfield / Case Keenum
RB: Nick Chubb / Kareem Hunt / D'Ernest Johnson / Demetric Felton
FB: Andy Janovich
WR1: Odell Beckham / Rashard Higgins / Anthony Schwartz
WR2: Jarvis Landry / Donovan Peoples-Jones / KhaDarel Hodge
TE1: Austin Hooper / Stephen Carlson
TE2: Harrison Bryant / David Njoku
O-Line: LT Jedrick Wills / LG Joel Bitonio / C JC Tretter / RG Wyatt Teller / RT Jack Conklin (RotoWire Rank: No. 1)
Kicker: Cody Parkey / Chase McLaughlin
Top Storylines
The Tale of Baker Mayfield
The Browns' ascent to the postseason last year was fueled by the team's efforts on the offensive side of the ball. An elite ground attack made life simpler for quarterback Baker Mayfield, but he made strides of his own. The previous season was a mess under then-coach Freddie Kitchens, who was the signal-caller's third head coach and second offensive coordinator in two seasons. While too many coaches during a short stretch of time can stunt a player's growth, the right kind of change can be good. Particularly when the newcomer has a vision for the offense.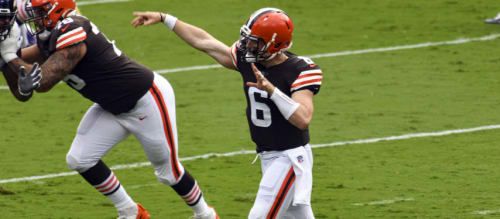 Upon his hiring in January 2020, Kevin Stefanski immediately offered a strong endorsement of Mayfield, and offensive coordinator Alex Van Pelt proceeded to work on the QB's footwork. It took a while, but the offense eventually gelled. The Browns used their Week 9 bye to break down what was working and what wasn't, and getting the No. 1 overall pick in the 2018 Draft on the move and out of the pocket more was emphasized.
From that point on, Mayfield was the fourth-highest graded passer by Pro Football Focus, behind Aaron Rodgers, Deshaun Watson and Derek Carr, tossing just one pick in the second half of the season. The arrow's pointing up for Mayfield, much like it was after his rookie season. The difference this time around is continuity and a coherent offensive plan.
Backfield Duo Fuels Attack
Coach Kevin Stefanski's first mission was to create an offense in the mold of the one he ran as the offensive coordinator in Minnesota, where he went heavy on 12 personnel. Though Baker Mayfield put together his best season, the Browns' success in 2020 largely was dictated by their running backs. The top duo of Nick Chubb and Kareem Hunt did the heavy lifting.
Chubb missed four games but ranked seventh in rushing while averaging 5.6 yards per carry and scoring a career-high 12 touchdowns. The team's 12 personnel scheme works well when the "1" is Chubb. Hunt was around for a full season and had 11 combined scores while making an impact as a receiver. The temptation to repeat the formula will be great. All five starters return to an offensive line that fueled the league's seventh-ranked rushing offense (4.8 YPC), which finished fourth in attempts (495) and fifth in rushing TDs (21).
To complement the ground game, Cleveland could use a deep threat. The Browns overcame the loss of Odell Beckham last year but are probably an injury to Chubb away from being a .500 team. Two of the team's three worst games last season were without Chubb. The running game will remain prominent in 2021, but adding the downfield element Beckham brings could lead to the next evolution of Stefanski's offense.
Year 2, the Defense
Year 1 of the Kevin Stefanski regime locked in on the offense. Year Two is about the defense. The Browns' troubles on that front centered on defending the pass, as they ranked 22nd in passing yards allowed (247.6 yards per game), while allowing at least 30 points in seven games.
There have been shakeups at every level, but the biggest involves the defensive line. Gone are Olivier Vernon, Sheldon Richardson and Larry Ogunjobi; in are Jadeveon Clowney and Takkarist McKinley. Cleveland got Clowney at an affordable rate for one year. He's expected to draw attention away from Myles Garrett, or he could benefit from offenses scheming to stop Garrett. While Clowney didn't log any sacks in a 2020 season shortened by a knee injury, he had 22 QB pressures in eight games. McKinley is not making starter money and will rotate in at end, while Clowney and Garrett line up at the opposite end or inside to create matchup problems.
The pass rush could produce more sacks with the steps taken to strengthen a back end that graded 22nd in pass coverage, per Pro Football Focus. Safety Grant Delpit, who missed his rookie season with a ruptured Achilles, is expected to start alongside veteran John Johnson. Cornerback Greedy Williams returns from a shoulder injury, but he'll need to hold off 2021 first-round pick Greg Newsome.
Barometer
⬆️ Rising: WR Donovan Peoples-Jones
Though he wasn't ready to step in for Odell Beckham last year, Peoples-Jones earned valuable playing time after OBJ's knee injury and showed big play ability (21.7 YPC). Rashard Higgins is still around, but DPJ is in the mix.
⬇️ Falling: TE David Njoku
Njoku saw the writing on the wall during the 2020 offseason when he requested a trade, which later was rescinded. He ended up working behind Austin Hooper, sharing complementary duties with Harrison Bryant.
😴 Sleeper: TE Harrison Bryant
Bryant emerged as the Browns' second tight end last season, ahead of Njoku, in terms of snap percentage and targets. He can play a few positions and would be the primary TE target if Hooper goes down.
🌟 Pivotal Player: Odell Beckham
Beckham's rocky first season with Cleveland gave way to harmony in 2020. A change of coaches can do that. Unfortunately, he underwent left knee surgery after Week 7 and, coincidentally, never played with Baker Mayfield when the offense was at its best. A healthy Beckham gives the team a home-run threat it lacked.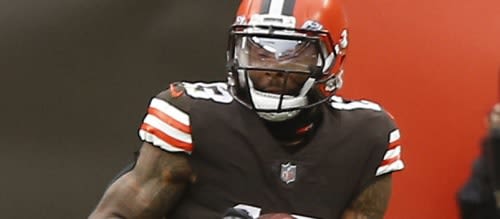 Medical Tent
Beckham, whose 2020 season ended prematurely due to a knee injury that he suffered Week 10, underwent surgery in November. Since then, all the reports have been positive. The wideout
participated in offseason drills a mere seven months later and avoided the PUP list to start training camp, though the Browns may limit his workload.
Clowney, who signed with the Titans heading into the 2020 season, had his run in Tennessee cut short by a knee injury. Limited to just eight games, he failed to record a sack for the first time since his rookie season in 2014 when he was limited to four games by a different knee issue. Therein tells a tale about the 28-year-old pass rusher. Last year's knee surgery was the fifth for the seven-year veteran. If healthy, Clowney is a disruptor. Even though he recorded zero sacks in 2020, he put the heat on quarterbacks 22 times in his eight games.
Garrett missed a couple of games last season due to COVID-19, the effects of which lingered toward the end of the season and capped his snaps in some games. He recovered from that and was playing a normal allotment through the postseason until the Browns were eliminated by the Chiefs in the divisional round. Garrett sustained an oblique injury in that loss and gutted through it, but he was limited to 68 percent of the team's snaps. The injury did not require surgery, and there's no reason to believe he'll be impacted when training camp opens.
Job Battle
An argument could be made for the third wideout slot being the Browns' most high-profile position battle. Will second-year pro Donovan Peoples-Jones overtake Rashard Higgins? But if Odell Beckham is healthy, the team's wide receiver grouping is dominated by two players – Beckham and Jarvis Landry. It's at No. 2 tight end where there will be more playing time to divvy up.
Harrison Bryant and David Njoku both return to back up Austin Hooper. Coach Kevin Stefanski's two-tight end offense could be a boon for all three players. Bryant, the rookie who had a fleeting case of fumble-itis midway through the 2020 season, consistently out-snapped Njoku. Though Njoku clearly has the athleticism to be an interesting target, he has for the last two campaigns looked like a player that wants out but has no leverage.