This article is part of our Collette Calls series.
Corbin Burnes earned his first win of the season Saturday with a dominating outing against the lowly Pirates. Burnes scattered three hits over six innings, allowing no runs while striking out 10. It was the fourth start of the season for Burnes and his seventh outing, but his first scoreless outing of the season.
If you have not yet watched Burnes pitch this season, you may not recognize him. After all, this was a pitcher who allowed SEVENTEEN home runs in 49 innings last season, but has surrendered just one home run through 32.1 innings this season. The disappearance of his gopheritis is not the only difference between the 2019 Burnes and 2020 Burnes.
2019 was a rather improbable season for Burnes on the heels of a very strong closing to the 2018 season. Burnes struck out 70 batters in those same 49 innings around the home runs, but a sore shoulder shut him down in July as a broken pitcher. The Milwaukee front office looked at him, and thought: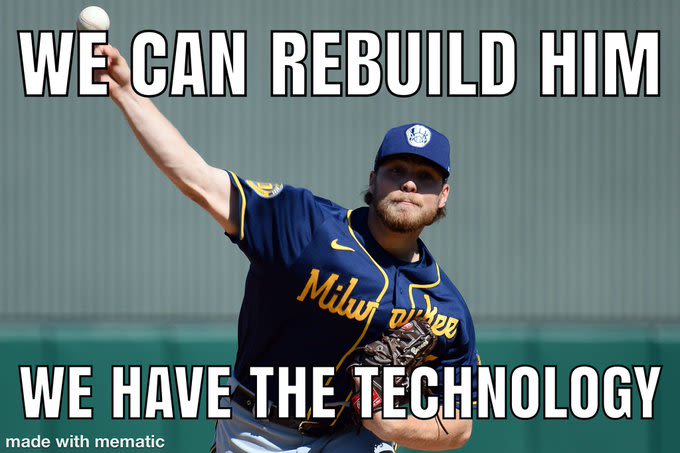 Milwaukee has a double-secret probation pitching lab set up at its facility in Arizona, so it sent Burnes there last summer as his shoulder was recovering. He showed up in Phoenix with a 9.00 ERA with a .417 BABIP and a 39 percent home run to flyball ratio. Burnes's StatCast profile showed a pitcher with solid velocity, terrific spin and strikeout potential, but someone who allowed a ton of hard contact: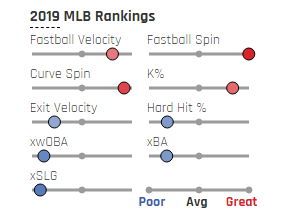 This is why SVP Karl Mueller said this about