This article is part of our Rounding Third series.
Despite the MLB season only being four days old, FAAB bidding was furious on Sunday, with lots of closer situations in flux and injuries creating opportunities elsewhere. Each week I'll post the results from my Sunday FAAB leagues and sprinkle in a few comments here and there, mostly from the perspective of my teams.
AL Tout Wars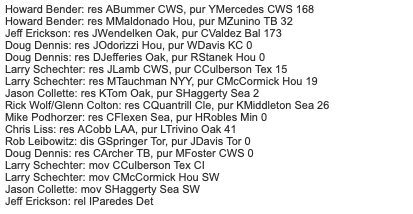 Each week at 8:00 pm ET Tout Wars provides the first set of FAAB results among the industry and/or NFBC leagues, perhaps giving you a rough guide how the rest of the night will go. After the FAAB run, you can discuss those results with a few of the players in the various leagues - we'll have a Zoom link posted from the Tout Wars main page. Six of the seven Tout leagues have a FAAB run, so there's a wide variety of context, too.
Mike Gianella from Baseball Prospectus wisely had already rostered Julian Merryweather, so there was no flurry of bids on him, also creating a bit of a scarcity on pick-up options. I overspent on Cesar Valdez, spending $173/$1,000 when the second highest bid was only $93. Yermin Mercedes was the subject of a flurry of bids, going to Howard Bender for $168. That he's a UT-only isn't as harmful in Tout Wars, due to our rule that only requires four active outfielders, with the extra spot going to a "swingman" - which is essentially a second UT spot, or otherwise can be used as a 10th pitcher.