This article is part of our Best Ball Journal series.
With minicamps underway and the fantasy football community in its perpetual state of crazed thirst for new information, the markets have had plenty of tedium to pore over in their search for the next edge in the ADP. In this article I'll try to identify June changes in ADP relative to the May sample on DRAFT and do my best to explain the cause, as well as whether these market shifts are founded on sound reasoning.
RISERS
Christian McCaffrey, RB, CAR (3.2 → 2.5) and David Johnson, RB, ARZ (6.1 → 5.3)
These are slight shifts but they offer insight on the solidifying consensus at the top of drafts. The cause of McCaffrey's ascent, I would imagine, is the persistent indication that the NFL is investigating Ezekiel Elliott for an incident where he got in a security guard's face and provoked a Vlade Divac impression from said guard. While it's a rather brazen look for the league to be scrutinizing Elliott for the incident while Tyreek Hill seemingly goes unscathed, the fact is Roger Goodell has already demonstrated a special interest in Elliott's off-field happenings and Jerry Jones doesn't have enough friends in the league to pressure Goodell otherwise. Elliott (3.2 ADP) could fall behind Alvin Kamara (3.5 ADP) in the upcoming days, too. I would guess Zeke won't face any sort of suspension, but precedent is meaningless on any Goodell question.
Johnson's case has nothing to do with any outside events other than mainstream pundits arriving late to a show that's been on re-run status around here for about four months now. Johnson is a candidate to go over 1,000 receiving yards this year and people are finally noticing. He too might encroach on Elliott's ADP in the near future.
Damien Williams, RB, KC (27.8 → 21.0)
There was never any compelling evidence that the likes of Carlos Hyde or especially Darwin Thompson/James Williams would usurp Williams, but it was a common premise among some contrarian analysis in the weeks following the NFL Draft. That's pretty much over in light of Chiefs offensive coordinator Eric Bienemy assuring reporters that "[Damien] is our starter. We expect him to excel in that role."
SPONSORED NOTE
Draft Different with a 2019 Fantasy Draft Board + Player Labels from 360 Fantasy Football Draft Boards! View Top Rated Draft Boards + Draft Kit Add On's. 100% Money Back Guarantee. Promo Code ROTO50 CLICK HERE
There are still risks with Williams – he lacks prospect pedigree and the Chiefs aren't financially committed to him – but this strikes me as another Willie Parker situation. When an offense has a great passing game and primarily asks its running back to exploit space and catch passes, then all you really need is an athletic guy who otherwise excels as a receiver. Williams is over 220 pounds with 4.45 speed, and he's always been an effective receiver. For the running back traits most pertinent for functions in the Andy Reid offense, no one on the Chiefs roster even vaguely approaches Williams' qualifications. That would be true even before factoring in last year's brief but outrageously productive stretch as starter.
Williams' ADP still strikes me as a tad low, at least relative to Dalvin Cook (18.2). Anyone who thinks Cook can match Williams' upside or carries less risk than Williams just isn't looking at the relevant facts.
Mecole Hardman, WR, KC (97.0 → 87.8)
I don't mind bragging about the fact that I spearheaded the Hardman hype not only after the draft but even back in early January, yet in the eighth round even I find his cost a bit high at this point. That would change if Sammy Watkins should get hurt or Tyreek Hill should get declared suspended for the season, but in the meantime we can't rule out the chances of both Watkins and Hill playing 16 games. If that happens then Hardman probably isn't even returning value in the 12th round, let alone the eighth.
Geronimo Allison, WR, GB (114.1 → 96.9)
It's early, but Allison opened minicamp as Green Bay's lead slot receiver, which would make him the top candidate to follow Davante Adams in the target count even with Marquez Valdes-Scantling playing ahead of Allison in two-wide sets. The hype is understandable, because if Aaron Rodgers enjoys a resurgence then pretty much any wide receiver he throws to figures to go along for the ride.
I'm normally stubborn about my player evaluations, but I admittedly might have screwed up in dismissing Allison to this point. His athletic testing was far below average (4.67-second 40, 33-inch vertical, 11.68 agility score), but a 127-inch broad jump demonstrates some linear explosiveness, at least, and while his junior year production at Illinois was unimpressive his senior year production was legitimately strong. It took a devastating knee injury to then star receiver Mike Dudeck to clear the room, but Allison went on to produce 30.2 percent of Illinois' receiving yardage that year.
I'm still stubborn enough to insist that Allison's prospect profile remains nowhere near those of Equanimeous St. Brown, Valdes-Scantling, J'Mon Moore, or even Allen Lazard, but I need to accept the possibility that Allison is an outlier despite his poor indicators relative to his competition. I'm unlikely to buy at his new price tag, but I'm admittedly getting anxious about my lack of Allison shares. I'll probably wait and see if the news of MVS playing the WR2 role causes the Allison hype to level out a bit. I just can't take him ahead of Larry FItzgerald, Curtis Samuel, or Dede Westbrook right now. I'd include Devin Funchess in that list if I didn't already have too many shares.
FALLERS
Miles Sanders, RB, PHI (60.2 → 65.2)
If you secured your Sanders shares at pre-draft prices then you likely did well for yourself. If you bought him after the draft you likely took a loss. Even with Jordan Howard, Corey Clement, Wendell Smallwood, and Boston Scott already around, Sanders would go as high as the fifth round in post-draft best ball leagues. Sanders is a good prospect and the Eagles obviously were fond of him to secure him with a second-round pick, but there was never any indication that the Eagles thought of him as a workhorse, at least not in 2019.
Jordan Howard has his limitations, but the guy was a wildly effective runner as a rookie and in his lone year at Indiana. Sanders was a good player at Penn State but still less than what Howard was for the Hoosiers, and Sanders' workout metrics (4.49 40, 36-inch vertical, 11.08 agility score) were merely good rather than great. After Barkley and Chubb last year, people were thirsty to identify a star running back prospect in a 2019 draft that simply had none, and Sanders was sort of the by-default induction along with Josh Jacobs and David Montgomery. Those latter two still have plenty of momentum, but the helium went out of Sanders' stock when Philadelphia running back coach Duce Staley said that the Eagles envision a running back rotation of not just Howard and Sanders, but even additional runners. As they have in all of Doug Pederson's seasons as head coach.
As I've said all along, I probably won't have any interest in Sanders until around the 10th round. His projection for 2020 is a much easier sell than his rookie year range of outcomes.
Devin Funchess, WR, IND (104.3 → 116.8)
I'm not sure what's going on here. The Colts were mostly criticized when they signed Funchess in free agency, but his popularly ticked upward a bit when the Colts coaches and front office offered glowing endorsements of him. Perhaps his decline in June is just a matter of the market regressing to its mean. As someone who enthusiastically invested in Funchess the second he signed with the Colts, I'm hoping this allows me to buy more shares.
Nothing changed with Funchess or the Colts. There's no reason for his price to drop except for people retracting prior valuations. I'm considering no such thing at this time. Funchess has no business going later than the likes of James Washington (111.3) or D.K. Metcalf (109.6), in my opinion. Funchess' ADP is almost in line with Indianapolis' rookie second-round pick Parris Campbell (122.9), which I can't follow even as one of the loudest Campbell advocates prior to the draft. I see Campbell as a problem for Nyheim Hines, not Funchess. Their functions don't remotely overlap.
Mike Davis, RB, CHI (152.7 → 178.3)
David Montgomery continues to build hype and is now a trendy mainstream running back target in the fourth round of drafts. It's valid logic to penalize Davis' ADP to offset Montgomery's rise. I don't think this is sound logic, however. The premise that Montgomery is better than Davis isn't something I agree with. I think Montgomery belongs more in the sixth-to-eighth round range with Davis in the 12th rather than the 15th.
The only objective advantage Montgomery has over Davis is Chicago's greater commitment to Montgomery as a third-round pick. Davis, by contrast, has no institutional suction as a journeyman on a cheap two-year contract. That institutional suction is real currency, though, and it's why I concede Montgomery belongs at least four rounds ahead of Davis despite my skepticism that Montgomery is actually better.
If you ignore all the punditry surrounding the two and fixate on their objective traits – size-adjusted athleticism and college production – you would likely conclude Davis is the better player. Check this out if you don't believe me. (Stats from CFB Reference and athletic metrics from Mockdraftable.com)
Player A: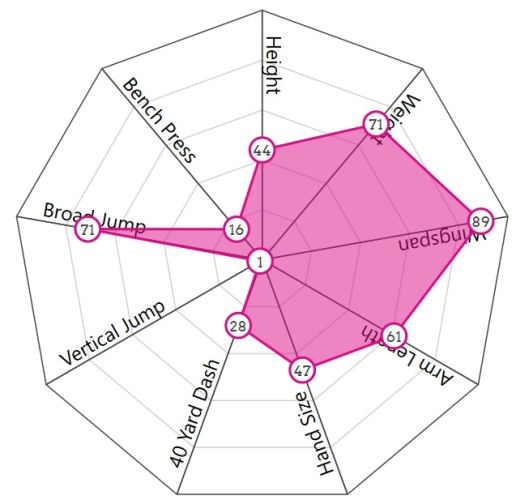 Player B: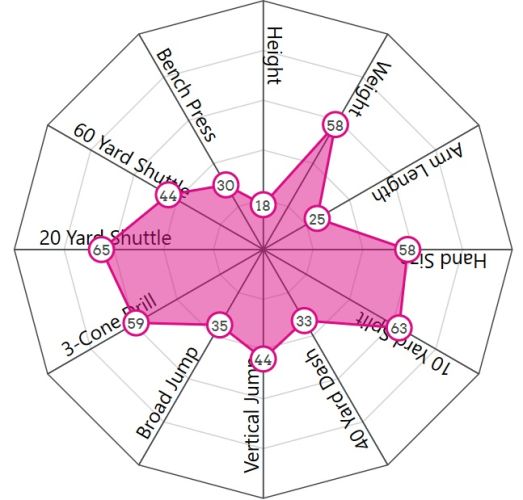 I already have too many shares of Davis – he's my second-most owned running back in the DRAFT Best Ball Championship behind only Matt Breida – but this price drop compels me to invest in Davis even more.