This article is part of our Team Previews series.
Arizona Cardinals

The initial campaign of the Kliff Kingsbury-Kyler Murray experiment had modest success early but eventually ended with a 5-10-1 record. By beefing up both sides of the ball, the Cardinals are putting themselves in a position to compete in the NFC West in both the short and long term.
Offseason Moves
Key Acquisitions
Reliable wideout enters to provide a big-play threat.
Versatile rookie shouldn't have an issue getting on the field early and often.
A volume tackler, but his snap count may be impacted by Simmons' presence.
Set to serve as a bookend for sack artist Chandler Jones.
Coming off a career-high 9.5 sacks, he'll operate as an interior pass rusher.
Kicking off his pro tenure as a running back apprentice.
Key Losses
Seeking a fresh start in Houston after the Cardinals moved on.
The outside receiver again finds himself on the fringes of a depth chart.
A Look Under the Hood
Head Coach: Kliff Kingsbury (Year 2)
Offensive Coordinator: None - Air Raid/Spread
Defensive Coordinator: Vance Joseph (Year 2) - 3-4 scheme
2020 Vegas Projected Wins: 7 (24th)
2019 Record: 5-10-1
2019 Points Scored: 361 (T-16th)
2019 Points Allowed: 442 (28th)
2019 Point Differential: -81 (23rd)
2019 Run-Play Rate: 39.6 percent (21st)
2019 Situation-Neutral Pace: 28.35 seconds per play (4th)
2019 Offensive Snaps: 1,000 (22nd)
2019 PFF O-Line Ranking: No. 22
Projected 2020 Depth Chart
QB: Kyler Murray / Brett Hundley
RB: Kenyan Drake / Chase Edmonds / Eno Benjamin
WR1: DeAndre Hopkins / Trent Sherfield / Hakeem Butler
WR2: Larry Fitzgerald / Andy Isabella
WR3: Christian Kirk / KeeSean Johnson
TE: Maxx Williams / Dan Arnold / Darrell Daniels
O-Line: LT D.J. Humphries / LG Justin Pugh / C Mason Cole / RG J.R. Sweezy / RT Josh Jones (RotoWire Rank: No. 27)
Kicker: Zane Gonzalez
Top Storylines
Year 2 for Kliff and Kyler
Hired in January 2019 to helm the Cardinals, Kliff Kingsbury inherited an offense that ranked last in the NFL in both points and yards per game the previous season. The decision was a curious one due to his lack of experience at the pro level and uneven results at Texas Tech, where he was a proponent of the Air Raid.
Instead, GM Steve Keim seemed to adopt the trend of tabbing an up-and-coming offensive mind to run the show, following in the footsteps of the Rams with Sean McVay and the 49ers with Kyle Shanahan. Considering those teams have been the NFC's two most recent Super Bowl representatives, Arizona is attempting to mimic a specific blueprint, one in which coach and budding QB unite to turn the tide.
But the second piece of that puzzle was unclear until the Cardinals pulled the trigger on making Kyler Murray the No. 1 pick in last year's draft. At 5-10, he's among the shortest signal-callers in the NFL, but what he lacks in size he more than makes up for in dynamic ability.
Ultimately – and unsurprisingly – the byproduct was inconsistency: five outings with 300-plus passing yards versus six of less than 200, and eight with multiple TDs through the air as opposed to six with zero. Fortunately for Murray, he kept defenses honest, joining Lamar Jackson and Josh Allen as quarterbacks with at least 500 yards rushing on the campaign.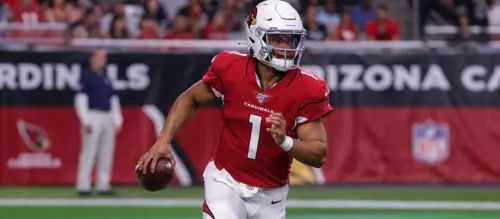 Kyler Murray's scrambling ability helps alleviate any growing pains as a passer.
An Altered Backfield
Speaking of ground attacks, David Johnson led Arizona's backfield for lengthy stretches since he was selected in the third round of the 2015 draft. Fueled by superior pass-catching chops for a running back, he averaged 98.4 yards from scrimmage per game through three years and wrangled a lucrative extension just before Week 1 of 2018.
Along the way, though, injuries took a toll, including an ankle issue last fall. That health concern had a cascading effect on the rest of the running back room. With Johnson and reserve Chase Edmonds missing multiple games in the middle of the season, the Cardinals acquired Kenyan Drake from the Dolphins before the trade deadline.
Given the majority of backfield reps from Week 9 onward, Drake relegated Johnson and Edmonds to minimal roles, earning at least 75 percent of the offensive snaps six times in eight contests on his way to 814 yards from scrimmage and eight touchdowns.
On the same March day this offseason, the team made clear its intention for the immediate future by placing the transition tag on Drake and flipping Johnson for Texans wide receiver DeAndre Hopkins.
Moving forward, Drake could lose sporadic touches to Edmonds or rookie seventh-rounder Eno Benjamin, but the aforementioned monetary commitment signals the organization's comfort with the four-year veteran.
Bird Up, DeAndre
Among the most splashy offseason moves outside the state of Florida, the Cardinals' addition of DeAndre Hopkins is poised to have ramifications across the board in his new home. First and foremost, the likelihood that Kyler Murray takes the next step in his development has enhanced dramatically.
During his rookie campaign, the offense primarily functioned with 11 personnel – one RB, one TE and three WR – as coach Kliff Kingsbury made the transition from the collegiate ranks. But beyond Larry Fitzgerald and Christian Kirk, the third receiver spot was a revolving door of unproven talent.
The same can't be said with Hopkins on board in 2020. Throughout his seven years in Houston, he routinely finished near the top of the wide receiver leaderboard for offensive snap share, and his production outpaced most at his position. With just two DNPs to his credit as a professional, Hopkins has posted an eye-popping 97-1,300-9 line on 160 targets per year over the past six seasons.
One downside to the Hopkins/Fitzgerald/Kirk trio is the residual impact on the remaining members of the corps, in particular 2019 draftees Andy Isabella, Hakeem Butler and KeeSean Johnson. Sans more use of four-wide sets, the greenhorns may need an injury – or Fitzgerald falling off completely – to get regular opportunities in this new reality.
Barometer
⬆️ Rising: RB Kenyan Drake
After his midseason move from Miami to Arizona, Drake didn't look back, effectively taking on the bulk of running back reps for the Cardinals. With David Johnson out of town, this backfield is Drake's, and Drake's alone.
⬇️ Falling: WR Larry Fitzgerald
Fitzgerald has gone through ebbs and flows in the second half of his career, but the 36-year-old has dealt with more of the former the past two seasons. The arrival of DeAndre Hopkins hurts Fitzgerald's potential even further.
😴 Sleeper: TE Dan Arnold
Making only three appearances to close out last year with the Cards, Arnold forged a rapport with Kyler Murray, averaging 10.2 YPT and scoring two TDs on 10 targets. Arnold is the receiving TE in a rising offense.
🌟 Pivotal Player: Kyler Murray
A 16-game starter as a rookie, the 2019 first overall pick had the usual growing pains for a young QB, tossing two pick-sixes among his 12 interceptions. On a positive note, he compiled 3,722 passing yards and 544 more on the ground. The acquisition of DeAndre Hopkins gives Murray a legitimate No. 1 option in the Cardinals' aerial assault.