This article is part of our 2020 Training Camp Preview series.
Expanding upon our team preview collection from earlier this offseason, we're gearing up for an irregular August with a series of team-specific articles to get you up to speed for training camp. You can find the previous writeup on the Houston Texans here.
State of the Franchise
The Texans have a new leader on the defensive side of the ball. Anthony Weaver, a defensive line coach since 2016, was promoted to the coordinator position. Houston's defense was last seen embarrassed by the Chiefs in the playoffs, and it will be tested again at the beginning of 2020, facing Kansas City in Week 1 and Baltimore in Week 2. A full season of health for J.J. Watt would help Weaver, but there were issues in coverage as well as getting off the field on third downs.
On offense, coach Bill O'Brien will step down from calling plays for the first time in five years. Houston's newly minted general manager will shift those duties to Tim Kelly, who was promoted to OC in 2019. O'Brien's always had a lot on his plate, and it showed at times with questionable play-calling that many described as overly cautious.
The 33-year-old Kelly worked closely with quarterback Deshaun Watson last season and now is charged with bringing new pieces – David Johnson, Brandin Cooks and Randall Cobb – into an offense that was middle of the pack last year. With Will Fuller, Kenny Stills and all-purpose back Duke Johnson also on the team, Kelly has the resources to exploit whatever defenses give him.
Job Battle
This wide receiver position generated the most offseason buzz, largely because of who the Texans lost – DeAndre Hopkins. On the bright side, the shakeup does make this one of the deepest groups in the NFL. There are four established veterans that could start on nearly any team: Randall Cobb, Brandin Cooks, Will Fuller and Kenny Stills.
There's elite speed in that group, which could lead to more deep throws in 2020. While this may be an asset for offensive coordinator Tim Kelly, the team's new play caller, snaps will not be there for all. In all likelihood, Fuller and Cooks will start on the outside, and Cobb in the slot. Stills figures to rotate in at multiple spots, while Keke Coutee and DeAndre Carter could have a tough time earning snaps.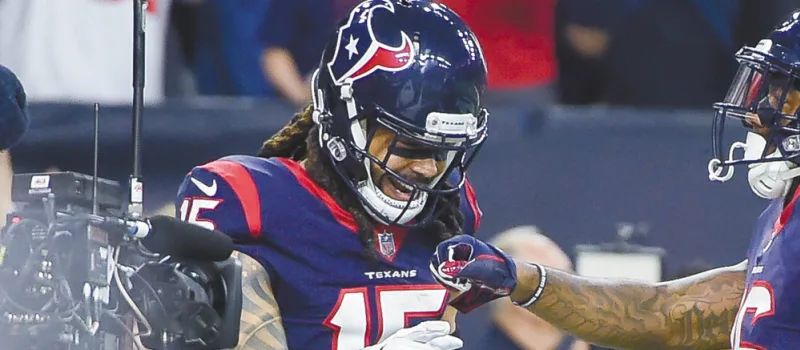 With all the weapons on the outside, the Houston passing attack will largely focus on wide receivers, though tight ends made a significant impact last year in the red zone. Darren Fells tied Hopkins for the team lead with seven touchdowns. There are four tight ends fighting for three spots. Which will emerge among Fells, Jordan Akins, Jordan Thomas and Kahale Warring? Fells and Akins are the best bets to be the top two, but there's some anticipation to see what Warring will bring after missing his rookie season due to a concussion.
Medical Tent
WR Will Fuller
Fuller's importance to the Texans took a major leap forward after an offseason that saw franchise wideout DeAndre Hopkins traded to the Cardinals. That means Fuller becomes the No. 1 wide receiver, a lofty title for a player that has yet to play a full NFL season. A groin issue that limited him to 11 games led to surgery in January to repair two tears in his groin/abdominal area. The fifth-year veteran has resumed running, and by all accounts has been working out at home and participating in the virtual offseason program.
McKinney underwent an arthroscopic ankle procedure in February and made a speedy recovery. The Texans were so confident in his ability to return that they guaranteed his 2020 salary a month after the surgery. McKinney, who will once again wear the green dot on his helmet as the defensive play caller, is part of an elite inside-linebacker tandem with Zach Cunningham. The duo combined for 243 tackles in 2019. In May, McKinney was working out again, preparing for the 2020 season.
Reid is pain-free after undergoing surgery to repair a torn labrum in his right shoulder. It's an injury he played with for the entire 2019 season, when he missed just one game (due to a concussion). He finished the season with 78 tackles, five passes defensed, two interceptions and one fumble recovery, playing snaps at cornerback in addition to safety. The 23-year-old, known for his hard hitting, will have a new partner on the back end – likely Jaylen Watkins or Eric Murray – after the Texans let Tashaun Gipson walk in free agency.