This article is part of our Team Previews series.
Pittsburgh Steelers

The Steelers began 2020 with an 11-0 record despite a league-worst rushing attack, faltering down the stretch and finishing 12-4. First-round running back Najee Harris should see plenty of work right away, as the team will look to avoid relying too heavily on a high-volume passing approach.
Offseason Moves
Key Acquisitions
The all-around back boosts a ground game that was lacking.
A surprise pick by Pittsburgh, he could contend for targets as a rookie.
Key Losses
Led the Steelers in rushing yards while battling injuries in 2020.
Suffered a torn ACL in December after totaling eight sacks in 11 games.
Paced Pittsburgh's cornerbacks with three interceptions last season.
Future Hall of Fame candidate who started 134 games across 11 years.
Heads to Baltimore as a possible replacement for Orlando Brown.
Finished second on Pittsburgh's defense by playing 907 snaps in 2020.
A Look Under the Hood
Head Coach: Mike Tomlin (Year 15)
Offensive Coordinator: Matt Canada (Year 1) - Erhardt-Perkins scheme
Defensive Coordinator: Keith Butler (Year 7) - 3-4 scheme
2021 Vegas Projected Wins: 9 (T-14th)
2020 Record: 12-4
2020 Points Scored: 416 (12th)
2020 Points Allowed: 312 (3rd)
2020 Point Differential: +104 (7th)
2020 Run-Play Rate: 34.5 percent (31st)
2020 Offensive Snaps: 1,043 (11th)
2020 PFF O-Line Ranking: No. 17
Projected 2021 Depth Chart
QB: Ben Roethlisberger / Mason Rudolph
RB: Najee Harris / Benny Snell / Anthony McFarland / Kalen Ballage
FB: Derek Watt
WR1: JuJu Smith-Schuster / Cody White
WR2: Chase Claypool / James Washington
WR3: Diontae Johnson / Ray-Ray McCloud
TE: Eric Ebron / Pat Freiermuth / Zach Gentry
O-Line: LT Chukwuma Okorafor / LG Kevin Dotson / C Kendrick Green / RG Trai Turner / RT Zach Banner (RotoWire Rank: No. 31)
Kicker: Chris Boswell
Top Storylines
Plenty of Pass Catchers
Although the Steelers led the league with 656 pass attempts in 2020, the resulting 4,129 yards ranked T-16th in the NFL, while their 6.3 yards per attempt tied for 28th. Diontae Johnson, Chase Claypool and JuJu Smith-Schuster all logged over 100 targets last year, but the team didn't have a receiver who topped 1,000 yards. The Steelers also struggled to corral passes, as their 30 drops ranked second in the league.
Johnson paced the pass catchers with 923 yards, but he also led the team with 15 drops – including 12 in the second half of the season – to go along with a 10.3 percent drop rate. Smith-Schuster hauled in a team-high 97 receptions for 831 yards and nine TDs, but his 5.6 aDOT ranked last in the NFL among wide receivers with at least 50 targets. Claypool burst onto the scene with 873 yards and 11 total scores as a rookie last year, and his 8.0 yards per target led the team. In that context, James Washington saw his volume decrease in 2020.
Tight end Eric Ebron had something of a slight bounceback with 558 yards and five scores in his first season with Pittsburgh, but second-round rookie Pat Freiermuth could compete with him for targets. The addition of first-round back Najee Harris may help balance the attack in 2021, but the abundance of receiving talent makes Pittsburgh's weekly target share somewhat unpredictable.
Revamped Rushing Attack
Pittsburgh's rushing game ranked last in yards (1,351) and yards per carry (3.6) in 2020. James Conner, who led the team with 721 yards and six TDs in 13 games, signed with the Cardinals this past offseason.
To replace him and provide a needed backfield boost, the Steelers selected Najee Harris with the 24th overall pick in the 2021 NFL Draft. The 6-2, 230-pounder rushed for over 1,000 yards in each of his final two seasons at Alabama and during his senior year led Power Five running backs with 1,466 rushing yards and the nation with 26 rushing scores. GM Kevin Colbert has noted that he views Harris as a three-down back who played in an NFL system, so the rookie should be pro-ready and capable of handling a significant workload out of the gate.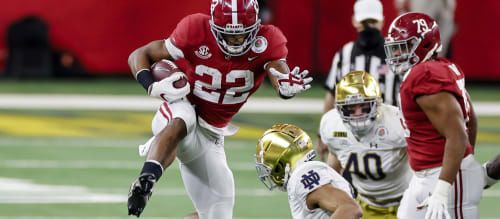 Behind him, free-agent addition Kalen Ballage should compete for a secondary role after Benny Snell averaged just 3.3 yards per carry last year, while Anthony McFarland also is in the mix for complementary touches.
In order to bolster their offensive line, the Steelers drafted Kendrick Green in the third round and tackle Dan Moore in the fourth. Green should move into the retired Maurkice Pouncey's vacated center spot, while Moore provides depth behind starting right tackle Zach Banner and Chukwuma Okorafor, who slides over to the left side, replacing Alejandro Villanueva.
On the Defensive
The Steelers boasted one of the league's top defenses in 2020, as their 306 points allowed were the third fewest in the league. They also led the NFL with 56 sacks and tied for the league lead with 18 interceptions. However, the team allowed 24.8 points per game across the final five weeks of the regular season before giving up 48 points to the Browns in the wild-card round of the playoffs.
Part of Pittsburgh's late-season struggles could be attributed to the loss of Bud Dupree, who logged eight sacks before suffering a torn ACL in Week 12. He won't return to the Steelers in 2021 after he signed with the Titans in March. Pittsburgh's offseason losses also included cornerbacks Mike Hilton and Steven Nelson, who combined for 1,340 defensive snaps last season.
However, the Steelers have plenty of top-notch contributors returning, highlighted by T.J. Watt, who led the NFL with 15 sacks and finished second in Defensive Player of the Year voting. Minkah Fitzpatrick once again should play a significant role in the secondary after he led the team with 79 tackles and four interceptions last year.
While the Steelers will have some unproven starters following the aforementioned key departures, their returning stars and the July addition of Melvin Ingram (49 sacks in nine pro seasons) should make the defense a formidable unit in 2021.
Barometer
⬆️ Rising: RB Najee Harris
Harris was the top running back off the board in the NFL Draft after totaling 1,891 yards from scrimmage and 30 total TDs in his senior season at Alabama. He should have a three-down role with plenty of volume in 2021.
⬇️ Falling: WR JuJu Smith-Schuster
Smith-Schuster still has plenty of competition for targets after the Steelers re-signed him. Chief among them are fellow wide receivers Chase Claypool and Diontae Johnson. Plus, Ben Roethlisberger is another year older.
😴 Sleeper: WR Chase Claypool
Among the notable stats from his impressive rookie season, Claypool led the team with 14 catches of more than 20 yards. He'll look to continue staking a larger claim to a passing attack that includes Smith-Schuster and Johnson.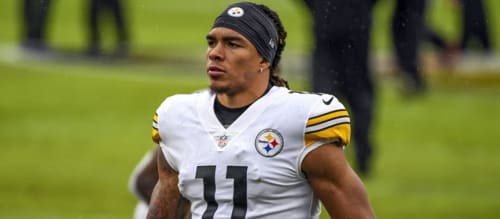 🌟 Pivotal Player: Ben Roethlisberger
Roethlisberger, 39, now is the NFL's second-longest tenured quarterback. His 608 pass attempts in 2020 ranked third in the league, and he's had over 600 passes in each of his last two full seasons. However, he only recorded 6.3 yards per attempt last year, which was his lowest mark in a season in which he's played at least 12 games.
Medical Tent
RB Najee Harris
Harris helped lead Alabama to yet another championship back in January, despite an ankle injury sustained late in the season. He subsequently missed the Senior Bowl and the Crimson Tide's Pro Day, but he received a clean bill of health ahead of the 2021 NFL Draft, when the Steelers made him the first running back to be selected.
Freiermuth was on a strong pace during the 2020 season at Penn State with 310 yards and a touchdown across four games, but he underwent season-ending shoulder surgery in mid-November that prevented him from testing at his pro day. Fortunately, the Steelers haven't expressed any injury concerns regarding Freiermuth ahead of camp, and he'll attempt to carve out a role alongside Eric Ebron.
OT Trai Turner
Turner spent last year with the Chargers, but his availability was limited due to an array of injuries, and he started only nine games as a result. L.A. let him go in March, but he should fill a starting role on the Steelers' offensive line following the release of David DeCastro. The right guard considers himself to be 100 percent healthy, and Turner indeed was a full go to begin training camp.
Job Battle
Much of the attention surrounding rookie tight ends in 2021 rightfully was directed at fourth overall pick Kyle Pitts, but Pat Freiermuth was the next tight end off the board at No. 55. The 6-foot-5, 251-pounder averaged 14.2 yards per reception in 2018 and followed it up with 13.5 YPC last season before a shoulder injury brought it to a premature end.
Historically, first-year TEs struggle to generate much production early in their careers, but he was a three-down option in college with above-average blocking and route-running abilities. Freiermuth likely will play second fiddle to veteran Eric Ebron, who put up a respectable 56-558-5 line in his initial run with the Steelers last fall. However, Ebron's lack of consistency – he recorded just 31 catches in 2019, and he's only had more than five touchdowns once in seven campaigns – could give Freiermuth more opportunities as the year goes on.