This article is part of our Dynasty Watch series.
It's tough to bite the bullet and punt a season, especially in dynasty/keeper leagues with a considerable annual buy-in. Assuming a format that utilizes some type of playoffs rather than cumulative points, I prefer to build a team that can field a B+ roster year after year, rather than going all-in for a temporary A+ roster that forces me to be non-competitive in preceding or succeeding seasons.
Unfortunately, life isn't always about getting what we want, and that's especially true for inheriting an orphaned dynasty team. Last year I wrote about my strategy upon taking over a squad in the GMFFL, a salary-based superflex league with 22-man rosters, weekly best-ball scoring and salary deferrals/advancements. Inheriting an imbalanced roster in a league that already had a few juggernauts, I decided to tear things down and build around young players, fully expecting to go 0-13.
Well, I somehow ended up at 0-11-2, winless but not fully defeated. Meanwhile, the other guy who had taken over an abandoned team tried to field an immediate winner but finished at 2-11-0 even after he used salary deferrals that will need to be paid off in 2020 and beyond. Neither of us came anywhere near the playoffs, and my team is set up much better for the future, despite my stupid decision to trade A.J. Brown for James Conner late in the season (in my defense, I desperately need RBs for 2020):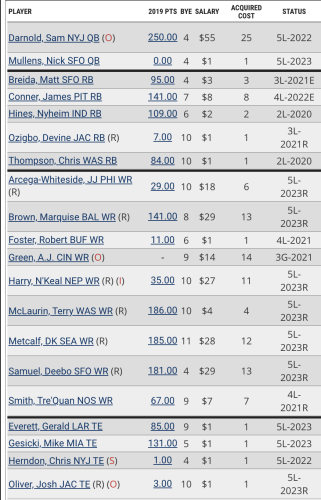 The first thing that stands out with my tanking roster is the abundance of rookie wide receivers and young tight ends. This was intentional, as those positions tend to have a slower learning curve and longer life span relative to running backs. The rookie season for a top RB is often one of his prime production years, which would've been wasted on a non-competitive roster like mine.
That's not to say every RB with long-term fantasy success is a star right out of the gate, but we do have numerous examples of immediate RB1 production in recent years: Todd Gurley, Ezekiel Elliott, Saquon Barkley, Alvin Kamara, Kareem Hunt, Leonard Fournette and Josh Jacobs (kind of). Even the relative "late bloomers" tend to be thrive by Year 2, with Derrick Henry and Aaron Jones standing out as the only real exceptions among fantasy stars of the past half-decade.
Likewise, it's rare to see a top fantasy RB who isn't on a rookie contract or the early part of his second NFL contract. The Top 25 for 2019 RB fantasy scoring featured precisely one player, Mark Ingram, with more than five years' tenure in the league. It was the same story in 2018, albeit with Adrian Peterson instead of Ingram representing the lone exception. (Granted, there were five examples in 2017: Ingram, LeSean McCoy, Frank Gore, Marshawn Lynch, DeMarco Murray).
On the other hand, the fantasy-scoring leaderboards at QB, WR and TE tend to feature a better mix of young players, guys in their late 20s and even some graybeards.
The 2014 draft class at WR stands out as a noteworthy exception, but we mostly see rookies max out in the WR3 fantasy range, or at the TE1/2 and QB1/2 borderlines for those positions. Even Kyler Murray, a mobile QB who attempted 542 passes, finished at QB8 in cumulative scoring and QB11 on a per-game basis. The year prior, Baker Mayfield finished as QB16 overall and QB20 in points per game.
It's even worse at tight end, where no rookie has gone beyond 722 yards (props to Evan Engram) since Jeremy Shockey (another Giant!)... in 2003. To be fair, Gronk put up 42-546-10 as a rookie, so at least we know that all-time greats can provide mid-range TE1 production as rookies.
Why I Do What I Do
The synopsis of my rebuilding strategy is to stack young talent at QB, WR and TE, then invest in RBs in future seasons if/when things pan out with my guys at the other positions. I'm not opposed to spending big money on a running back at a rookie auction, but I am opposed to doing so at a time when the rest of my roster looks shaky.
Unfortunately, it's not so easy to get your hands on a talented young quarterback in a superflex league with six-point passing TDs. Once Kyler Murray was priced beyond my liking at the rookie auction, the best I could do was trade Jared Goff for Sam Darnold, a move that gave me a lower floor, higher ceiling (debatable, perhaps) and more cap room to play with in future years. I may end up regretting it anyway, but the logic was sound once I'd decided not to fight for a 2019 playoff spot.
Tight end also proved tricky, as I didn't love the rookie class and was wary of spending big on either of the first-round picks, T.J. Hockenson and Noah Fant. Most of the top TEs over the past couple decades have been second/third-round picks (or even lower) with excellent workout numbers, while the hit rate for first-rounders has been less than stellar. Rather than investing in a top guy, I added Josh Oliver in the rookie draft, followed by Chris Herndon in a trade and then Gerald Everett and Mike Gesicki in the veteran auction — each carrying $1 price tags, along with impressive athletic profiles.
I was hoping one of my four darts would hit the bullseye, but now I wonder if I should've just drafted Fant ($8) or Hockenson ($10)? Sure, I got a lot of potential for just $4 combined, but now I'm using four roster spots on tight ends without having even one sure-thing producer. I may need to cut/trade one or two of my TEs; not because they aren't worth $1 in a vacuum, but because they aren't worth the opportunity cost associated with a roster spot within the context of my team. In a salary-based league where cuts come with dead cap hits, it's suboptimal to be facing this dilemma.
There's a lesson to be learned here about piling up "bargain" assets, even in a league with 22-man rosters. The salary cap isn't the only constriction on building a team, and hoarding of borderline players can lead to difficult decisions later on. As any good poker player can tell you, the name of the game is forcing opponents into difficult decisions, not putting one's self in those spots.
Cha-Ching
Things didn't quite go as planned with Darnold or my young tight ends, but to be honest, I don't really care... because I crushed it with the wide receivers. DK Metcalf, Marquise Brown, Terry McLaurin and Deebo Samuel already look like awesome investments, while N'Keal Harry still has plenty of potential, and only J.J. Arcega-Whiteside inspires regret so far.
You won't find many wide receivers with rookie seasons like Metcalf's, McLaurin's, Samuel's or even Brown's who don't go on to enjoy prolonged NFL success. There have been 35 WRs in the current millennium to reach 800 receiving yards as rookies, and while the list does include some early flameouts, most of those guys — Roy Williams, O.G. Mikey Williams, Justin Blackmon, Eddie Royal, Kelvin Benjamin — have something in common from their debut campaigns: huge target totals and poor per-target production.
With help from pro-football-reference.com's play index, I took a look at all the rookie seasons since 2000 with 800 or more receiving yards and at least 8.0 YPT. Michael Clayton, Jordan Matthews, Torrey Smith and Josh Gordon make the cut, but we're otherwise looking at a list of guys who were solid fantasy starters for at least half a decade: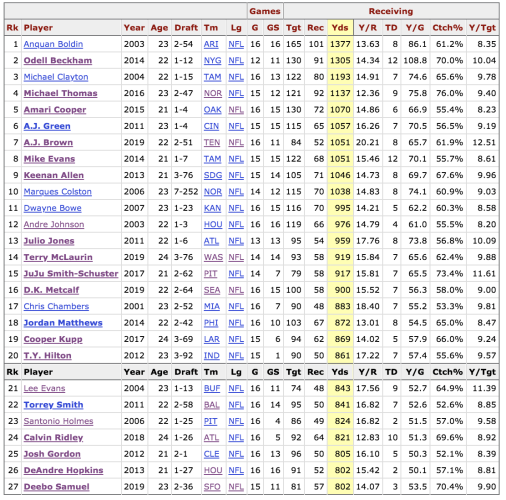 You might notice that the list includes four 2019 rookies, plus Darius Slayton falling just 60 yards short while playing 14 games. I'd also argue that Marquise Brown, Diontae Johnson and Mecole Hardman qualify for the spirit of this list, given their struggles with injuries, incompetent quarterbacking and lack of snaps, respectively. Even renowned accountant Hunter Renfrow made a nice case for his NFL future, topping 600 yards in 13 games while playing just 42.6 percent of the Raiders' offensive snaps for the season.
The 2019 WR class didn't have nearly as much hype as the 2020 class, but in terms of the rookie-year production it was easily the best we've seen since 2014. As a heavy investor in that 2019 class, I now enter 2020 with a boatload of salary-cap space and an exciting WR corps, ready to shore up deficiencies elsewhere on my roster.
I'm still not sure if that means going all-in on RBs like Jonathan Taylor and D'Andre Swift, or maybe spending another year upgrading the QB/WR/TE group before I pounce on 2021 backfield prospects like Travis Etienne and Chubba Hubbard. I'll probably enter the rookie auction with an open mind to both strategies, hoping to figure out if the value lies at RB or the other positions.