This article is part of our 2020 Training Camp Preview series.
Expanding upon our team preview collection from earlier this offseason, we're gearing up for an irregular August with a series of team-specific articles to get you up to speed for training camp. You can find the previous writeup on the Miami Dolphins here.
State of the Franchise
It's no secret that Miami's hopes for the future rest upon rookie QB Tua Tagovailoa, but the Alabama product's timetable for taking the reins is cloudy. The 22-year-old's recovery from a serious hip injury sustained last November has been made more difficult by a turbulent offseason, and limited in-person drills could serve to exacerbate the curve of adapting to a pro offense.
Add in the fact the Dolphins still roster veteran gunslinger Ryan Fitzpatrick, who miraculously ignited the offense down the stretch last season after a historically inefficient beginning to the year. If the 37-year-old once again is able to demonstrate lethal chemistry with top receiver DeVante Parker and developing weapons Mike Gesicki and Preston Williams, it's not difficult to envision a scenario wherein he not only is under center Week 1, but holds on to the job well into the season.
The Dolphins didn't grab Tagovailoa fifth overall to sit him down for a redshirt season, but if the team has any concerns about his development or rehab – and Fitzpatrick helms the offense competently enough to allow the young surrounding talent to grow – the cautious approach could prove more and more tempting.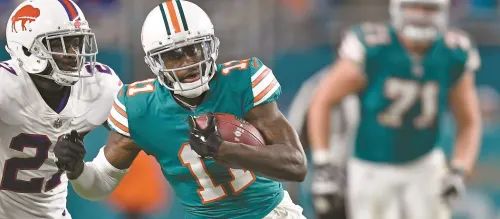 Job Battle
Five years removed from Jordan Howard's Pro Bowl rookie campaign, the memory of how strong he showed between the tackles has faded somewhat. While he did follow that season up with another 1,000 yards as a sophomore, his receiving totals and yards per carry have dropped with each passing year.
Now, however, the 26-year-old looks primed to get another shot at carrying the load in Miami, but former 49ers standout Matt Breida will provide strong competition for carries. A three-year veteran whom Miami traded for on Day 2 of the draft, Breida's receiving chops and electric speed complement Howard's zone-friendly rushing style.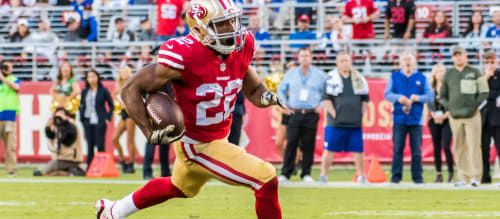 Howard offers the team consistency (4.3 career YPC, only five fumbles across 979 touches), while Breida is a potential home run threat on each of his touches. As the two backs line up behind a completely rebuilt offensive line, a thunder/lightning tandem seems like the obvious result.
That said, the possibility of one back garnering a workhorse role, and therefore significant fantasy potential, can't be ruled out. New OC Chan Gailey has averaged 119.5 rushing yards per game in his five years calling plays. Miami averaged just 72.2 in 2019, last in the NFL.
Medical Tent
Before an ACL tear prematurely ended Williams' rookie season, he was leading the Dolphins in receiving and proving himself to be a legitimate starter at the pro level – a rare feat for an undrafted prospect. In the interim since Williams' injury, however, Devante Parker managed to emerge as a fifth-year breakout and true alpha receiver. The 23-year-old Williams is expected to begin the 2020 season at full health, which would put him in a prime spot to serve as Miami's second option in the passing game and potentially a Year 2 breakout if he can hit the ground running.
Tagovailoa will enter training camp in the advanced stages of his recovery process. All signs point to his being ready for on-field drills when the Dolphins open camp. Thus, the questions that remain surround his workload and how quickly he'll be able to ramp up. Even if positional drills go by without issue, it's still possible that the rookie's 11-on-11 reps could be limited, and even entirely non-contact. As avoiding re-injury stands to be Miami's top priority during Tagovailoa's early development, limited reps could pave the way for a later in-season debut.
Since joining the Dolphins in 2018, Wilson has suffered through two injury-riddled seasons (742 combined yards). Now fully recovered from the serious hip injury that limited him in 2019, and having agreed to a $6.5 million pay cut, the speedy receiver will have one more opportunity to prove himself. He stands to operate out of the slot as a complement to DeVante Parker and Preston Williams, using his elusiveness to exploit favorable matchups. The team did draft a potential slot receiver in the seventh round in the form of Malcolm Perry, but the former Navy QB looks like a project.