This article is part of our 2020 Training Camp Preview series.
Expanding upon our team preview collection from earlier this offseason, we're gearing up for an irregular August with a series of team-specific articles to get you up to speed for training camp. You can find the previous writeup on the New Orleans Saints here.
State of the Franchise
It's tough to argue that a franchise has been through more heartbreak over the last three seasons than Who Dat Nation. After three straight 7-9 seasons from 2014-2016, the clouds parted and the sun began to shine on New Orleans again. The team went 11-5 in 2017 and followed that up with back-to-back 13-3 records over the last two campaigns, though the postseason losses were brutal.
First, the Stefon Diggs buzzer beater in 2017 sent New Orleans packing in the divisional round, then a no-call on a pass interference in the 2018 NFC Championship Game against the Rams, and finally another loss to the Vikings on wild-card weekend in 2019.
Back for another run in 2020, the formula for success is the same – keep the burden off of the aging Drew Brees using a solid run game, an elite offensive line and an improved defense. The additions of Emmanuel Sanders and Adam Trautman as pass catchers should be a positive for the passing game, while Alvin Kamara's return to full health should bolster a quality ground attack.
This may be Brees' swan song, and he'll be the X-factor for the team's championship aspirations. He'll need to maintain his top-notch accuracy, avoid turnovers and stay healthy, at minimum, but to get over the hump, Brees may have to take over a game or two like he did in years past.
Job Battle
It's no secret that Drew Brees is nearing the end of his career, and the backup quarterback job this season – and potentially a starting job as soon as next year – is up for grabs. Taysom Hill signed a one-year extension in the offseason to keep him on the roster through at least 2022, but the team also signed Jameis Winston after letting Teddy Bridgewater walk.
Hill is an unproven commodity under center, having played most of his snaps for the Saints at wide receiver or running back, and it's unknown what the 29-year-old can do as a full-time passer, rather than a gadget guy. Winston, on the other hand, has the pedigree of a No. 1 pick and five years of starting experience under his belt, but decision-making and character issues were his undoing in Tampa, where his raw talent never translated to wins.
Brees was out for five games last season, and if he's forced to miss time in 2020, Winston's years of NFL experience make him an intriguing option to plug in on short notice. If Winston can clean up the turnovers and mature under the tutelage of Brees and coach Sean Payton, he could be the future of the franchise. As for Hill, he should be the early favorite entering training camp because of his experience within the Saints system, but Winston may push him in training camp.
Medical Tent
RB Alvin Kamara
Kamara's struggles in 2019 were well documented and often lamented among the fantasy community at large. His yards per reception tanked compared to his first two years in the league, his yards from scrimmage saw significant decline, and his six scores were a far cry from the 31 he totaled between 2017 and 2018. Though he missed two games, the extent of his injuries was unknown until running backs coach Joel Thomas spoke to the knee, back and ankle injuries Kamara played through when he was on the field. He should be close to 100 percent for the 2020 campaign, where he'll look to bounce back in the final year of his rookie contract.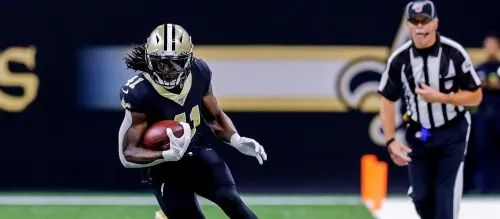 Davenport finished the season on injured reserve after injuring his foot Week 14, and he subsequently underwent surgery to address the issue. The procedure represents Davenport's second in as many years after toe surgery in the offseason following his rookie campaign, so the risk of re-injury is concerning. Davenport became a full-time starter in 2019, racking up 33 combined tackles and 6.5 sacks in 13 games, and he'll be needed for what could be the Saints' last chance to win a title with Drew Brees under center.
Anzalone was placed on injured reserve with a shoulder injury after appearing in just two games in 2019. He had a career-best season in 2018, racking up 59 total tackles, three forced fumbles, two sacks and an interception. In 2020, he'll look to pick up where he left off. In the final year of his rookie deal, Anzalone is the favorite to start at outside linebacker, though he'll face competition from third-round rookie Zack Baun. It's a prove-it year for the Florida product, who will need to excel for a linebacking corps that represents an area of weakness for an otherwise stout defense.