This article is part of our Rounding Third series.
The biggest bids this week in my leagues were in AL Tout Wars, where we had not one but two massive buys (over 1/3 of the player's respective FAAB budget). For my teams, there were no sweeping moves, only soul-crushing drop decisions following a slew of injuries on those teams. Let's dive in.
AL ToutWars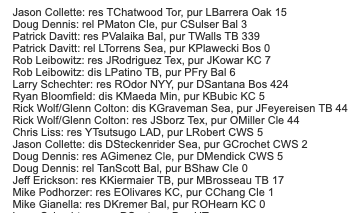 Immediately you can see how an AL-only league differs from a mixed league, with the aggressive bids on Danny Santana and Taylor Walls. Both players were high on my list of targets in mixed leagues, but not to the extent that you saw here with Larry Schechter and Patrick Davitt respectively. It's really hard to find a player getting full-time at-bats in AL Tout, where we have an unlimited IL plus four reserve spots. There's risk with both players getting sent down, especially Santana, but it's hard to deny how well he was hitting in Triple-A. Moreover, in Larry's case, he just lost Mitch Moreland, Cavan Biggio and Dylan Moore to the IL, so he really needed the bat.
There's a couple of other buys that caught my eye. Owen Miller was called up by Cleveland when Franmil Reyes went on the IL with an oblique strain that will keep Reyes out 5-7 weeks. Miller is similar to Walls, in that he's not the highest-profile prospect in his organization, but he is a prospect of some repute at least, and was on fire at Triple-A. He started Sunday against a lefty in J.A. Happ, and is starting against a righty in Spencer Turnbull on Monday night. I had a bid in on him but obviously Rick & Glenn wanted him more. Also, Liss bought Luis Robert under the same premise as last week, and I'm annoyed that I didn't do that. It's worth one week of zeroes to get a month of Robert later in the season.
NFBC Main I
In two parts: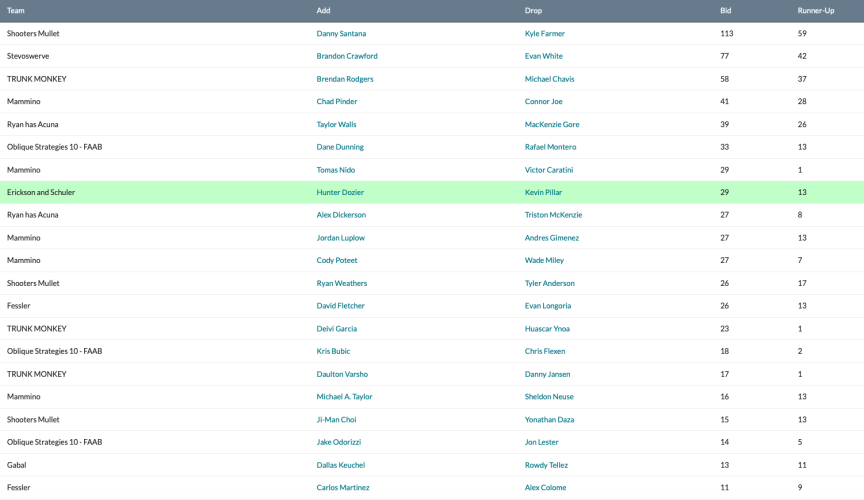 and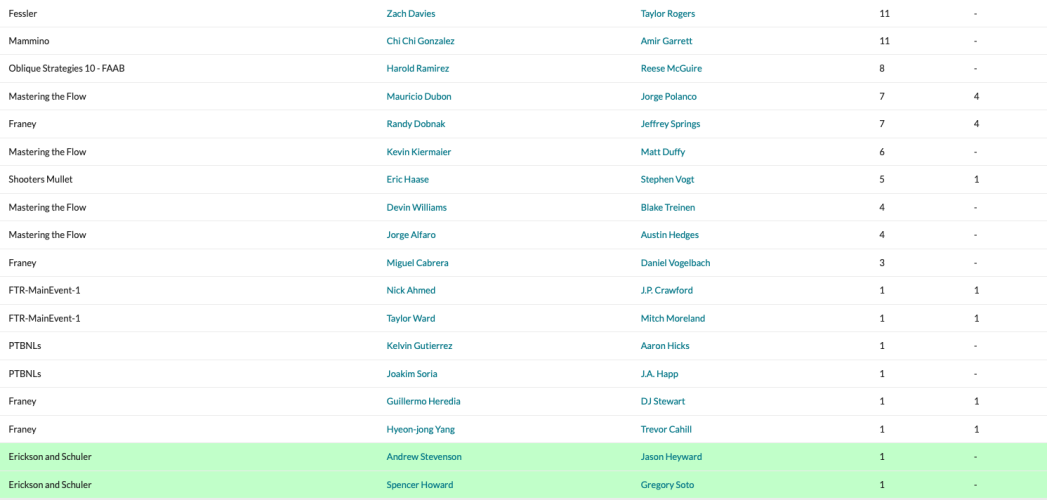 This is where it's starting to get painful - we had to cut what we view as a partial closer in Gregory Soto, and two outfielders that were getting playing time before they got hurt. I'm happy getting Hunter Dozier, though it appears we may have to wait a day or two for him to come back from his concussion. But he's been making hard contact (average exit velocity, barrel % and hard hit % are all well-above average) but not getting the results yet. He has some speed, and qualifies at 1B/3B/OF. We also added Andrew Stevenson as a short-term fill-in while we wait for our injured outfielders to return and while Victor Robles is on the IL. We purposefully played small ball, having already spent more than 50 percent of our budget already.
Main Event II
Again in two parts: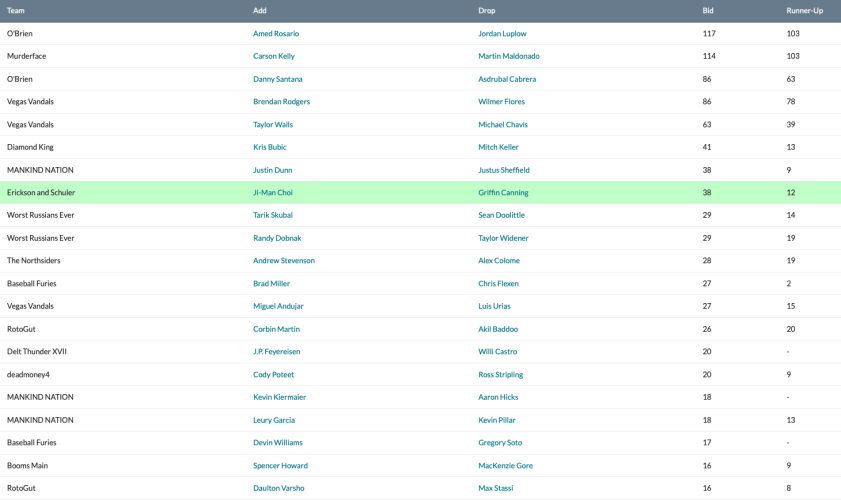 and

One "hurtful" drop (Brandon Nimmo) and one "spite" drop (Jon Lester and Griffin Canning). I convinced Shoe to drop Canning instead of Amir Garrett, in the waning hopes that he still closes, even if he's not on our active roster this week. I'll take the blame for Lester - we actually discussed taking him off of our contingency list last week, cringed when Scott Jenstad and I talked about him on the podcast later that night, and yet still left him active to inflict the damage he did in his two starts.
While were pretty happy with the pickups in the other Main, this one brought "meh" results. We needed to find replacements for Pete Alonso, Trent Grisham and Cavan Biggio respectively, and had to settle for our second, fifth and sixth contingencies on our bid list. Part of that was that we weren't wowed by any of our alternatives. But we dropped about 15 points in the league in the last week and just need healthy bodies. Too bad Ji-Man Choi already got hurt in the first game of the week, good times.
RotoWire Online Championship I

It was a light week for the league and for me - welcome to the 12's! I made four moves last week, so I had fewer holes to fill. That's a bonus for the teams that spent heavy early - Dalton Del Don was able to get three great additions for basically three, which is pretty sickening. I added German Marquez for his start against the remains of the Mets lineup. I'll need to use restraint to avoid his two-step next week at Coors.
RotoWire Online Championship II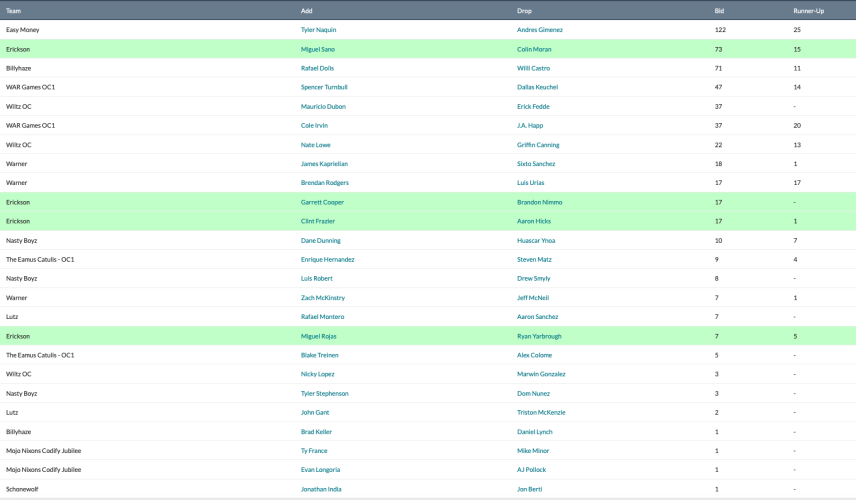 Click here for a larger image.
This league was much busier, as I had a lot of holes to fill - this team was a parade of "red suitcases," as illustrated by three of my drops - Colin Moran, Brandon Nimmo and Aaron Hicks. The fourth drop seems a little weird in Ryan Yarbrough - but I didn't want to use him against the Jays today in the first part of a two-step, and I do think if you can't use a marginal pitcher in a two-step in a 12-team league, it makes sense to drop him now if you need the spot and try to claim him again later if he has a good matchup.
We all just missed Miguel Sano's best week, but I think that there's enough left in the tank to enjoy future good weeks, and it helps fill an empty corner slot created by Mike Moustakas's injury, with Eugenio Suarez sliding over to third and Miguel Rojas filling a MI slot.
TGFBI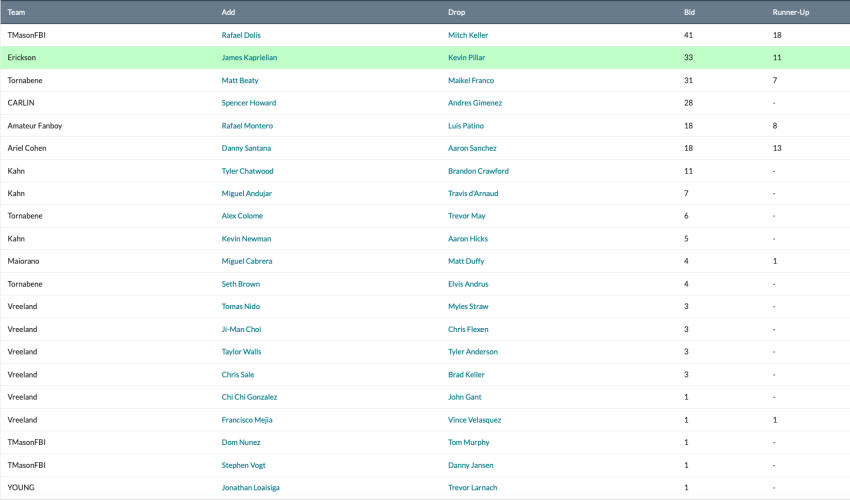 Here you can see the effect of us drafting earlier in the season - the top bids in this league were a lot more tame than in the NFBC Main Event, despite the identical league structures. I added James Kaprielian even though he has only one start this week, albeit against Seattle at home, which is pretty sweet. We'll see if I am bold enough to go with a potential two step next week that would include a Coors Field start - probably not! I still have 60 percent of my FAAB budget left, and judging by the levels this week, I can play small ball with my choices going forward - less than what I paid this week.
LABR Mixed Draft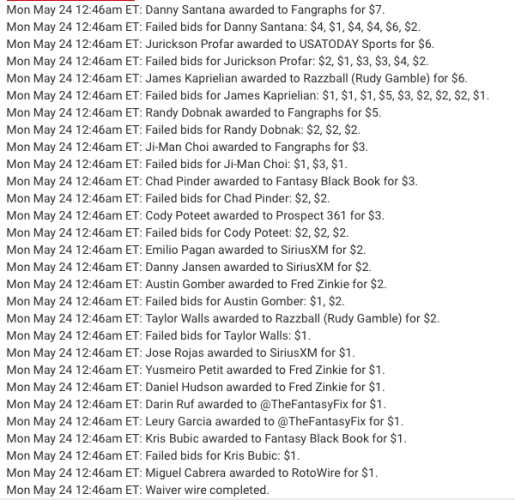 Miguel Cabrera is my latest stab at finding a corner infielder on the cheap until one of my injured players comes back. I also had bids in on Danny Santana, Jurickson Profar and Ji-Man Choi, but got outbid. I also got outbid on Kaprielian and Kris Bubic (well, lost the tiebreaker). This team is hanging in there despite seven players currently on the IL, which has been about my average so far this season.
RotoWire Staff Keeper League
In parts:
and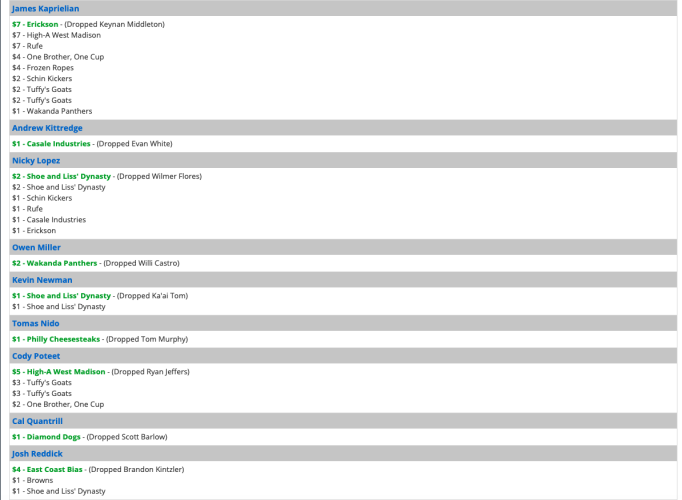 and: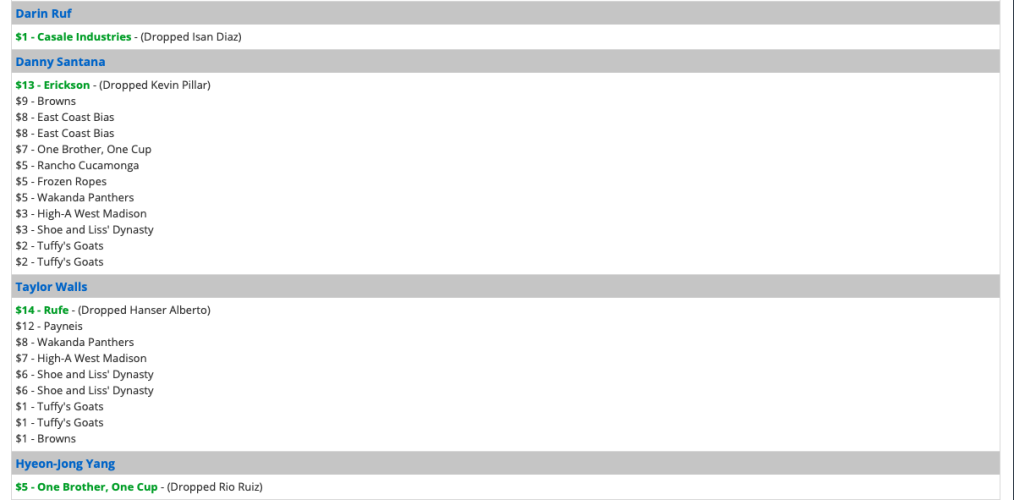 The Staff Keeper league deadline is later than my other leagues - bids are due at 11:00 pm PT on Sunday night. That in part informed my bid amount on Danny Santana - I had a bigger need for him here, where full-time hitters are just so difficult to find in a league with 18 teams, seven reserve spots and 10 minor league spots. I also won a tiebreaker for Kaprielian and won the services of Eric Haase, who is getting some playing time in the field in addition to behind the plate, and has been batting as high as fifth in the Tigers' lineup. I had both of my catchers - Carson Kelly and J.T. Realmuto, on the IL, though it looks like I'll at least get Kelly back this week.